Bronzer Vs. Contour: What's The Better Makeup Technique For You?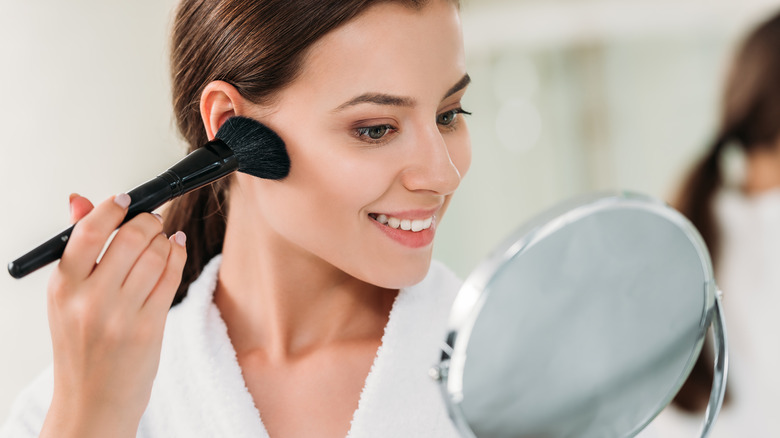 LightField Studios/Shutterstock
One of the biggest misconceptions of the beauty world is that contouring and bronzing are the same thing. Surprise: they are not. What's the difference? Per Allure, contouring is shaping your face, while bronzing is adding a warm depth to your cheeks.
For example, contouring is sculpting and defining your face by using a darker concealer or contour palette, the outlet added. Essentially, you're creating an illusion by using shadows (hint: that's why matte products are a must when contouring). Bronzer, on the other hand, is designed to make you look youthful by warming up your cheeks and giving you that bronzed look (hence the name), according to Charlotte Tilbury. For bronzers, Allure recommended using a shade lighter than your contour, so you can get that glowy look. The outlet also recommended using a peach shade as well as it compliments almost any skin tone!
So, which technique is for you? That answer results in another question: do you want to be glowy or chiseled?
How to apply bronzer and contour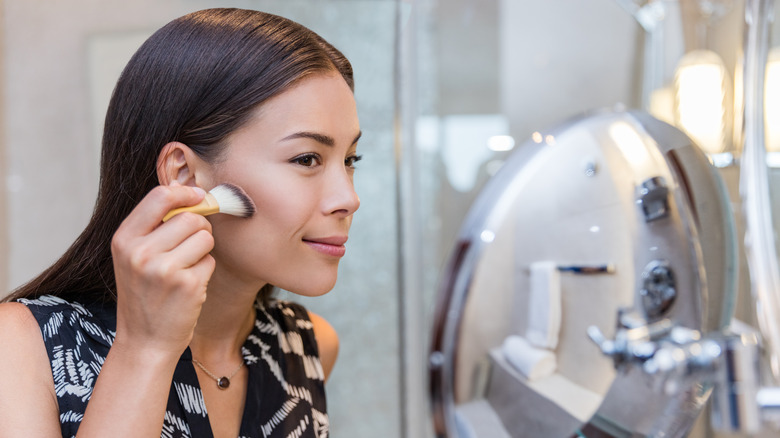 Maridav/Shutterstock
Now, that you know the differences between these two techniques, the next question is: how do you properly apply them? Well, the first step is knowing your face shape, Allure reported. Since contouring is specifically for defining your face and bronzing is about adding warmth to your face, knowing your face's highlights, cheekbones, and nose shape is important.
For contouring specifically, Charlotte Tilbury recommended following the hollow of your cheeks. Simply suck your cheeks in and apply the product along the area. Next, add the product to your jawline, temples, and forehand, the outlet added. Please, please blend. You don't want a muddy look. Per Allure, think of a bronzer like a highlight. For highlights, you'd apply them along your cheekbones, down your nose, and (just a tad bit) on your forehand. Use that same guide for bronzing, the outlet added.
Regardless of what these two techniques add to your makeup look, we can all agree that bronzing and contouring are a must. Defining your face shape and adding warmth? Name a better look, please.