The Strange TikTok Trend To Achieve Lips Like Madelyn Cline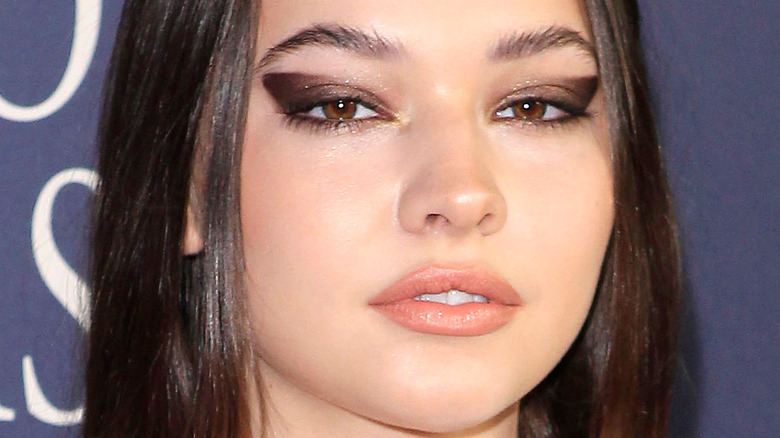 Joe Seer/Shutterstock
If you've seen "Outer Banks" on Netflix, you'll know that the talented cast also looks amazing. Madelyn Cline, who plays the main character, Sarah Cameron, is fast becoming something of a style icon, with actress shooting to fame and bagging a whole load of fans at the same time, while her boyfriend Chase Stokes, who plays her love interest John B Routledge in the show, has also had a lot of admiring glances his way. It's a pretty highly-rated show too, with an 86% approval rating on Rotten Tomatoes, and it's easy to see why. 
One thing, in particular, that's been getting the attention of fans is the look of Cline's lips. Her full lips and what some people online have described as their "flipped" appearance — Cline uses no filler — have been imitated by a number of fans on TikTok in a new strange trend (via Beauty Crew). Does it actually work?
All you need is lash glue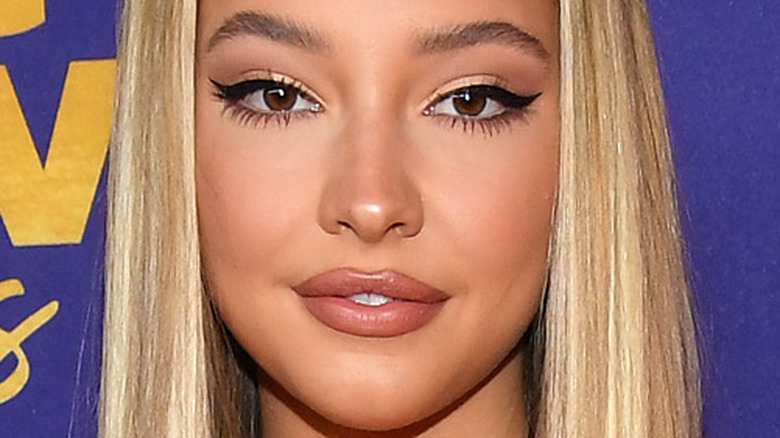 Kevin Mazur/2021 Mtv Movie And Tv Awards/Getty Images
So, here's the deal — or the, uh, #SarahCameronLips challenge, as it's known on TikTok. It starts with applying a little lash glue to your Cupid's bow, flipping your top lip upward, and then attaching it to your skin via the glue (via Beauty Crew). Yup, it's as simple as that, taking just a few short minutes to get Madelyn Cline-esque lips.
The big question is does it actually work? It does, to a point. And it's relatively safe too — just don't get the glue too close to your mouth, and make sure you clean the area afterward to get rid of any bacteria. It'll make your lips look full for a temporary period, but if you want the look for longer, you may want to go for the 'lip flip' procedure instead. It's a little less short-term, but less invasive than filler, and is certainly effective.