Are Derek And Julianne Hough Twins?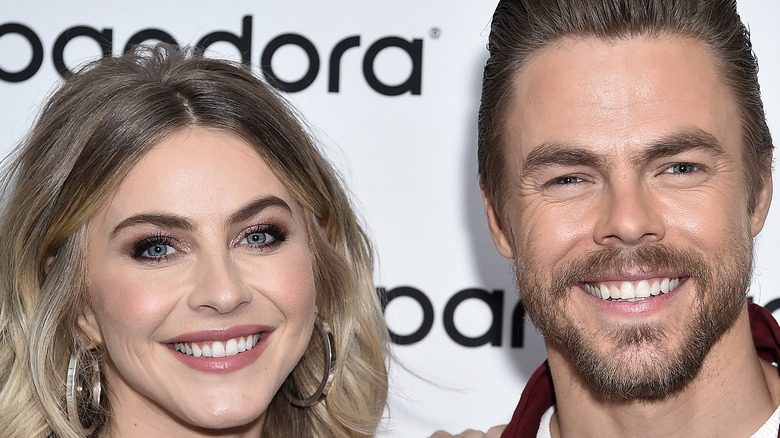 Steven Ferdman/Getty Images
Derek Hough and sister Julianne Hough are some of the most recognizable dancers in the industry, thanks to their long-running stints on shows like "Dancing With the Stars," "World of Dance," "America's Got Talent," and more (via Good Housekeeping). In addition to their dance careers, the Hough siblings have also scored a few theater and acting gigs, with Julianne appearing in the film adaptation of the beloved Nicholas Sparks novel, "Safe Haven," opposite Josh Duhamel, as well as the 2011 remake of "Footloose," "Grease Live!" and more (via IMDb), while Derek starred in "Hairspray Live!" and had recurring roles on popular television shows like "High School Musical: The Musical – The Series" and "Nashville" (via IMDb).
Both Julianne and Derek always seem to be working on projects together and/or supporting one another in whatever they choose to do, and because they work so closely together and have such a strong bond, it shouldn't come as a surprise that people think they are not only siblings, but twins.
"To have somebody that close, that's like in the same world as you, that understands it ... we've both been very, very lucky to be each other's support. He's rad. I love him," Julianne told Entertainment Tonight about her close relationship with her bro, adding, "Derek's amazing."
Derek and Julianne Hough are the two youngest siblings in their family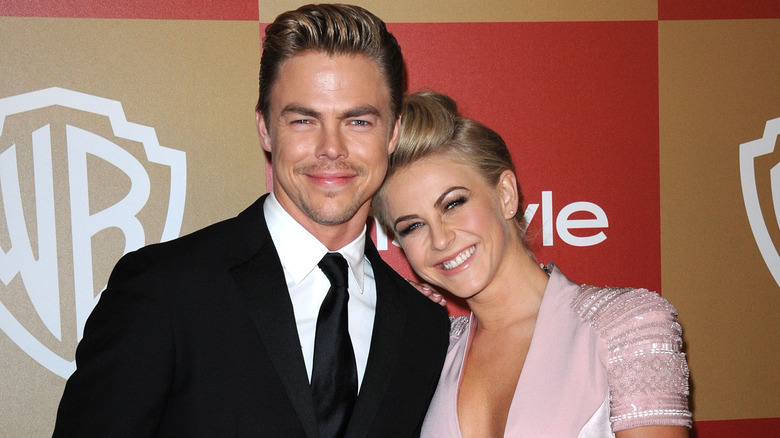 DFree/Shutterstock
Although Derek Hough and Julianne Hough often get mistaken for twins, Derek is actually three years older than Julianne, and both are the youngest of five siblings. Derek was born on May 17, 1985 (via TV Show Ace), while Julianne was born  on July 20, 1988 (via E! News). According to Heavy, the Hough siblings also have three older sisters, Sharee, Marabeth, and Katherine, as well as four step-siblings.
While it's a proven fact that Derek and Julianne are definitely not twins, that doesn't mean the brother-sister dance duo don't share a twin-like bond. "Oh my gosh we literally can't get rid of each other," Julianne joked in 2018 (via E! News). "The other day I was telling him that I don't feel right. He was like, 'Go dance. Go write a song. Go do something.' He knows me so well."