Who Was Jay Leno's Comedic Hero?
lev radin/Shutterstock
Actor, comedian, and former talk show host Jay Leno was a late-night television staple for decades. The former television host and standup comic's interest in comedy started during his childhood. Ironically, when he was in fifth grade, his teacher commented on his report card — "if Jay spent as much time studying as he does trying to be a comedian, he'd be a big star," reports Happy Herald. And he did; he became one of Hollywood's highest-paid comedic stars (via Playback).
Although Leno loved comedy, he didn't see it as a career. While working at McDonald's, Leno was persuaded by his manager to join the company's regional talent show. Leno recalls his manager coming to him and saying, "Look, you're a funny guy. Why don't you put together a comedy routine for the show?" (per Factinate). To Leno's surprise, he ended up winning the competition. His success inspired him to begin a career in the field of comedy.
The comedian's rise to fame was not an easy one. Throughout his career, Leno juggled multiple jobs. The money management skills he learned as a rising star, Leno kept with him even when he started hosting "The Tonight Show" in 1992.
"You know, when you start making money, you get lazy," Leno shared with CNBC. "I wanted to make sure I always had that hunger, so I never looked [at his TV money]. It would go directly into a bank."
Jay Leno meets his hero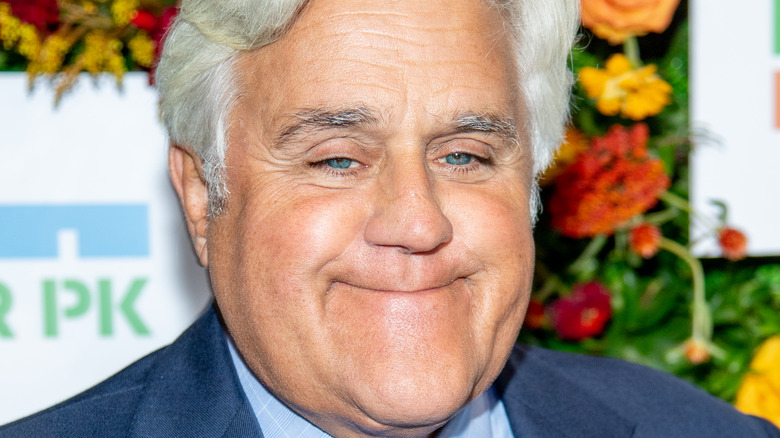 Roy Rochlin/Getty Images
Jay Leno began his rise to fame in the late '80s and early '90s. His career skyrocketed when he was featured on the "Tonight Show Starring Johnny Carson." According to Factinate, on March 2, 1977, Leno made his debut appearance on Carson's "Tonight Show" to promote his upcoming film, "Silver Bears."
At the time, Carson's "Tonight Show" was viewed as "instrumental in changing some of the bedrock ways of television operated" (via History). Carson also played a large part in launching the careers of a variety of other comedians, such as "Joan Rivers, Bill Cosby, Steve Martin, and Richard Pryor" (via "Today").
In an interview with NPR, Leno recalls the stress of being on-air, but honestly, he was trying to make Carson laugh. "I got heckled my first show [with Johnny Carson,]" Leno tells NPR. "Which was a horrible experience, but luckily I had worked a lot of clubs so I could deal with it, and Johnny seemed to like that."
"... That's what The Tonight Show is: It's not trying to get the audience to laugh, it's trying to get Johnny to laugh," he adds. "But you know, the audience gets the cue from the host, and if Johnny is laughing, they're enjoying it more." Leno impressed Carson so much that Leno appeared as a guest on the show numerous times. When Carson retired in 1992, he announced Leno as his successor, beating out David Letterman.