Elvira Actress Cassandra Peterson Opens Up About Her Sexuality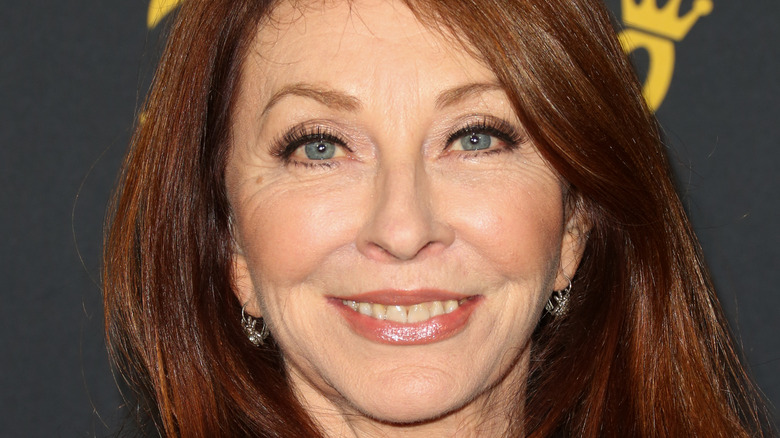 Paul Archuleta/Getty Images
As Elvira, Mistress of the Dark, Cassandra Peterson has been a campy horror icon for decades. The actress debuted her sexy vampire-esque persona in 1981 as a monster-movie host on a local L.A. TV station, and shot to fame within weeks as a guest on Johnny Carson's "Tonight Show" (via Next Avenue). Now Peterson is recognized worldwide and keeps busy with her own Hulu series, production company, licensed products, and other projects. Even "The Simpsons" has paid homage to her via their character "Booberella" (via IMDb).
But behind the gigantic black wig and daring dress is a woman who has kept her personal life a closely kept secret — until now. Peterson just released her memoir, "Yours Cruelly, Elvira: Memoirs of the Mistress of the Dark," a fascinating look at her eventful life. She survived a near-fatal scalding accident as a toddler, ran with the Rat Pack as a Vegas performer while still a teen, and was once a member of the prestigious comedy group The Groundlings, along with Paul "Pee-Wee Herman" Reubens and Phil Hartman (via Bloody Disgusting).
The most surprising revelation for fans, though, is that Peterson is now opening up about her sexuality and the fact that she has been in a same-sex relationship for nearly two decades. As The Advocate details, the Mistress of the Dark was previously married to her former manager, Mark Pierson, for 25 years. Following their divorce, Peterson realized that she was having romantic feelings for a close female friend.
Elvira knows some fans may not support her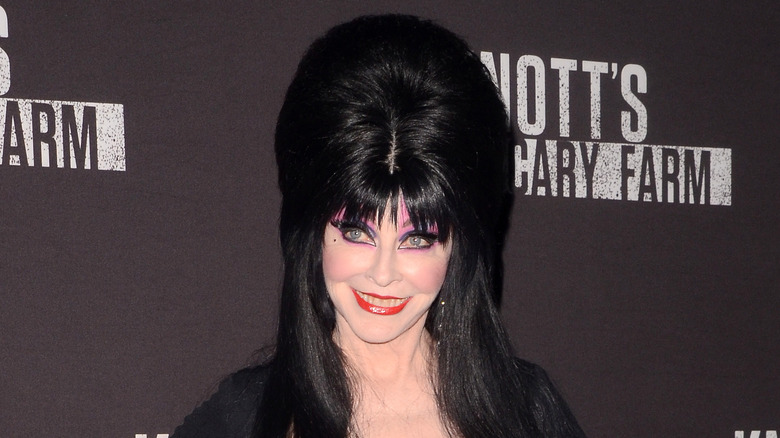 Kathy Hutchins/Shutterstock
For the first time, the woman known to millions as Elvira details how she met her partner — Teresa "T" Wierson — at the gym they both attended. T was a "tan, tattooed, and muscular" trainer whom Peterson assumed was a man until they ran into each other in the ladies' room. The two soon became close friends and started living together after Wierson split from a previous relationship. Still, they remained platonic for years until one night when Cassandra Peterson suddenly felt the urge to kiss Weirson. "I felt so confused. This just wasn't me! I was stunned that I'd been friends with her for so many years and never noticed our chemistry," Peterson writes (via The Advocate). 
Concerned about the consequences of going public with her sexuality, Peterson kept it quiet until now. In a recent interview with The Orange County Register, she explains that "keeping a secret doesn't feel good ... I have friends who are gay and have come out of the closet and it affected their work, relationships and their life. So it's not so far-fetched to be worried. But on the other side of that, it's so draining keeping it a secret ... It sucks the energy out of you."
She acknowledges that some fans may still resent this revelation from their horror-queen icon, but "at this point in my life, I've got to be truthful about who I am," Peterson writes in her memoir. What's truly important, she adds, is that she has found someone who makes her feel "safe, blessed, and truly loved."