Scentbird Vs. ScentBox: Which Is The Better Fragrance Subscription?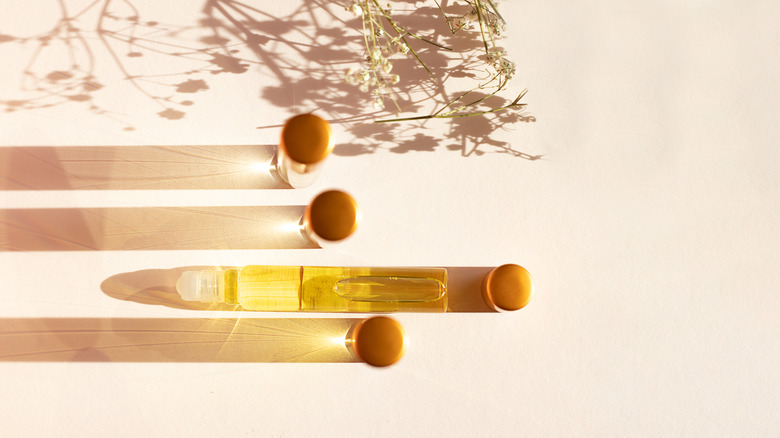 Kokorina Mariia/Shutterstock
There's no doubt that scent is one of the primary factors when it comes to triggering intimate attraction (via Frontiers in Psychology), which is why so many people buy perfume each year and wear it daily. But have you ever had a hard time committing to a specific, pricey, full sized fragrance or eau de toilette, and wish to experiment with more scents? That's where fragrance subscription boxes come in. These clever monthly services allow you to select sample sized perfume bottles, often in luxury brands, and deliver them straight to your door, without the hassle of the spritz lady at your local department store.
Although there are many fragrance subscription options out there, there are two main companies that have been gaining in popularity since the 2010s: Scentbird and ScentBox. Both work by having you fill out a quiz asking you what type of essence you'd like to encapsulate with your scent, and have over 500 options to choose from. But what's the difference between the two, and which one should you choose? While both standard plan options are $14.95 for a 30 day supply and use 8 milliliter bottles (via ClothedUp), the companies may seem interchangeable. However, there are some key differences that are important to know when making your selection between Scentbird and ScentBox.
The benefits of Scentbird and ScentBox are slightly different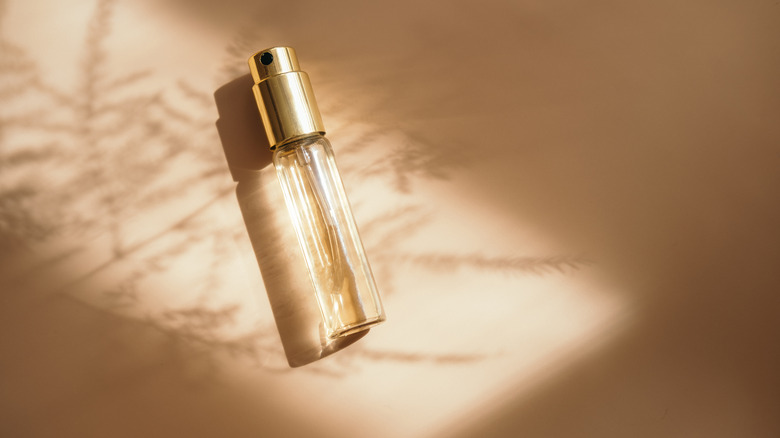 July Prokopiv/Shutterstock
Scentbird was founded in 2013, and was created to help people save physical space when it comes to cosmetics, opting for bottles that come in chic containers that are ideal for traveling (via Editorialist). When choosing your options, Scentbird's customizable quiz comes with options for the mood you're going for with your fragrance, such as "sensual and chic," "outgoing and adventurous," and "relaxed and casual," (via Scentbird).
One great thing about Scentbird is that you'll get suggestions for certain perfumes, and can even opt for a "surprise me" option with a scent of the month. Also every month, Scentbird provides you with a card describing the story and the notes of the perfume you've chosen (via YouTube).
On the other hand, ScentBox offers over a whopping 850 selections (with the premium subscription) from both luxury and lesser known designers to suit your nose's needs. A benefit of ScentBox is that it offers sweet smelling options other than just perfume, such as bath bombs and makeup (via Brides). And unlike Scentbird, ScentBox allows you one monthly exchange if you're not satisfied with a fragrance. Also with ScentBox is the option to earn rewards, "Scent Bucks," every month, which go towards purchasing a full sized fragrance bottle.
Overall, if you're looking for a vast array of options and more flexibility, then ScentBox is the way to go. However, if you're looking for a more personalized experience, then Scentbird may be the best option for you.