The Sweet Meaning Behind Brooklyn Beckham's Latest Tattoo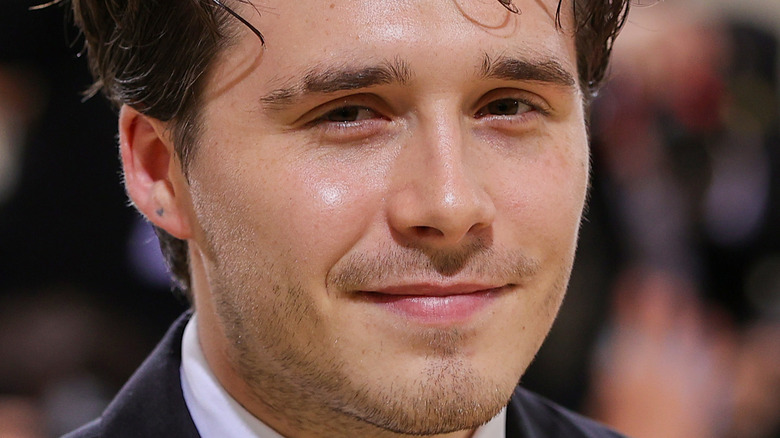 Theo Wargo/Getty Images
The Beckham family is known for their good looks, talents on the soccer field and behind the microphone, and their many, many tattoos.
Both David and Victoria Beckham (or Posh Spice to all those '90s kids once captivated by the Spice Girls) passed on their love for tattoos to their sons Brooklyn and Romeo. Actor and athlete David Beckham reportedly has more than 60 tattoos on his body, whereas his son, Romeo, has a mere two, according to Daily Mail. Then there is Brooklyn Beckham, who appears to be on track to catch up to his famously inked dad for the number of body tattoos on his body. Of course, they have some competition with "Blink 182" drummer Travis Barker who has at least 107 tats on his body, according to Body Art Guru. But Brooklyn Beckham is well on his way!
The amateur photographer who is engaged to actress Nicola Pelta appears to assign a lot of meaning to his tattoos, much like his dad (via People). A ballerina for little sister Harper, a traditional "Mum" tattoo for Victoria Beckham, and the birth year of his dad are only some of the meaningful tattoos on the male model. Here is the sweet meaning behind Brooklyn Beckham's latest body art.
Brooklyn Beckham's neck tattoo is a love letter from his fiancée
Fans have many thoughts on Brooklyn Beckham's passion for tattoos, with some cheering him on as he covers more of his skin while others have asked him to stop with the skin art already, per Allure.
Due to its precious backstory, the photographer's latest ink is getting lots of positive feedback. Captioned "Love Letters" in his Instagram post, Beckham showed off his new neck tattoo that rests under coordinates and an image of his fiancée Nicola Pelta's eyes. The new ink reads, "My forever boy. Read this anytime you feel anxious. I want you to know how deeply loved you are. You have the kindest heart I've ever met and hope I never go a day without your love. I think you are so incredible. Just know we can get through it all together if you breathe slow and trust. I love you beyond. Love always, Your Future Wifey" (via Popsugar).
Beckham's decision to get this sweet-as-can-be love letter permanently tattooed on his skin shows just how much these two love each other. Given Beckham's propensity for tattoos with special meaning, it can only be assumed that there will be many more dates, names, and images that will eventually find a permanent home on his body.