How To Buy Mary From Return To Amish's Cookbook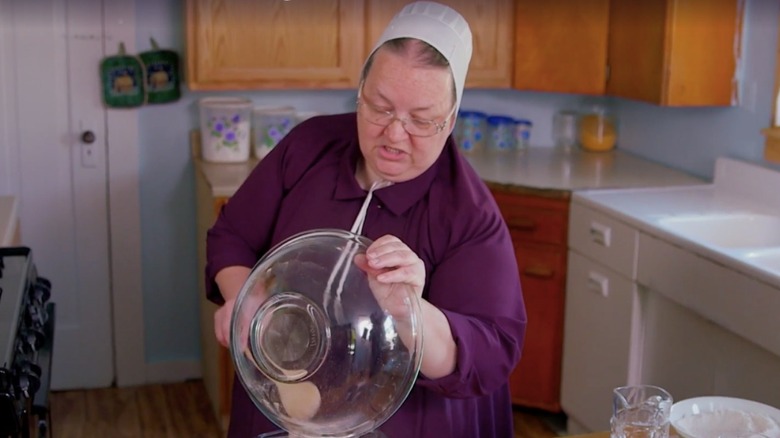 TLC
The hit TLC show "Breaking Amish," which aired from 2012 to 2014, followed several young adults as they encountered life beyond the sheltered Amish communities they left behind (via IMDb). Quickly becoming a hit, the show churned out a few spinoffs, including "Breaking Amish: Brave New World," "Breaking Amish: LA," and "Return to Amish."
In the latter show, OG stars of the franchise Rebecca and Abe Schmucker, who fell in love on "Breaking Amish," gave viewers an inside look into their return to their community in Punxsutawney, Pennsylvania. According to Distractify, one of the main plotlines is about the couple's drama with Abe's mom, "Mama Mary" Schmucker.
It became abundantly clear to viewers that although Mama Mary knows how to stir the figurative pot of drama, she also knows how to stir actual pots (i.e., the woman knows how to cook!). Fans were so impressed with her kitchen prowess that the network even rolled out a special Go Original series in 2018 called "Cooking With Mary" (via TV Shows Ace). Years earlier, though, the Schmucker matriarch actually published her very own cookbook, and here's how you can snag a coveted copy.
Here's the old-fashioned way you can get your hands on Mama Mary's cookbook
According to TV Shows Ace, Mama Mary's cookbook was first announced in 2014 when Rebecca and Abe Schmucker posted about it on Facebook, throwing fans into an instant frenzy. "Our new cookbooks just arrived!!! We are very excited to share our recipes of all our favorite family meals," they wrote. After the post received a massive amount of attention, the couple had to apologize and say that there was "only a limited amount before the holidays."
TV Shows Ace did some inspecting and reported that the cookbook includes the following categories: soups and salads, vegetables, main dishes, breads and rolls, desserts, miscellaneous, and household hints. But of course, without the actual recipes, you'll find it impossible to copy the star's kitchen magic.
The good news is, there are a couple of ways to get your hands a copy. The first is to send an actual letter to Mary containing $12 for the book and $8 for shipping and handling. (How old-fashioned of her!) The other option, though, is to join her Facebook page called "Mary Schmucker's Tupperware," where she periodically posts updates about how to purchase the book. All of the necessary info can be found in the TV Shows Ace article. If you manage to get a copy, let us know if the food tastes as good as it looks on TV!