The Truth About LuLaRoe Founders Mark And DeAnne Stidham
The new docuseries entitled "LaLaRich" is taking Amazon Prime Video by storm, as scores of viewers have flocked to the platform to watch the captivating four-part series. Created by the same people who graced us with "Fyre Fraud," which revealed the chaos and controversy surrounding 2017's notorious Fyre Festival, the show investigates LuLaRoe, a multilevel marketing company (MLM) that specializes in leggings that are basically the definition of camp (via TV Insider).
Like many other MLMs, the company offered an enticing form of income for people (particularly millennial women, according to Buzzfeed News) who longed for a convenient work-from-home gig. Due to the funky products and promise of financial freedom for those who sold them, LuLaRoe went viral. However, it simultaneously began receiving numerous accusations of operating as a pyramid scheme, and eventually, the whole thing basically went bust.
Thus, the series' spotlight is cast on LuLaRoe's founders, the lawsuit-ridden DeAnne and Mark Stidham (via Bustle). "'LuLaRich' is a modern comedy of errors with important social commentary," the producers said in a statement (via TV Insider). "We knew from day one that the world needed another look at this wacky MLM-turned-dumpster-fire, and think this could be the birth of a whole new doc genre... True-Comedy." So, what's so funny about this family? Keep reading to find out the truth.
Mark and Deanne Stidham have a whole mob of children, many of whom worked at LuLaRoe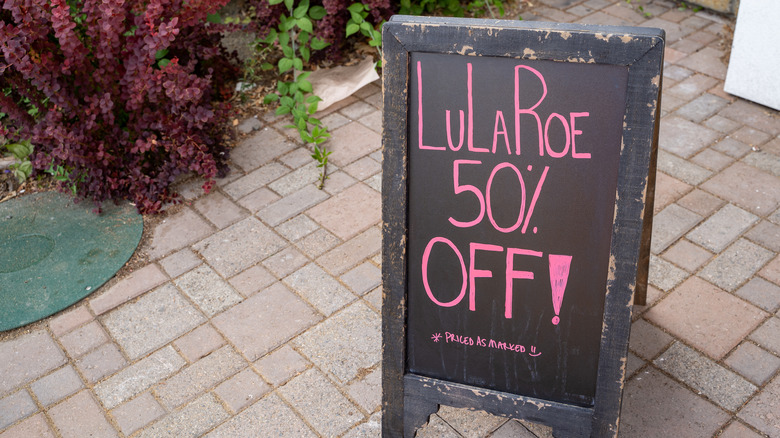 melissamn/Shutterstock
The first thing to know about the infamous LuLaRoe founders is that they share a whopping 14 children. While some are from DeAnne's first marriage, others are from Mark's, and the rest are from both of them — including three adopted children. On top of that, they now have a brood of grandchildren; the three eldest — Lucy, Lola, and Monroe — inspired the name of their company (via Women's Health).
According to Women's Health, a number of family members have joined the company over the years. In "LuLaRich," DeAnne and Mark said that whenever they needed to hire staff, they turned to their ménage. According to Bustle, "DeAnne's son, Kenny Brady, became the VP of sales; her son Jordan became the head of leadership and culture development; her son-in-law Jeff Thompson, Nicole's husband, became VP of finance for a time; her daughter, Amelia Lyon, became a photographer for the company; Amelia's husband, Justin Lyon, became the chief marketing officer; Mark's son, Austin, helped with analytics; and DeAnne's nephew, Sam Schultz, ran events." 
Moreover, DeAnne began the business with her twin sister in 2013. Then, as Buzzfeed News puts it, "in just four short years, this army of women turned LuLaRoe from an informal side hustle by twin Mormon grandmothers into a company worth an estimated $2 billion." Of course, you'll have to watch the show to find out how that panned out.