All About The Nail Salon That Created Suni Lee's Olympic Acrylics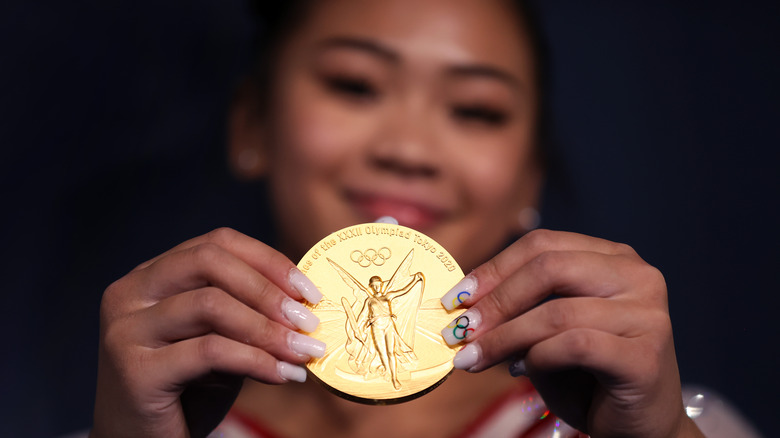 Laurence Griffiths/Getty Images
Suni Lee winning the all-around gold medal at the Tokyo Olympics was incredible in its own right, but the fact that she did it with so much style makes it all that much better. 
The average 18-year-old likely has an overflowing makeup bag with beauty items to play around with, but Suni Lee has that and an Olympic gold medal. Lee won over the beauty community when she competed in a full set of acrylic nails (via Daily Mail). People were baffled that she could not only compete that well but also do it without breaking any of her nails. It turns out that the Olympic patterns on her acrylics go much deeper than just a pretty Olympic design, though. 
As NBC News points out, Suni Lee's nails from the Olympics were done from her hometown salon. While the style and artwork are gorgeous, the story behind the salon is what will truly melt your heart. Lee found a way to not only represent her country at the Olympics but pay homage to her heritage as well. Talk about a meaningful mani!
Suni Lee's hometown salon pays homage to her heritage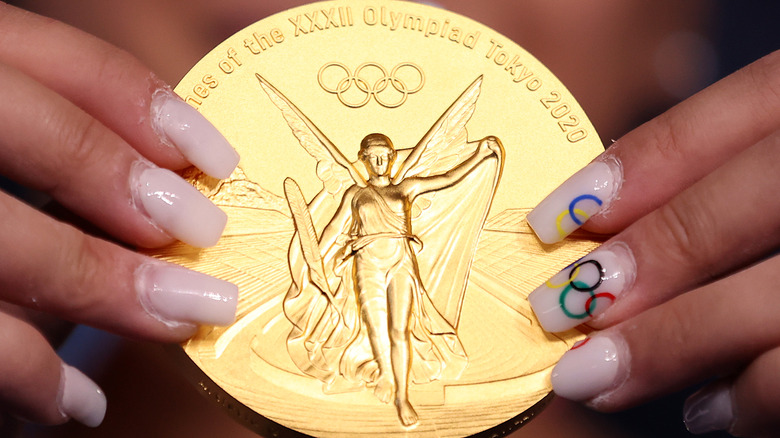 Laurence Griffiths/Getty Images
A good beauty trend is about way more than how it looks — it's also about what the look means to you. With her Olympic nail art, Suni Lee definitely covered both aspects. 
According to NBC News, Lee got her nails done for the Olympics at the Little Luxuries salon near her hometown in Minneapolis. On top of repping her hometown at the Olympics, she actually took it a step further by getting her nails done by two Hmong American nail artists as well. Lee herself is Hmong American, which makes the mani all that more special (via Daily Mail).
"No words really describe how amazing it feels as fellow Hmong-Americans to watch such an amazingly talented young woman represent us on a stage as internationally recognized as the Olympics," the Little Luxuries Nail Lounge said in a caption on Instagram. "Suni has made a huge impact on Hmong athletes across the world and we couldn't be more proud!"
The manicure represented Hmong Americans everywhere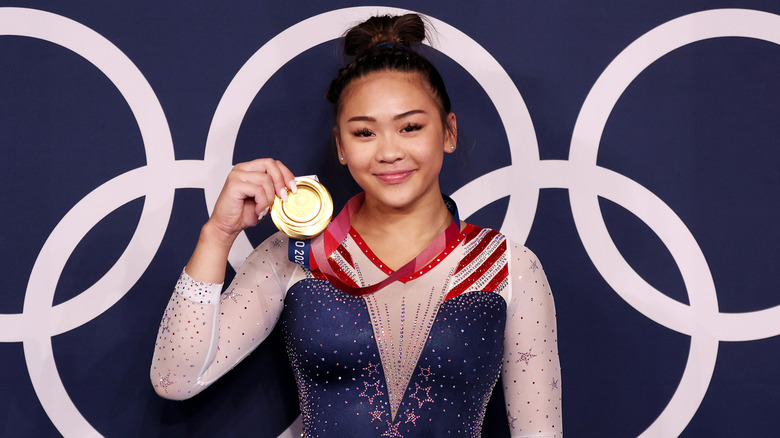 Jamie Squire/Getty Images
The Little Luxuries Nail Lounge wasn't always Suni Lee's go-to though. According to NBC News, the salon actually reached out to Lee on Instagram. "We didn't think she was going to reply to us," owner Amy Vang told NBC News. "We just thought we would give it a try."
As it turned out, the salon and the Olympian were a match made in heaven. The two women that did the nail art are Hmong American women and Lee is the first Hmong American athlete to compete in the Olympics, according to Insider. Thus, this manicure represents a dream for Hmong American women — those who follow their dreams to own their own businesses or even own an Olympic gold medal.
According to an Instagram post from Little Luxuries' account, the 18-year-old went back to the salon after her win for touch-ups and even got another acrylic set before she went away for college. It looks like Lee is a regular now. In a time where there has been an uptick in hostility towards Asian Americans (via New York Times), it's great to see these Hmong American women coming together to make a statement and support each other.