Here's How George W. Bush Is Taking A Stand Against Donald Trump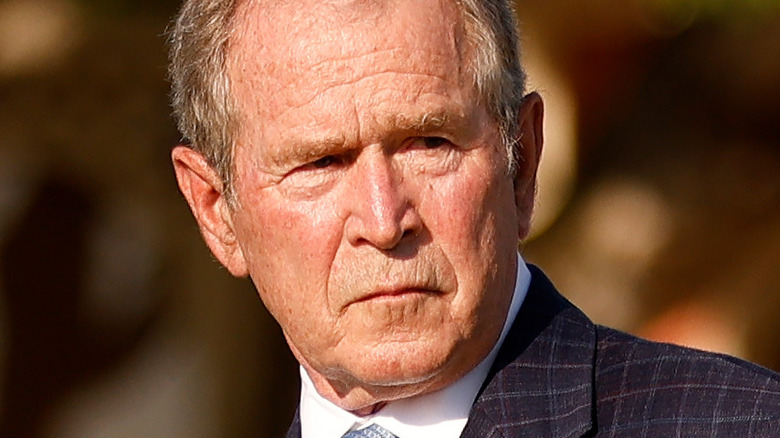 Cliff Hawkins/Getty Images
There's a fundraising party being held in Texas in October 2021. The list of guests appears to be a Who's Who of the Republican party in the state, from Karen Hughes and Karl Rove to former Sen. Kay Bailey Hutchison, who served as the U.S. Ambassador to NATO under former President Donald Trump, as well as members of the uber-wealthy Hunt family. The event's guest of honor is former President George W. Bush, and the event is being positioned as a reception "in support of Congresswoman Liz Cheney" (via Twitter). 
It may look like just another campaign fundraiser, but it's much more than that because it puts Bush on a collision course with Donald Trump in a fight over the lone House seat for Wyoming, which is up for grabs in the mid-term elections in 2022. 
Trump and Cheney are not exactly on the best of terms. Because she voted to impeach him and she was vice chair of the committee looking into the riot of January 6, 2021 (via The Independent), Trump views Cheney as a problem. As such, Trump is now looking to replace Cheney with one of his acolytes — Harriet Hageman, who has bought into Trump's narrative that the 2020 elections were "stolen" (via CNN). 
Observers say Wyoming sets the stage for a battle between Bush and Trump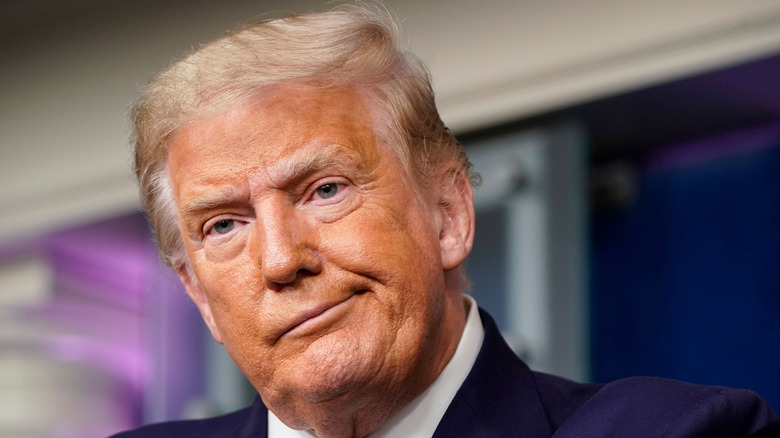 Naresh777/Shutterstock
That George W. Bush has come out to support Liz Cheney should not be surprising. After all, her father did serve as his vice president (via The Washington Post). There is also the fact that relations between Bush and Donald Trump aren't exactly at a high, either. Trump is particularly incensed over comments the former president made during an event marking the 20th anniversary of the September 11 attacks. 
On September 11, 2021, Bush said, "There is little cultural overlap between violent extremists abroad and violent extremists at home. But in their disdain for pluralism, in their disregard for human life, in their determination to defile national symbols, they are children of the same foul spirit. And it is our continuing duty to confront them." The remarks were seen as Bush's reaction to the January 6 attack on the U.S. Capitol, and Trump struck back in a more personal way, saying, "Bush led a failed and uninspiring presidency. He shouldn't be lecturing anybody" (via The Wall Street Journal). 
George W. Bush would not be the first person in his family to come out against Donald Trump. Barbara Bush, his mother, had said she no longer identified as a member of the GOP because of him. Before her death, she famously had a clock that counted down to the end of Trump's term in days, hours, minutes, and seconds (via ABC).
Republicans are gearing up for a fight in Wyoming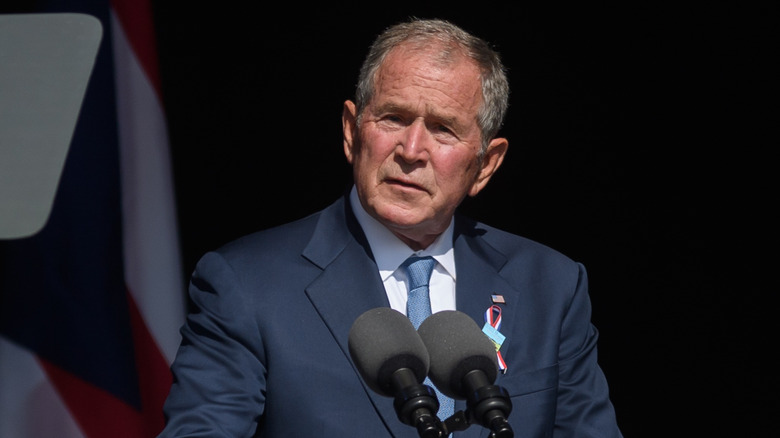 Jeff Swensen/Getty Images
The looming battle for the Republican nomination in Wyoming has Twitter users on the edge of their seats. "Good. Wish more Republicans would take a stand against Trumpism, instead of being scared of his supporters voting against you. Show some courage, tell them they've been misled and are taking the wrong stances," one Twitter user wrote.
Not everyone is impressed. "So disappointed in how Bush has turned from his conservative ways. We believed in him and now he more or less rejects us. He is letting those who are radical influence his decision about every conservative. Not all conservatives are racist, nor do we want to overthrow our leaders," another tweeted. 
And in case there were any illusions about the state of party politics in the country, a third Twitter user took it upon himself to point out that "The Republican Party is at war with itself. And the Democratic Party is having major infighting as well. I have never seen this much instability within both parties at the same time. Ever."