Liz Cheney's Strong Opinion About The GOP Is Turning Heads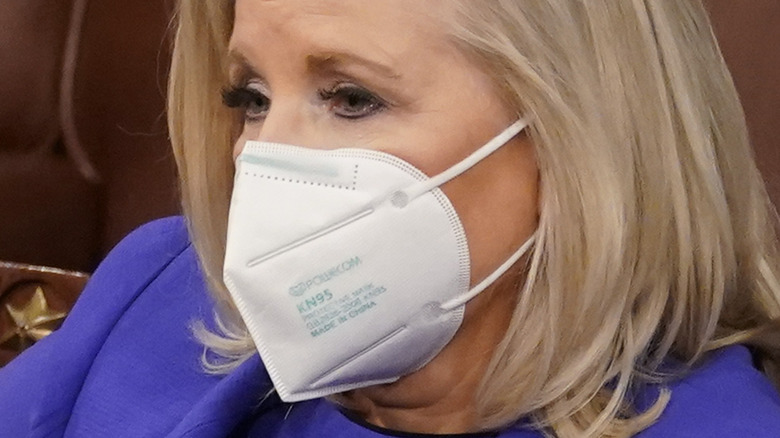 Pool/Getty Images
As the daughter of former Vice President Dick Cheney, House Republican Liz Cheney is Republican royalty, a policy conservative, and she has the voting record to show for it. Cheney supported the GOP and former President Donald Trump on most issues covering immigration and the environment. But she also broke with him when it mattered to him the most: She voted to impeach him and insisted that he be held accountable for failing to acknowledge the results of the November 3 elections (via The Washington Post).
Now she is on the verge of being stripped of her position within the House caucus as GOP Conference chair, which currently puts her as the third highest-ranking Republican in Congress. Yet on the eve of the scheduled vote, Cheney felt it was time to remind House Republicans of just who it was they were supporting. She warned: "We face a threat America has never seen before. A former president who provoked a violent attack on this Capitol in an effort to steal the election has resumed his aggressive effort to convince Americans that the election was stolen from him. He risks inciting further violence" (via The Hill).
"Millions of Americans have been misled by the former president. They have heard only his words but not the truth. As he continues to undermine our democratic process, sowing seeds of doubt about whether democracy really works at all," she said.
Cheney: 'This is about our duty as Americans'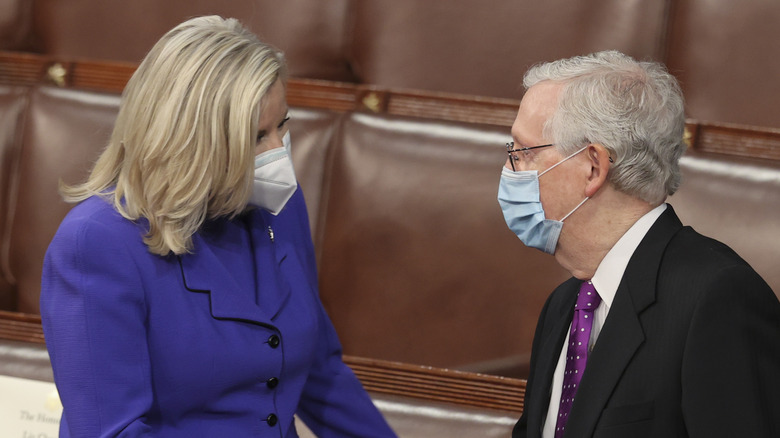 Pool/Getty Images
Cheney used a session intended to discuss "cancel culture" to remind Congress — and the American people at large — of what it meant to be a real conservative, which is that "most conservative of conservative principles is reverence for the rule of law ... [and] Those who refuse to accept the rulings of our courts are at war with the Constitution" (via The Hill).
"Our duty is clear. Every one of us who has sworn the oath must act to prevent the unraveling of our democracy. This is not about policy. This is not about partisanship. This is about our duty as Americans. Remaining silent and ignoring the lie emboldens the liar. I will not participate in that. I will not sit back and watch in silence while others lead our party down a path that abandons the rule of law and joins the former president's crusade to undermine our democracy," she said.
Liz Cheney will continue to hold Trump and his supporters accountable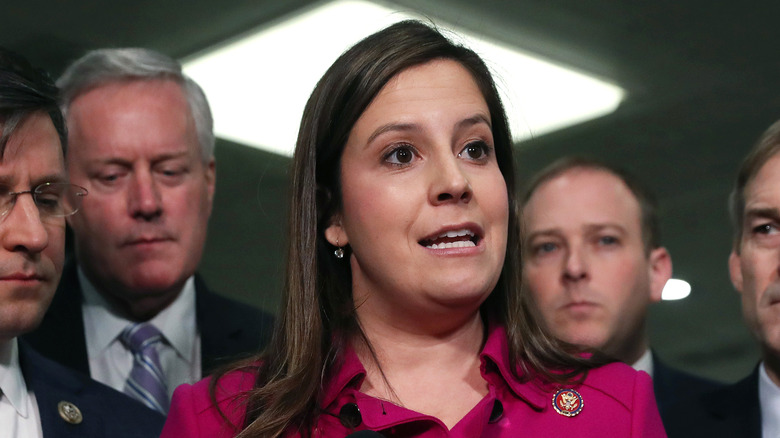 Mark Wilson/Getty Images
Even after she is stripped of her position within the House caucus — which some say is all but guaranteed when they meet tomorrow, Liz Cheney has promised donors and supporters that she will not go quietly, because she will not stop holding Trump nor his supporters accountable for the former president's insistence that the election was stolen (via CNBC).
Cheney is widely expected to be replaced by New York Representative Elise Stefanik, a GOP policy moderate who not only has Trump's endorsement but who also has the backing of Minority Leader Kevin McCarthy and Minority Whip Steve Scalise. Stefanik's political action party is also known for helping to raise money for almost 50 GOP women who were running for the House (via CBS).
The vote to oust Cheney will be held by secret ballot and behind closed doors on Wednesday, May 12. CBS, who reported on what is likely to unfold when the GOP meets says the caucus will need at least 110 votes to unseat her.