The Truth About Argireline, The Anti-Aging Ingredient Going Viral On TikTok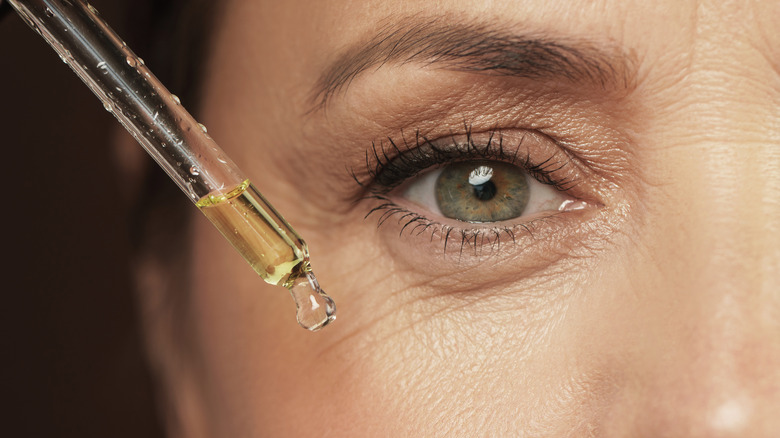 BLACKDAY/Shutterstock
We may receive a commission on purchases made from links.
Known as "Botox in a bottle" on TikTok, Argireline is an ingredient that reduces the signs of wrinkles and fine lines — and it's going viral. But what's behind this supposedly magic elixir? 
Argireline, the brand name for acetyl hexapeptide-3 and acetyl hexapeptide-8, is essentially the closest thing to Botox without the needle, according to Today. Because repeated movements cause the formation of wrinkles, this ingredient blocks your nerves from sending the signals that tell your muscles to move. 
Dr. Joshua Zeichner, director of cosmetic and clinical research in dermatology at Mount Sinai Hospital, told Today, "Argireline is the closest ingredient that we have to Botox in cream." But he added that the effects are much more subtle compared to the noticeable effects of Botox. That's because Botox injections penetrate targeted areas, and the depth of the injection can be customized according to your needs. There's no way to know how deep Argireline in topical applications can penetrate into the skin, or exactly how effective it is, as the results can differ individually.
It's worth noting, though, that some studies have found Argireline effective in diminishing the signs of wrinkles (via American Journal of Clinical Dermatology). Dermatologist Dendy Engelman told Today, "It really has very few side effects, if any, and there have been some results where people say that it diminishes wrinkles by 10 to 30 percent, depending on the study you read." So if you don't want cosmetic procedures and/or are scared of needles, Argireline is a promising alternative.
What sets Argireline apart?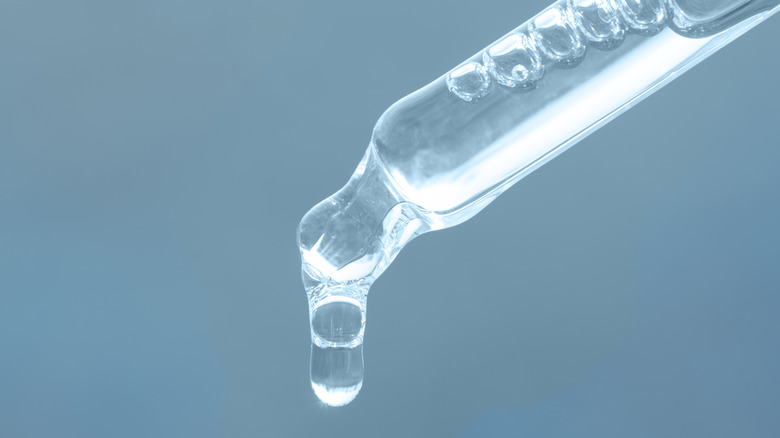 photo-lime/Shutterstock
In general, peptides like Argireline are made up of amino acids, which are the building blocks for proteins (via Byrdie). Proteins are vital for the structure and function of your body's organs, including your skin (per Medline Plus). Collagen and elastin are proteins that are crucial for firm, plump skin. 
According to Byrdie, what sets Argireline apart from other peptides is that it's the first one that's specifically targeted to work on dynamic wrinkles, which are caused by repeated movement. Dermatologist Yoon-Soo Cindy Bae told Byrdie, "Argireline is very specific in that it interferes with a protein receptor complex which helps cause muscle movement."
In addition to preventing muscle movements, Argireline also stimulates collagen production and can increase hydration in your skin (via Byrdie). Argireline works especially well on those with dynamic wrinkles on the forehead or around the eye area. So if you're thinking of trying Argireline out, it's best to apply the product on areas where there are deep folds or creases, such as any fine lines under your eyes, frown lines in between the brows, and forehead lines.
Lipotec, a company based in Spain and known for the development of skincare active ingredients, owns the patent on Argireline. The company is able to license other brands that want to use the ingredient. According to the Lipotec website, you should be able to see "decreased appearance of wrinkle volume and length just after one week."
Anti-aging products that contain Argireline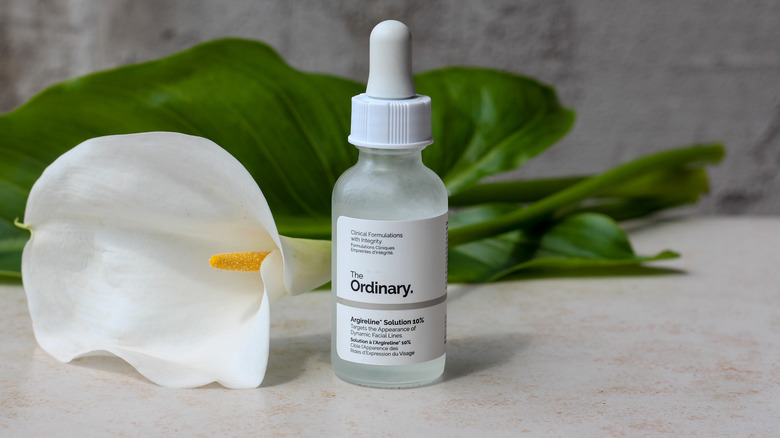 mayflower955/Shutterstock
Not all products with Argireline are created equally. As Yoon-Soo Cindy Bae told Byrdie, "Just because a product contains Argireline doesn't necessarily mean it is effective. The formulation itself, as well as the size of the peptide, will affect how deeply it can penetrate into the skin." She adds that you should also avoid any formulations that contain alcohol, as it can dry the skin out. 
The most affordable Argireline product on the market is The Ordinary Argireline Solution, which is listed at just $7.90 on Ulta's website. According to Today, Argireline works better when paired with water. That's why The Ordinary's version is a water-based formula available in a dropper bottle. It's recommended to use a few drops on any forehead or undereye lines. Another option from The Ordinary is their Buffet Serum, which contains Argireline, along with other anti-aging peptides and hyaluronic acid. 
A higher-end option recommended by Dendy Engelman is the Estee Lauder Perfectionist Pro Instant Wrinkle Filler with Tri-Polymer Blend. This spot-treatment has hyaluronic acid, filling spheres, and a tri-polymer blend, and it can even be worn under makeup. Byrdie recommends Instantly Ageless Facelift in a Box, which consists of a pack of 25 vials that depuff under-eye bags and firm wrinkled skin. The DermaE Advanced Peptides and Collagen Moisturizer is another great option that contains Argireline, other anti-aging peptides, and vitamins. 
Now that you know all about it, will you be giving this hot new skincare ingredient a try?