BB Cream Vs. Foundation: Which Is The Right Makeup For You?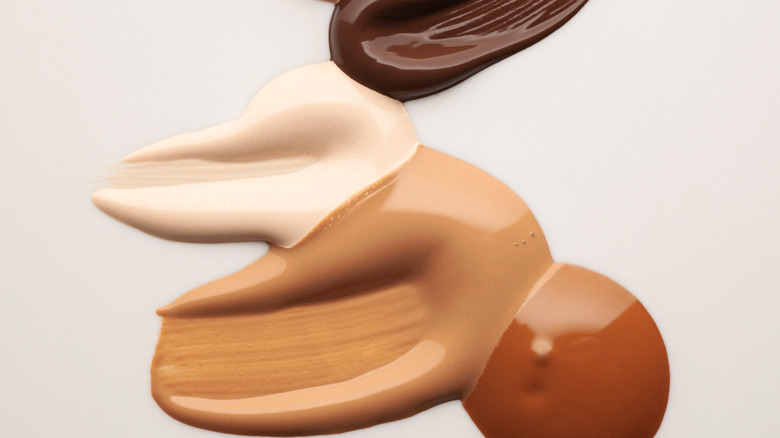 Fotaro1965/Shutterstock
Base makeup has come a long way from your mother's Max Factor pancake makeup. These days, there are several base makeup options that won't leave that cakey, mask-like appearance. But with the wide array of options available, shopping for the perfect base makeup can get overwhelming. Luckily, all it takes is a little bit of research and you will find that there's an option available for people of every skin type and shade. 
For starters, there are foundations, BB creams, and skin tints (via L'Oreal). And among foundations, there are powders, liquids, creams, and cream sticks (per Byrdie). Foundations come in varying degrees of coverage, from those that provide a natural look to those that can be built up to full coverage (per L'Oreal). Foundations will cover blemishes, blur pores, and even your skin tone. 
BB cream is an innovation from South Korea that provides the same level of coverage as a light-to-medium coverage foundation, with added skincare benefits (via NBC News and L'Oreal). Skin tints are an even lighter coverage option that is great for "no-makeup" makeup days. Therefore, foundations and BB creams are best for those who are looking for base makeup that will cover your imperfections and even their skin tone.
Skin type and concerns are important factors to consider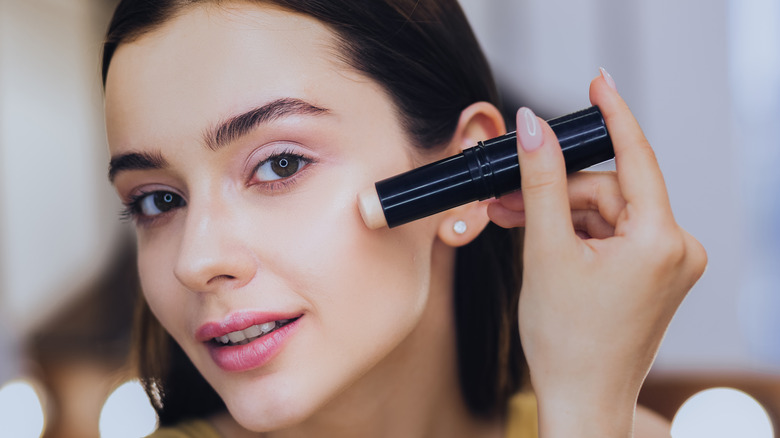 Dmytro Zinkevych/Shutterstock
Typically, a foundation can provide more coverage, but you might be surprised by how flawless your skin can look with a BB cream. If you are having trouble deciding between buying foundation or BB cream, it's important to determine what you want from your base makeup (per L'Oreal). If you're looking for ultimate coverage and aren't looking for skincare benefits, then foundation is probably your best bet. Foundation will give you an airbrushed appearance that will especially look great for fancy occasions and photos. 
For those with normal-to-oily skin, a matte liquid or powder foundation will give you an immaculate, budge-free base (per L'Oreal). People with normal-to-oily skin may want to avoid BB creams, as they typically contain more hydrating formulas that may not set well on oily skin (via Healthline). On the other hand, if you have normal-to-dry skin, BB creams can be a lifesaver. BB creams often contain ingredients like hyaluronic acid, glycerin, ceramides, and panthenol. These ingredients help provide an extra layer of moisture in a formula that offers buildable coverage, so you can get that coveted glass skin glow. 
Those with normal-to-dry skin looking for extra coverage can benefit from using a dewy liquid, cream, or cream-stick foundation (per Byrdie). Cream and cream stick formulations contain a more emollient base that works well on more mature skin and won't settle into lines (via Allure). Cream foundations typically come in a pot container and have a thicker, whipped formula.
The best BB creams and foundations on the market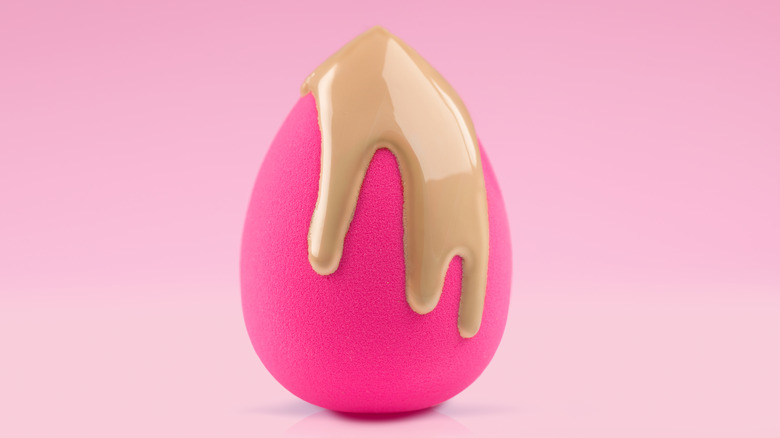 Subbotina Anna/Shutterstock
Allure recommends Lancome Absolue Cream Hydrating and Replenishing Foundation and Dermablend Cover Creme Full Coverage Foundation for full coverage makeup that still looks dewy. Cream sticks are similar to cream foundations, but they offer a mess-free application. All you need to do with a cream stick is to swipe on the foundation and blend it out with a brush. Who What Wear recommends Hourglass Vanish Foundation Stick for a long-wearing look with a second-skin feel. The Erobian BB Creme is a rich formula that contains ginseng and adapts to your skin tone to cover imperfections and plump your skin (per Bustle).
If you want the skincare benefits and dewy glow of a BB cream without the rich texture, L'Oreal recommends trying a serum foundation like the L'Oreal Age Perfect Radiant Serum Foundation. The formulation is starting to become more popular due to its lightweight, skin-like feeling. Real Simple suggests the MAC Cosmetics Studio Waterweight SPF30 Foundation for dry skin. The gel serum texture is a hydrating, buildable formula.
According to Prevention, L'Oreal Infallible Pro-Matte Foundation and Maybelline Fit Me Matte + Poreless Liquid Foundation are great options at the drugstore for people with normal-to-oily skin. The site also recommends L'Oreal Infallible Foundation in a Powder for the coverage of a liquid foundation in a powder that doesn't apply cakey. Whether you want to look like a dewy damsel or a matte maiden, there's a base makeup option out there suited to your individual needs.