The Amazing Records Set By Hank Aaron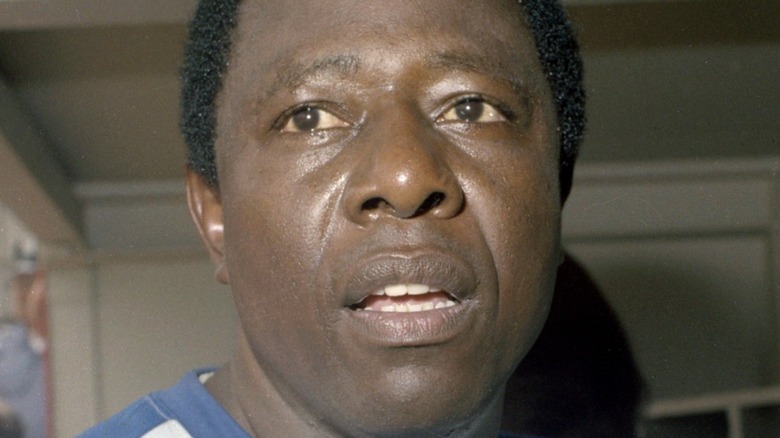 Icon And Image/Getty Images
There was never any question that Henry Louis Aaron would be elected to the National Baseball Hall of Fame on the first ballot. As Baseball Reference shows, Aaron went into the Hall with 97.8% of the vote. The only players voted in with a higher vote percentage were Ty Cobb and George Brett (98.2%), Cal Ripken, Jr. (98.5%), Nolan Ryan and Tom Seaver (98.8%), Ken Griiffey, Jr. (99.3%), Derek Jeter (99.7%), and Mariano Rivera (the only Hall of Famer ever to receive 100% of the vote). 
All of these men are true baseball heroes, but Hank Aaron may be the only one to have achieved actual icon status. He's a household name even in homes that don't follow America's pastime –- or, worse, erroneously assume that this nickname refers to football.
Aaron's stats were impressive throughout his entire career. He played in MLB's All-Star game 25 times, earned three Gold Glove awards for his fielding, and won the National League's MVP award in 1957 — the same year he led his Milwaukee Braves to a World Series win (via Baseball Reference). What gave Aaron his near-mythological status, however, was something that happened late in his career: He hit his 715th home run, shattering a record previously held by the Great Bambino (aka Babe Ruth, for non-baseball fanatics who aren't constantly quoting The Sandlot). Aaron would wind up his career with 755 four-baggers, a record that would stand until Barry Bonds hit his 756th in 2007 (via Sports Illustrated).
Hank Aaron still holds a few MLB records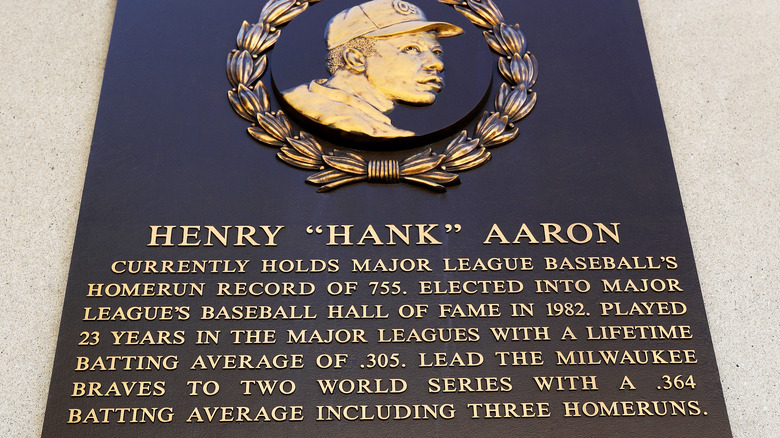 Raymond Boyd/Getty Images
There are more than a few people who feel that Hank Aaron's home run record should still stand due to the fact that Barry Bonds' feat will forever include a metaphorical asterisk relating to his alleged use of performance-enhancing substances. In fact, when designer Marc Ecko purchased the home run ball smacked by Bonds during his dubious feat, he donated it to the Hall of Fame where it was to be tagged with an actual asterisk (via New York Times). As Sports Illustrated tells it, Bonds was so cheesed off by this that he swore to boycott his own Hall of Fame induction ceremony. According to NBC News, next year marks the last year of his eligibility, so he better not hold his breath. 
Apart from Aaron's status as the real King of the Dinger, Hammerin' Hank still holds two records that aren't likely to be broken anytime soon. According to the Hall of Fame's stats keepers, Aaron leads both leagues in all-time ribbies, with 2.297 runs batted in during his storied career. He also either stood on or ran past a grand total of 6,856 bases. 
There's yet another "first" many would like to see in Aaron's future: A petition circulating on Change.org requests that the Atlanta Braves change their team's name to Hammers in his honor. This, of course, would make Aaron the first MLB player to have a major league team named after him!
Aaron may yet regain his status as all-time home run leader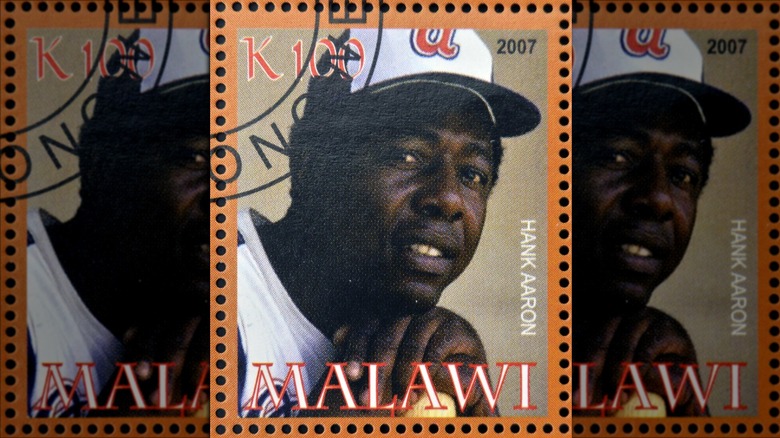 neftali/Shutterstock
An interesting thing about Hank Aaron's numbers is that these totals, career home runs included, only refer to his achievements when he played in the major leagues. As it happens, Aaron began his baseball career playing in a different league: the Negro American League, where he stepped up to the plate for the Indianapolis Clowns (via 11 Alive). What's more, he went yard five times during his brief tenure there. So will those homers ever be added to his total? Not just yet. 
While Major League Baseball has finally agreed to recognize the achievements of players from the Negro leagues, these only apply to the records covering the 28-year span between 1920 and 1948, while Aaron, aged 18, played for the Clowns in 1952.
Even if MLB agrees to count those 5 earliest Aaron homers, this would still leave him 2 jacks short of Bonds' 762. Still, these numbers aren't set in stone. Baseball records from back in the day weren't always comprehensive, so new stats often surface when researchers dig back through ancient box scores and newspaper accounts. As John Labombarda, editorial head of Elias Sports Bureau, told USA Today, "This will be an evolving project. As more data is unearthed, we will add it." 
Even if Aaron's numbers still stand at 760, though, the man's an undisputed legend. And as the aforementioned Great Bambino said in "The Sandlot," "Heroes get remembered, but legends never die" (via Rotten Tomatoes).