Why Princess Anne's Second Wedding Almost Didn't Happen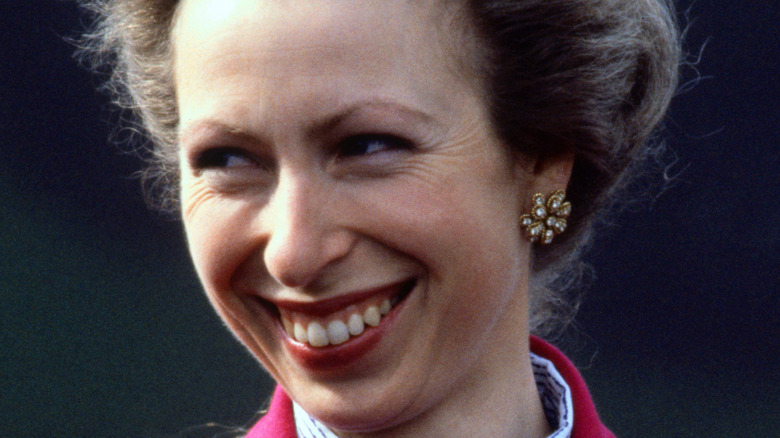 David Levenson/Getty Images
When Princess Anne married for the second time in 1992 (the same year she divorced her first husband, Mark Phillips), she was doing the type of thing that would've caused Twitter tornados — or full-blown apocalyptic storms — today. Anne, Los Angeles Times pointed out at the time, officially became the second British royal ever to remarry. The first, you ask? King Henry (the wife-murdering) VIII. 
Had her rebellious aunt, Princess Margaret, not set a royal precedent when she separated from Lord Snowdon 11 years prior, Anne's separation from Mark Phillips in 1989 might have brought Great Britain's tabloid industry to its knees. As it was, the same year Princess Anne divorced, both Diana and Charles and Andrew and Fergie announced their respective separations (via Us Weekly). Royal rifts were in vogue. 
Royal remarriages were not. And had Princess Anne had her heart set on marrying her second husband, Timothy Laurence, in England — had she aspired, say, to a Westminster Abbey ceremony, similar to her first 1973 wedding celebration (via Brides) — she may never have remarried at all. But Anne and her second husband opted for a much quieter event. The two tied the knot in front of 30 guests at Crathie Church in Scotland, near the royal family's favorite summer getaway, Balmoral. Reporters weren't invited to the party. In fact, UPI first notified the public of an upcoming wedding on December 5, just a week prior to the ceremony. "Due to the level of speculation about the matter, we decided to confirm that the princess royal and Cmdr. Laurence are planning to marry," a spokesman told the press. "But I cannot say where and when." 
Why Princess Anne couldn't remarry in England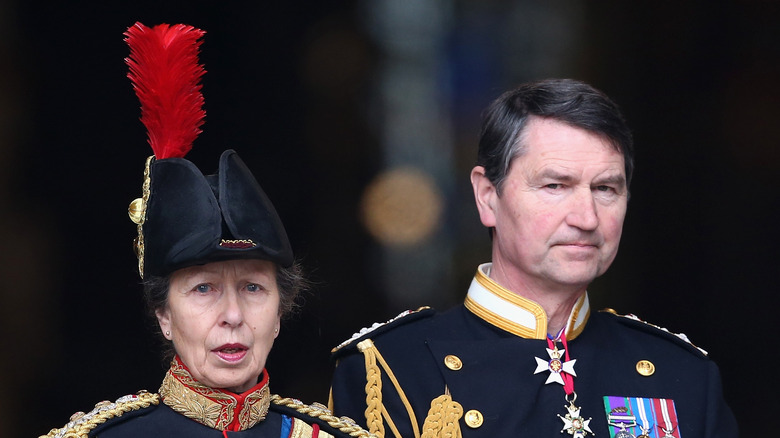 Chris Jackson/Getty Images
Princess Anne could not have remarried in England for the same reason that her aunt Princess Margaret was forbidden from marrying her first love, the divorced Peter Townsend. As Hello! points out, at the time, The Church of England forbid remarrying. The Church of Scotland, however, did not. And while Margaret ultimately decided not to elope, Anne made a very different decision.
Princess Anne and her soon-to-be second husband, Timothy Laurence, escaped to Balmoral. There, in front of her mother, Queen Elizabeth; her father, Prince Philip; and her brothers, Charles, Andrew, and Edward, the princess remarried. Even Anne's grandmother attended, an extraordinary event given, as Los Angeles Times reports, that The Queen Mother had been hesitant to do so, in light of Princess Anne's scandalous divorce. According to The New York Times, a crowd of 500 and an additional 150 journalists waited outside the church. None were invited in.
When Princess Anne was gearing up to marry Mark Phillips in 1973, the media asked the young couple whether or not they thought "marriage can withstand the enormous pressures of public duty and publicity that you have to endure" (via Brides). Anne reportedly answered, "Can? It's got to, hasn't it?" It didn't. The princess' second marriage, however, stood the test of time. Gossip columns still swoon at the two of them on dinner dates (via Hello!).
What keeps them together? In a recent and rare public interview, Laurence reflected that he and his wife "are both map and chart people. We like to know where we are and see where we are going" (via Express).
Prince Anne's first wedding was dramatically different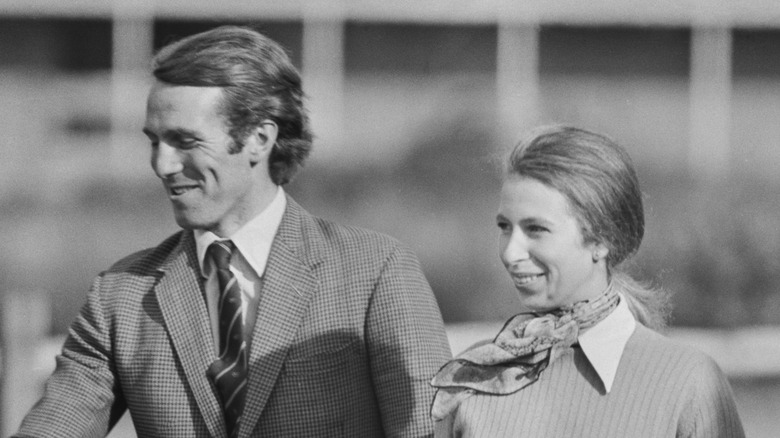 Mccarthy/Getty Images
Princess Anne and Mark Phillip's 1973 wedding was everything her 1992 wedding was not. Around 1,500 guests attended her Westminster Abbey ceremony. An additional 500 million watched it on television (via Brides). And, if The Firm tried its hardest to put a muzzle on the details of Anne's wedding to Timothy Laurence, it did the opposite for her first walk down the aisle. As per Vogue UK, Princess Anne and Mark Philip's wedding day — which corresponded with Prince Charles' 25th birthday — was declared a national holiday. She arrived at the event in a horse-drawn carriage. Her wedding cake was the size of herself, five feet, six inches. Per Hello!, she walked down the aisle with her grandmother's diamond tiara.
At her second wedding, she wore only heather in her hair, flowers that Hello! reports symbolize good luck. Yet, in many ways, Anne's second wedding — the wedding that nearly didn't happen — was truer to the princess' character. Anne, famous for having a temperament similar to her father's, has never particularly appreciated press attention. In her youth, she was a black sheep. To this day, Vanity Fair will happily remind you that she's the only royal to have received a criminal conviction — for not minding her dogs properly, but that's another story. Most of all, Princess Anne has never been a fan of the fairytale. "As a young princess, I was a huge disappointment to everyone concerned," Anne once said (via ABC News). "It's impractical to go around in life dressed in a long white dress and a crown."