How Long It Really Took Jessica Chastain To Transform Into Tammy Bakker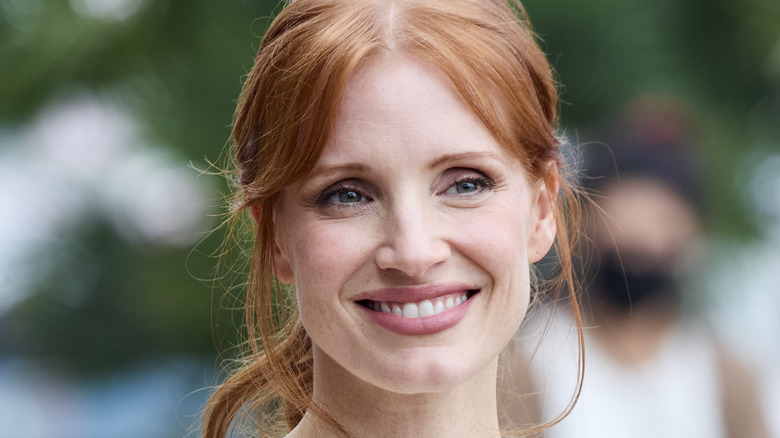 Carlos Alvarez/Getty Images
Based on the 2000 documentary of the same name, "The Eyes of Tammy Faye" (trailer on YouTube) sees Jessica Chastain completely transform into the persona of the late televangelist Tammy Faye Bakker. The actress has been the driving force in getting this film made, after spending 10 years researching Bakker's story.
Chastain was amazed that a biopic hadn't already been made about Bakker, so she bought the rights to Bakker's story in 2012. "I re-watched the documentary when it was on TV and I was like, 'Why hasn't anyone done a movie about her?'" she told Variety, adding that she "worked forever to try to get it to happen and now it's happening."
The actress, who also serves as a producer on the biopic, was awed by Bakker's story. "The thing I loved the most about Tammy is her capacity to love. She knew what it felt like to not feel important, and she didn't want to experience that," Chastain told People magazine
In addition to her almost decades' worth of research into Tammy Bakker's life and personality, Chastain spent hours in the makeup chair to complete the physical transformation.
Chastain and the team wanted to make their portrayal of Tammy Bakker as true to life as possible
Tammy Bakker was known for her bold appearance, which included tattooed lip and eye liner as well as her dominating false lashes (via the Hollywood Reporter). This makeup routine is quite a task in itself, but Jessica Chastain went even further by adding prosthetics and wigs to literally change her into the televangelist.
"Every moment, I had something on my face," the actress told People. "I have a dimple in my chin that she didn't have, so we would seal that up. Her face was more round than mine, so I would have things on my cheeks."
The collaborative effort of makeup artists Linda Dowds, Stephanie Ingram, and prosthetic makeup designer Justin Raleigh was the key in Chastain's transformation into Bakker. "You don't want to completely lose your actor, but you need enough to transform them into the other person," Raleigh told Allure. In the end, it took Chastain and the team seven hours to apply all the makeup, prosthetics, wigs, and wardrobe.