The Best Natural Deodorants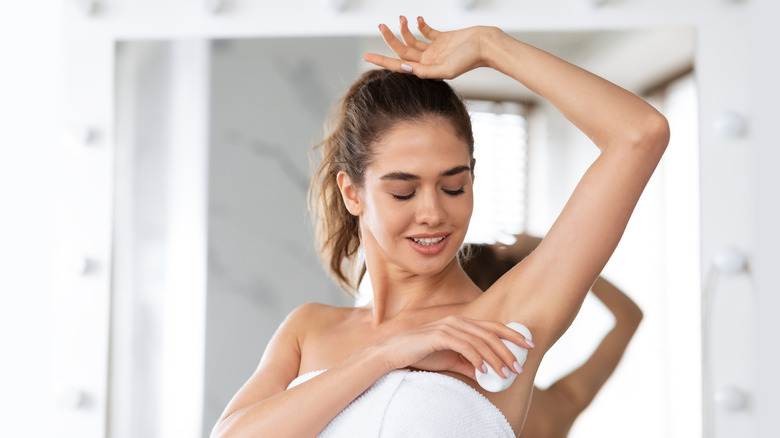 Prostock-studio/Shutterstock
Due to the increased popularity of natural products in the past decade or so, it's likely that you've at least seen the assortment of natural deodorants available at supermarkets and online. Unlike conventional deodorants, natural deodorants do not contain aluminum, which some think can lead to breast cancer. However, according to the American Cancer Society, no link between aluminum and breast cancer has been discovered at this point.
What can make finding the right natural deodorant a tricky process is that they don't contain the antiperspirant (aluminum) element of conventional deodorant. This means that many might struggle to find a natural deodorant that arms them against sticky and smelly armpits. As the Oprah website reported, aluminum turns out to actually be a vital part of deodorant, as it blocks the glands in your armpits that produce sweat and odor. In the absence of aluminum, a natural deodorant might contain activated charcoal that soaks up at least some sweat, along with baking soda and scents to disguise the odor that might come from your armpits.
If you've been struggling to find the right natural deodorant that actually soaks up your excess sweat and odor, read ahead as we detail just a few of our favorite natural deodorants.
These are the best natural deodorants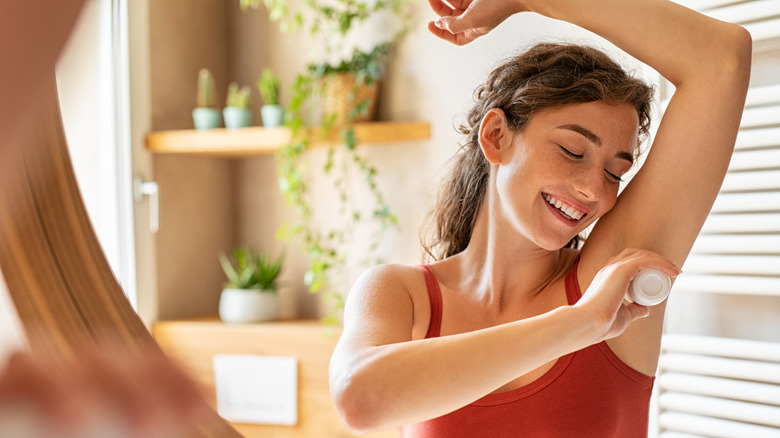 Rido/Shutterstock
Many beauty experts have recently been praising the Ursa Major Hoppin' Fresh Deodorant for its sweat absorption and clean, unisex scent that strays far from the typical "hippie" scent of other natural deodorants. The unisex natural deodorant contains peppermint, eucalyptus, and rosemary to create a "pleasing aroma," according to New York Magazine. If you're looking for that deodorant that will do even more for your armpits, Kosas Chemistry AHA Serum Deodorant is the one for you. Along with masking odor, the Kosas Chemistry AHA Serum Deodorant contains a blend of alpha-hydroxy acids that gently exfoliate and brighten your underarms.
Now, an option for those who struggle with extra-sweaty armpits. According to New York Magazine, one of the best extra-strength natural deodorants is LoveFresh Super Strength Deodorant. The natural deodorant contains a double dose of baking soda and arrowroot powder that soak up an impressive amount of moisture and odor. Those who have more sensitive skin will benefit from purchasing Native Deodorant in Coconut & Vanilla. Instead of using baking soda to soak up excess sweat, Native Deodorant uses tapioca starch to keep sensitive armpits dry. Coconut oil is also added into the mix to keep armpits moisturized.
Thankfully, a great drugstore option also exists for those looking to try out natural deodorant. According to Allure, Secret Deodorant With Pure Essential Oils, which features scents like lavender, ginger, and cedarwood, is a relatively inexpensive drugstore option.