Elvira Actress Cassandra Peterson Opens Up About Alleged Assault By A Sports Legend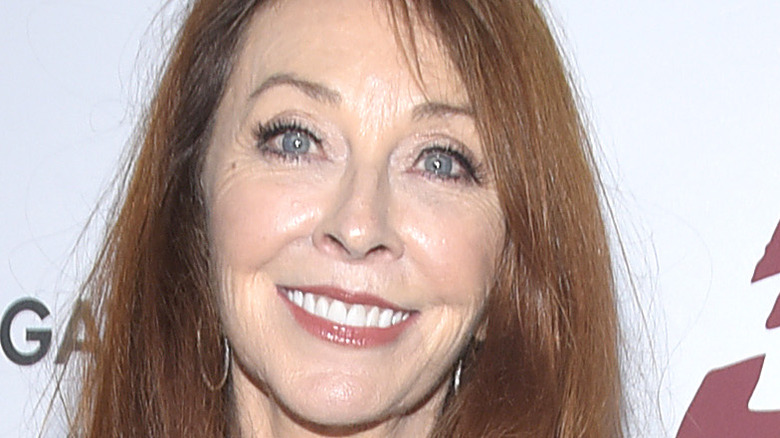 Michael Tullberg/Getty Images
Cassandra Peterson has entertained millions over the years with her iconic persona, Elvira, Mistress of the Dark. What began as a popular local TV character has exploded into a phenomenal career 
Peterson's recent autobiography, "Yours Cruelly, Elvira: Memoirs from the Mistress of the Dark," reveals that she's much more complex than her spooky-sexy-funny persona would suggest. For starters, she once survived a horrific scalding accident that burned 35 percent of her body. Her career also includes a stint as a showgirl in Vegas when she was just 17, where Elvis Presley suggested she become a professional singer (via Horror Obsessive). She's a graduate of The Groundlings, the Chicago comedy troupe whose alumni include many "Saturday Night Live" performers. Now, thanks to her Elvira character, she has her own line of merchandise, a couple of films, and a Hulu series to her credit. Plus, open invites to every horror convention under the sun. 
The memoir also brings to light some aspects of Peterson's personal life that she has kept to herself until now. For the first time, she revealed that she has been in a relationship with a woman for nearly a decade. Peterson also alleges that she was a victim of a sexual assault by a very famous sports figure — an assault she recently described to People as "shocking, horrifying, traumatizing."
Peterson claims a former friend attacked her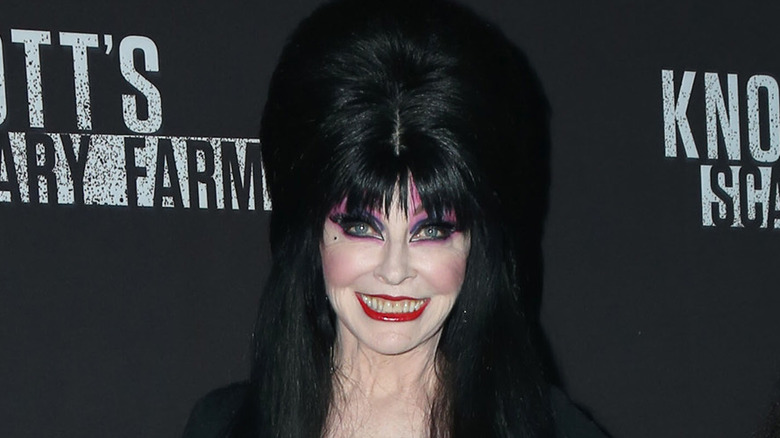 Kathy Hutchins/Shutterstock
Peterson explains in her memoir that she was once a friend of Wilt Chamberlain, the NBA superstar who made his fame with the Los Angeles Lakers. At one point in the 1970s, he invited her to a party at his mansion where he cornered her alone in a walk-in closet on the pretense that he wanted to show her his jersey collection. Peterson alleges that Chamberlain forcibly made her perform oral sex on him (via People). 
"Why didn't I try to scream, fight back, or get away," Peterson writes in her book. "When a seven-foot-one, 300-pound man has his hand wrapped around your neck, there's really not a lot you can do." She adds that she didn't call the police, convinced that they would take the side of a basketball legend over the claims of an unknown actress. 
Stunned that she had been assaulted by a friend — which made it "creepier" in her eyes — Peterson was also haunted by the belief that she was somehow to blame for the attack. For decades, she kept quiet about the alleged incident. Only after the #MeToo movement empowered women to come forward with their stories did Peterson feel safe revealing her own experience. She even thought, "Wait a minute. I didn't do anything wrong. [Chamberlain] did something wrong."
The Elvira actress hopes that by finally going public, she can help other sexual assault victims report the crimes and release their unearned guilt. As she writes, "I thought if I can share my story, it might make one person out there feel like, 'Wow, this can happen to anybody at any time and no, I'm not, I didn't do anything wrong.'"
If you or anyone you know has been a victim of sexual assault, help is available. Visit the Rape, Abuse & Incest National Network website or contact RAINN's National Helpline at 1-800-656-HOPE (4673).