Donald Trump Said This Could Prevent Him From Running For President Again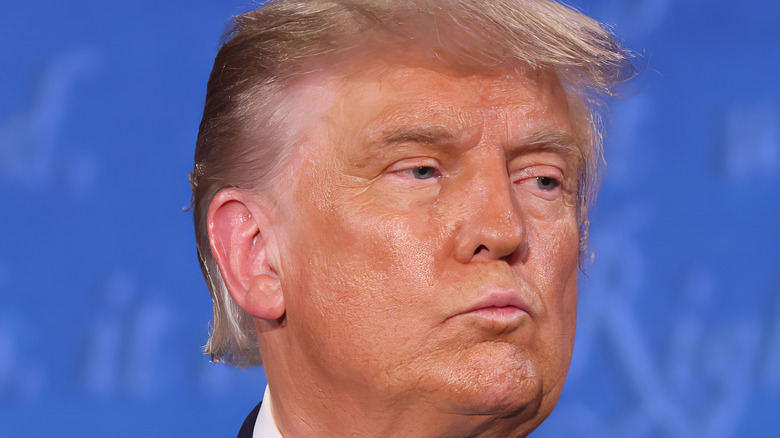 Devi Bones/Shutterstock
Since Joe Biden took over the American presidency in January 2021, former President Donald Trump has been teasing the public about potentially running for the presidency yet again in 2024. For months, Trump has been speaking about the joy his fans, followers, and political constituents will feel when he makes his "announcement." However, Trump has only yet to not-so-subtly hint at what this announcement might be.
Many of those close to Trump claim that he is setting himself up for a "turnkey operation" once he makes the announcement that he will be running for president once again. According to Politico, the evidence of this turnkey operation lies in the fact that Trump has piled new rallies onto his increasingly full plate (and many of them take place in critical locations, like the swing state of Florida). Additionally, Trump's Save America PAC has hired two political experts from Iowa who will be charged with "advancing Save America's goals of electing strong, pro-Trump, America First conservatives," per Politico. Hmm.
Despite the fact that only one former president was able to win a second term following a loss (this distinction belongs to Grover Cleveland), Trump's senior aide, Jason Miller, is confident that his boss is going to face this difficult task head-on in 2024. "I would say somewhere between 99 and 100 percent," Jason Miller told Cheddar earlier this month (via Mediaite). "I think he is definitely running in 2024." So what could halt all of Trump's apparent momentum?
Trump admitted that 1 possibility could prevent him from running again in 2024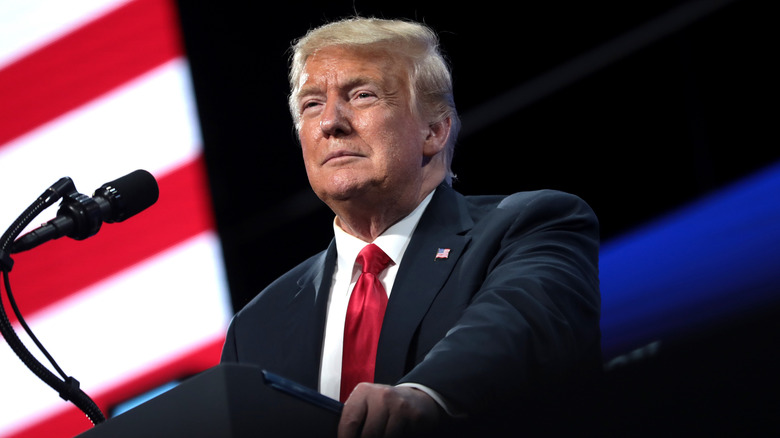 Nuno21/Shutterstock
During an interview with David Brody of the Real America's Voice network on Friday, former President Donald Trump addressed the prospect of seeking the presidency once again. When asked if he could think of a reason not to run in 2024, Trump mentioned his health. "Well, I guess a bad call from a doctor or something, right?" Trump told Brody, according to New York Post. "I will say, that happens with people. So things happen, through God, they happen. But you know, I feel so good, and I hate what's happening to our country." When he was elected in 2017, Trump was the oldest president to ever assume the position at 70 years old (via ThoughtCo). Current President Joe Biden became the oldest after assuming the presidency at 78 years old earlier this year.
Trump, who is now 75 years old, will face even more questions regarding his health and diet if he intends to run again at 78 years old in 2024. When asked by Axios if Trump's health will be sound enough to pursue another presidential campaign, Reverend Franklin Graham, the president of Billy Graham Evangelistic Association and early supporter of Trump, expressed doubts that Trump's health would allow for it. "I think for him, everything will depend on his health at that time. If he still has energy and strength like he does," Graham said. "I don't."