Is This What Donald Trump Really Wants For His Political Future?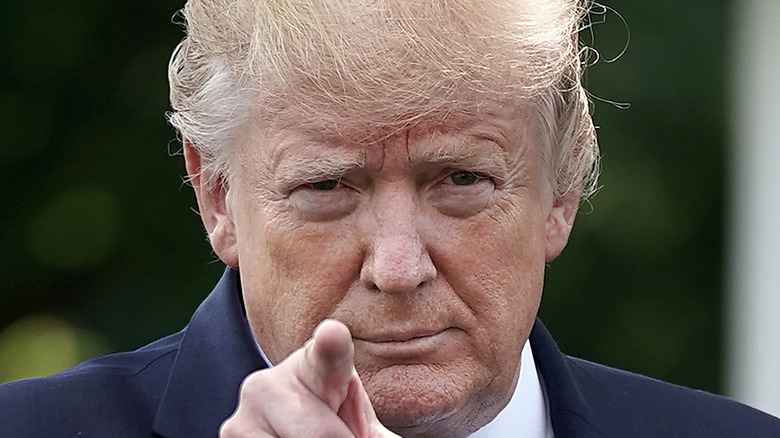 Chip Somodevilla/Getty Images
Donald Trump has been keeping everybody, on both sides of the aisle, on tenterhooks about whether he's going to run for president again in 2024. As The Guardian notes, however, leaving supporters and haters alike in the dark actually helps Trump to continue getting press and, crucially, making money. He's slated to host a rally in Iowa on October 9, 2021, which seems to suggest Trump is genuinely about to announce his presidential intentions once again since the state is famously a launchpad for candidates. The former commander-in-chief has been pushing his widely debunked theory that the 2020 election was stolen by current President Joe Biden, and a potential win in 2024 could exonerate Trump on the international stage, too.
It's entirely possible even the man himself doesn't yet know whether he's going to run, but the accompanying attention is highly addictive. As Henry Olsen, a senior fellow at the Ethics and Public Policy Center think tank, explained, "One thing he has learned is that nothing he experienced with the front page of the New York Post or 'The Apprentice' or his books equalled anything like the constant attention you get by being an international political figure." Indeed, Trump has spent these months post-presidency consistently reminding people that he was once president and, by his estimation, should rightfully hold the office again. There have been plenty of reports, from those in Trump's orbit, about his plans but this is the most pressing one yet.
Nothing is more important than being Donald Trump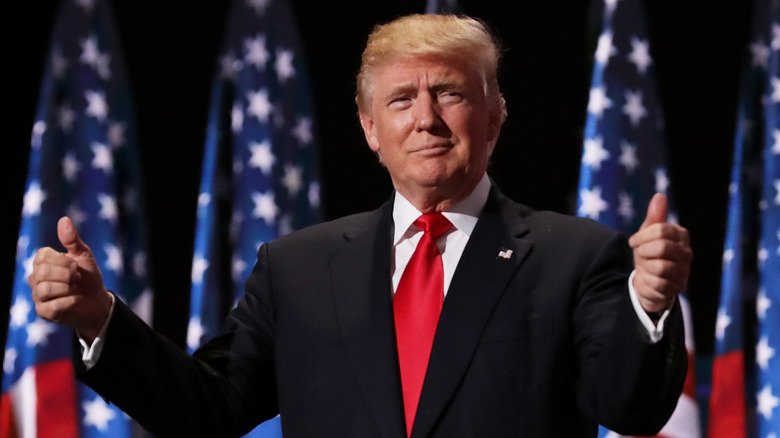 Chip Somodevilla/Getty Images
According to The Hill, during a recent appearance on "Morning Joe," journalists Bob Woodward and Robert Costa suggested Donald Trump is desperate to be back in the national conversation and, more pertinently, to occupy the Oval Office once again. As Costa explained, "You start to hear a certain refrain from people who really know him, that he wants back, that he feels he has the political capital with his core supporters." Although Trump is enjoying playing plenty of golf, now that he's been banned from most social media sites including Twitter, the former reality star has "more time" to dedicate to a 2024 run. In fact, Trump believes he's still in control of the Republican party and, although there are others vying for the spot, according to Costa, "It's president Trump who really wants back."
According to a recent poll, the controversial former president remains the favorite to win the nomination if he does go for it, too. An aide to one of Trump's potential Republican competitors also previously admitted the idea of him running "feels like more of a possibility now than it did before." Still, as Woodward reasoned, the former president's sole intention in life is "to be Donald Trump," which crucially "does not connect to the needs of the people in the country." Most notably, the veteran journalist even suggested there's reason to believe Trump could beat Biden if they went up each other again.