The Meaning Behind Kevin Jonas' Sweet Tattoo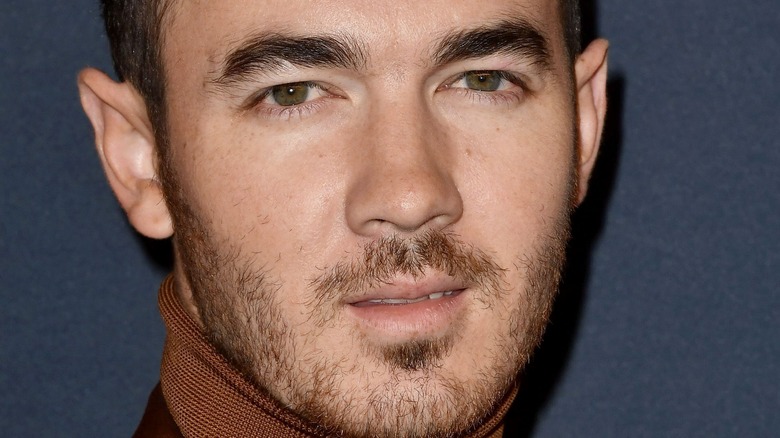 Frazer Harrison/Getty Images
It's no secret that all three members of the pop band The Jonas Brothers have been heavily tatted up for quite some time now. As the trio has moved past their Disney Channel days, Joe, Nick, and Kevin have all been seen sporting a plethora of body art, especially on their arms, per Insider. The multitude of tattoos includes various letterings, symbols, and images, all with different meanings.
While Joe is the most inked, with at least 30 photographed tattoos, lead guitarist and background singer Kevin is no stranger to the art form himself either. Some examples of Kevin's tattoos include a key on his right arm, four doves on his bicep, and two animals holding hands on his forearm. However, there is one specific piece that Kevin Jonas got in October of 2019 that'll make you blush when you find out why he got it. Here's the meaning behind Kevin Jonas's sweet tattoo.
Kevin Jonas's sweet tattoo proves he is devoted to his wife
In October of 2019, Kevin Jonas debuted a new forearm tattoo on his Instagram. Done by L.A.-based tattoo artist Winter Stone, per People, the piece is a minimalistic outline of a woman in a fluffy ball gown. But what is the meaning behind this abstract tattoo? Jonas himself was clear about the fact that it is an homage to his wife Danielle, particularly referencing her appearance in the "Sucker" music video, where she was seen sporting a pink Giambattista Valli while walking a pack of corgis outside of Queen Elizabeth's childhood home, via Page Six.
"Brand new addition to the fam. So proud of this time in our life and getting to remember this with @daniellejonas forever!" the now-33-year-old musician proudly captioned the Instagram photo, who included a screenshot of his wife in the "Sucker" video for reference.
According to Insider, the two wed in December 2009 and have two daughters together. Jonas also has another tattoo dedicated to his wife, the word "Dani" placed on his ring finger, a clearly dedicated and loving husband.