Joe Jonas' Tattoos: A Complete Guide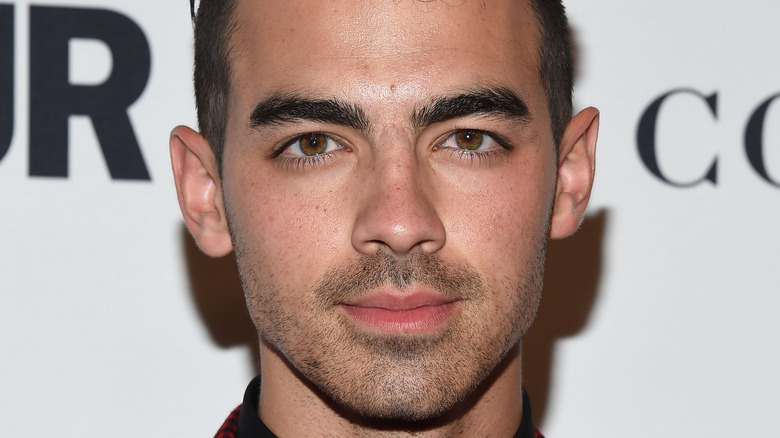 DFree/Shutterstock
The Jonas Brothers have arrived in Las Vegas, where they'll be kicking off their "Remember This" tour on August 20, according to Las Vegas Magazine. It's been a big week for the middle Jonas Brother, Joe Jonas, who also just celebrated his 32nd birthday on August 15. Jonas even posted some photos of how he celebrated his big day on Instagram. There was a cappuccino-shaped birthday cake and balloons, according to Buzzfeed. 
At the end of the birthday post, Jonas even shared a photo of himself in his birthday suit. The mirror selfie taken by his wife, Sophie Turner, has her strategically placed right in front of the naked Jonas as he brushes his teeth in the bathroom (via Page Six). Turner and Jonas also just celebrated their second wedding anniversary this summer as well. To celebrate that occasion, Jonas shared a sweet throwback photo from the wedding — fully clothed (via Instagram). 
While the birthday photo Jonas shared may be a bit NSFW, it does show off a few of his hidden tattoos. 
Joe has a lot of tattoos for his family
Joe Jonas actually has almost 20 tattoos on his body, according to J-14, and they all have a special meaning. Some of his tattoos even represent his family, like the rope tattoo he showed off on Instagram in 2012. He also has a tattoo that could be for his wife, Sophie Turner, because it looks like her face peering through a keyhole (via Instagram). 
In 2018, Jonas also got a minimalist tattoo of a woman that fans speculate also looks like Turner (via Instagram). While he has never confirmed either tattoo is of Turner, the couple did get matching tattoos together of their late dog, Waldo, according to PopSugar, and the phrase "to infinity and beyond" on their wrists (via Instagram). 
Jonas actually has a matching arrow tattoo with his brother, Nick Jonas, as well. According to PopSugar, the arrows could mean that the two brothers at the time in 2016 were "taking their lives in a different direction." Also in 2016, Jonas got a cake slice tattoo for his band DNCE who had the hit song "Cake by the Ocean" (via Instagram). 
For his grandfather, Jonas got a tattoo of him on his right arm by tattoo artist Mr. K (via Instagram). That wasn't the only tattoo from Mr. K either. Jonas also got a dove and "15" tattoo, which fans have again speculated could be a reference to Turner and the date he proposed — October 15 (via PopSugar). 
Joe has some tattoos he hasn't revealed the meaning of
While a lot of Joe Jonas' tattoos represent his family and his accomplishments, some don't really have a meaning or he hasn't explained them yet. In 2018, Jonas went to tattoo artist Winterstone for a falcon and crown tattoo, which don't have specific meanings to them (via Instagram). He also got an axe tattoo from tattoo artist Mr. K at Bang Bang Tattoos, which he hasn't revealed the meaning behind either (via Instagram). 
One of Jonas' first tattoos he ever received was of an Adinkra symbol, which means cooperation and interdependence according to Insider. He posted a photo of the tattoo to Instagram with the caption "help me help you," but it's unclear how that specifically relates to the "Sucker" singer. A year later, he got a tattoo of a heart by artist Hrukti Kokayi. Other than some fan speculation that the image was designed by his girlfriend at the time, graphic designer Blanda Eggenschwiler, there is no meaning behind this ink either. 
Sometimes, it's about the artist and not the design at all. For example, Jonas revealed he went to tattoo artist Curtis Montgomery in 2016, because he loved his "line work." In an interview with Rolling Stone, Jonas confessed that he was a fan of Montgomery's line work and it's often "hard to find" artists who can do clean line work. Montgomery did a triangle with a female hand inside.