Here's What You Should Know Before Getting Peekaboo Highlights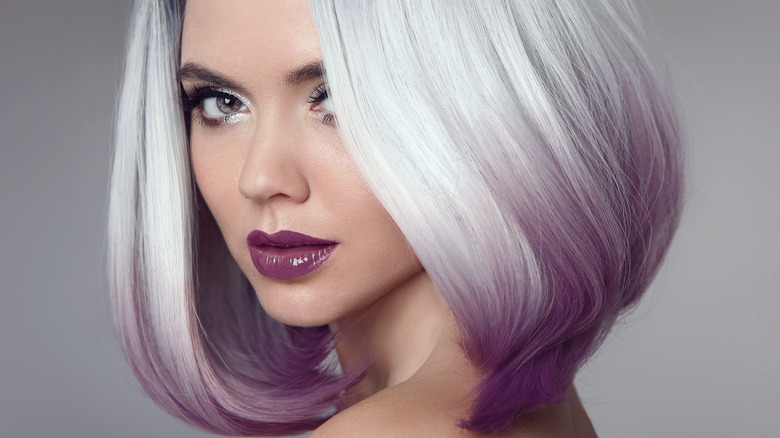 VAndreas/Shutterstock
Are you looking to shake things up with your hair in a bold, adventurous way but don't want to make a massive change to your entire head? Peekaboo highlights, also commonly referred to as "hidden highlights," per StyleCraze, are the perfect way to make a quirky yet subtle statement with your hair. 
They're called "peekaboo" highlights because they're strategically placed in your freshly bleached hair underneath the top layer in a certain manner that "peeks out" from your strands, and they are often done in unconventional colors such as blue, purple, pink, and more. "Peekaboo highlights are the perfect way to try out a fun color," Guy Tang, founded of #myDenity hair color, told Byrdie.
While you may be eager to book an appointment at your nearest salon after hearing about peekaboo highlights, there are some things you should consider before making the commitment to the whimsical hairstyle. Here's what you should know before getting peekaboo highlights.
Peekaboo highlights are highly versatile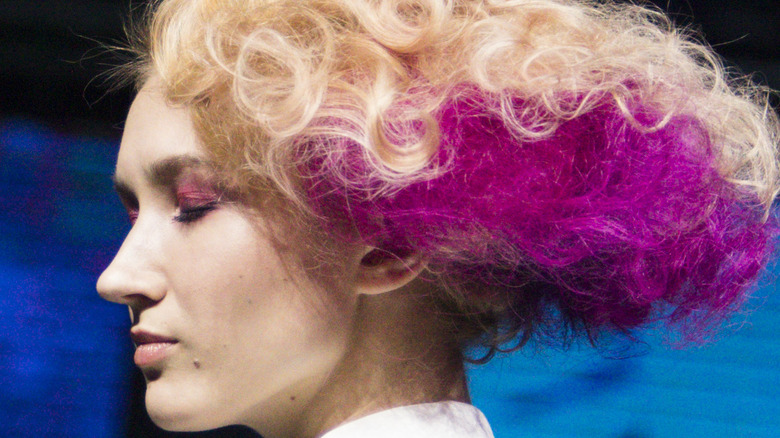 Rosdiana Ciaravolo/Getty Images
According to StyleCraze, peekaboo highlights are performed by coloring an inch from your natural part and moving downward. They're locked in place with foils. Perhaps the best part about peekaboo highlights is the plethora of options. Not only can you choose multiple colors in one session, but the color can also be placed on the bangs, around the ears, or in the back, according to hair care blog Terrific Tresses. Another benefit about these highlights is that they are low maintenance, as you don't have to worry about pesky roots grow out.
While you may be tempted to save money by doing peekaboo highlights yourself at home, this is an unwise choice. Because of the intricate nature and skill required to create these highlights, it's much better to get a professional dye job to avoid damaging your hair.
And finally, when it comes to maintenance, use a color-safe shampoo and conditioner, avoid tight updos for three weeks, and get regular touch-ups to make sure the color stays vibrant.