The Different Types Of Highlights You Can Ask For At The Salon
Shutterstock
If you're looking to change up your look at the salon, you might be tempted to just head in and ask for highlights, but it's much more nuanced than that. Here are different highlight types and what you can expect from each kind.
Partial highlights are generally around the face and top half of your hair, and your natural hair color will be obvious if you pull your hair up in a ponytail (via The Right Hairstyles). Some benefits to partial highlights is that the cost will be lower than full highlights, and it can look like a natural sun-kissed look, depending on placement. It can be the ideal choice if you don't want a huge color change or a super big commitment (via Pilorum Salon and Spa).
Full highlights means that all of your hair will include highlighted sections, and it will give you the brightest look and consistent color throughout (via Pilorum Salon and Spa). So if you pull your hair up, it will look the same. Since you're highlighting all of your hair, it can cause more damage than partial highlights, and it will be more expensive (via Byrdie).
There are also lowlights. The opposite of highlights, which lighten your base color, lowlights darken your base color. They can help add depth to your hair color, and they can be combined with highlights to really give your hair color a lot of dimension (via Pilorum Salon and Spa).
Babylights and peekaboo highlights have less commitment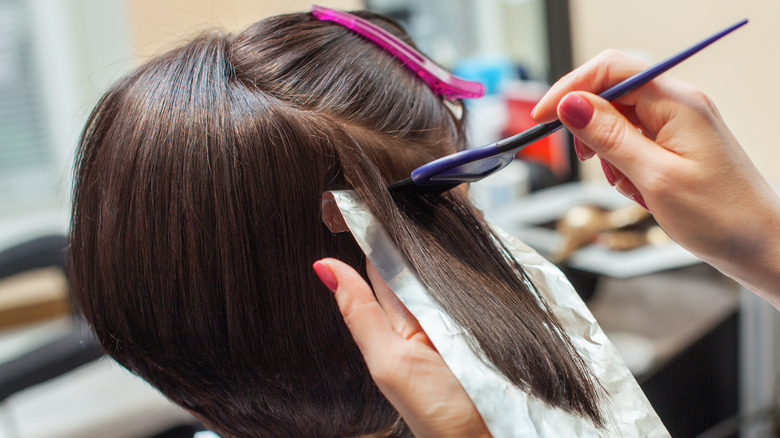 Shutterstock
Then there are babylights, which are more delicate and lighter than highlights (via The Hair Boutique). From mindbodygreen, celebrity colorist and Redken brand ambassador, Matt Rez, explained what makes babylights different than regular highlights. "Babylights are super fine—floss thin—weaves of highlights via foiling techniques. ... they are not meant to be very pronounced and are intended to simulate a super-natural, sun-kissed result."
If you're looking to bring more fun colors to your hair, like blues, pinks, and more, you'll need to commit to a longer process. You'll need to lighten the hair that you want colored, and then the color will be added (via Pilorum Salon and Spa).
And for a lower maintenance way to change up your look, you could go for peekaboo highlights, which are highlights placed beneath the top layer of your hair so they just peek out. As your hair grows out, if you tend to wear your hair down, the root growth won't show as much, and peekaboo highlights can also be a way to try out more out-there rainbow and pastel colors without the full commitment (via Love to Know).
Talk to your stylist and make sure your vision for your hair matches with what they can deliver, and get out there and get your new look!