Bronzer Vs Contour: The Best Brands For Each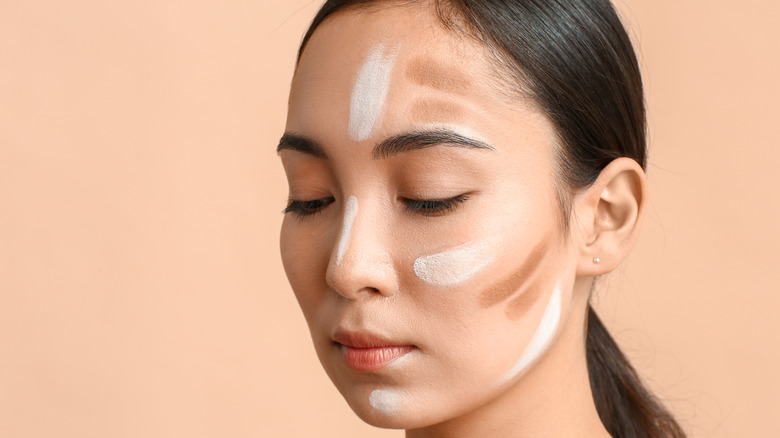 Pixel-Shot/Shutterstock
Bronzing and contouring are useful techniques that have become all the rage in the makeup world when it comes to defining your features. While contouring skyrocketed in popularity in the 2010s thanks to celebs such as Kim Kardashian (via Byrdie), Allure describes the concept of bronzing as a "timeless classic" that is more than just a trend. While both bronzing and contouring involve using darker shades of skin products to add depth to the face, the two terms are not interchangeable, as many believe. 
"Contouring is about shaping and defining the structure of the face, while bronzing is about warming up the skin where sun would naturally hit," celebrity makeup artist Daniel Martin told Allure in 2017. While contouring allows for a chiseled look and defined features, such as sharper cheekbones, bronzing is to be used on your features to give you a warm, sun-kissed look. But don't fret, as the two can be applied in harmony for ultimate dimension and gorgeousness.
If you're new to the vast world of bronzing and contouring, you may be wondering what some of the best products are to indulge in. Luckily, we have your back. Keep scrolling to read about the best brands for both bronzing and contouring.
The best brands for bronzing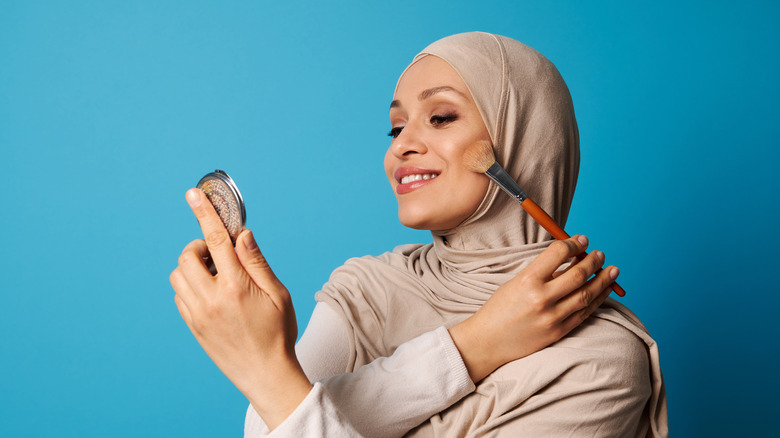 Taras Grebinets/Shutterstock
For the optimal shimmery healthy glow, Byrdie suggests that you select a bronzer that is one shade darker than your natural complexion. Bronzers come in matte, powder, and cream formulas to match your skin's needs.
A great, budget-friendly option is the L'Oréal Paris True Match Lumi Bronze It Bronzer ($14.99), which comes in three shades: light, medium, and deep, all with a universally flattering neutral undertone and a natural shimmer that won't look too chunky or glittery.
A good cream option for those with dry skin is Fenty Beauty's Cheeks Out Freestyle Cream Bronzer ($32), which has a lightweight finish and comes in seven shades with various warm, cool, and neutral undertones.
For oily-skinned friends, the Too Faced Chocolate Soleil Matte Bronzer ($32) comes in shades Light to Medium (Milk Chocolate), Medium to Deep (Chocolate), and Deep to Tan (Dark Chocolate), to flatter a range of skin tones in a blendable formula. The best part? Its sweet cocoa smell.
The best brands for contouring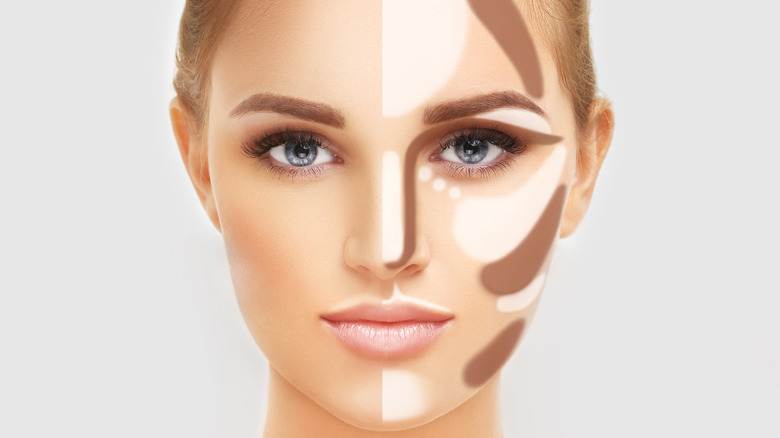 LADO/Shutterstock
"I like my contour to be pigmented and blendable," makeup artist Amanda Benko told Byrdie in March. The outlet also reports that while contouring kits often come in both powder and cream formulas, powders are easier to use in general and can still be usable for those with dry skin. Makeup artist Andreea Ali also told Byrdie that contouring products with two to four shades are all you really need to get the job done.
For a good, budget-friendly powder option, the Wet n Wild MegaGlo Contouring Palette ($5.99) comes in at a highly reasonable six bucks. Not only is the product conveniently travel-sized, but it also comes with two shades: one lighter for a base, as well as a deeper hue to bring out your features.
And if you're new to the world of contouring, Smashbox has a Step By Step Contour Kit ($35) that comes in three matte shades, along with a handy mirror and its own blending brush to help you achieve cheekbones, nose, and jawline features that look utterly snatched.
The Dior Backstage Contour Palette ($45) has a buildable finish that is matte yet shimmery at the same time to sculpt and define your face for a flawless, airbrush look that'll make you seem like you just stepped off the runway. "It can be used anywhere on the face and works for a makeup artist, as well as for a makeup lover," Ali said to Byrdie of the Dior Backstage palette.