Freida Pinto Shares Her Natural Beauty Hack To Get Perfectly Dewy Lids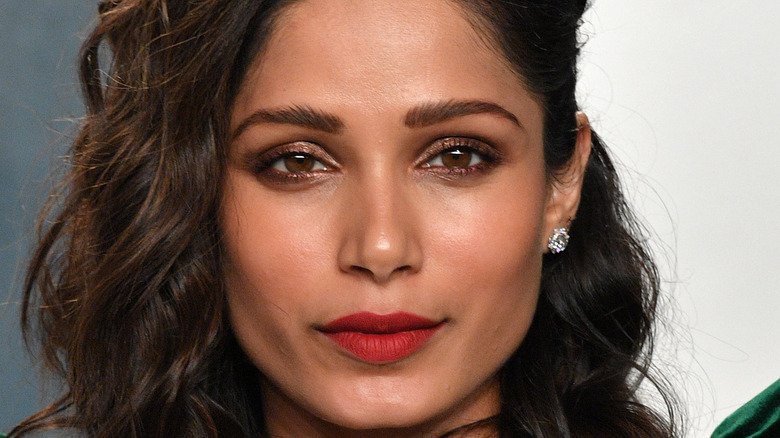 George Pimentel/Getty Images
We may receive a commission on purchases made from links.
Freida Pinto is the stunning actress whose debut role in "Slumdog Millionaire" opposite Dev Patel turned her into a household name. In the years since that attention-grabbing start, Pinto has featured in "Guerrilla" and "The Path" on TV as well as in movies including "Immortals," "Love Wedding Repeat," and "Intrusion," among many others (via IMDb). 
The Bombay-born star is obviously blessed with great genes, but Pinto is happy to share her beauty secrets with the rest of us mere mortals regardless. In fact, the actress admitted to Us Weekly that she's not particularly good at doing her own hair or makeup and relies on a team of experts to get her red carpet ready. 
When it comes to favorite products, Pinto loves NARS foundation, explaining, "Indian skin tone is very complicated. It has yellow undertones and discoloration and what not as you age." Her go-to beauty splurge is a spa day while, on a more molecular level, the actress ensures she carries Lucas Pawpaw ointment everywhere, noting, "It's one little tube that takes care of everything." 
Although the actress is a self-confessed rube when it comes to makeup, Pinto has at least one clever hack up her sleeve. 
Freida Pinto's go-to product is likely already in your makeup bag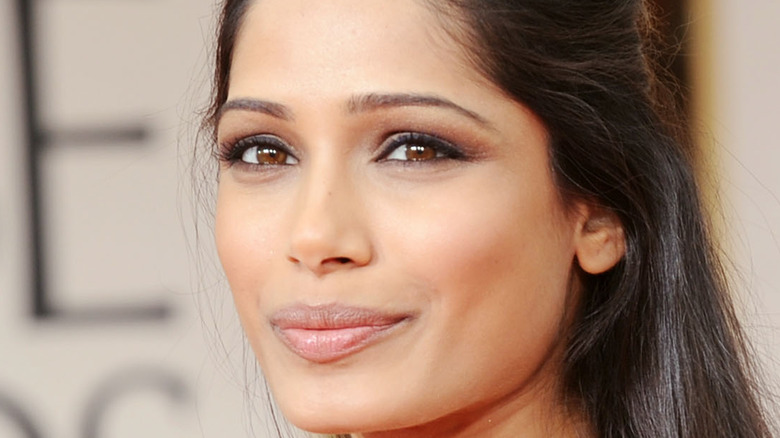 Jason Merritt/term/Getty Images
According to InStyle, actress Freida Pinto has a nifty trick for making your eyelids look gorgeously dewy. She revealed, "If you use petroleum jelly on your lids, it gives you a dewy, angelic look." Petroleum jelly is something you probably already have in your makeup bag, but if not, it retails for $3.95 on Amazon. There are plenty of ways to use Vaseline in your beauty routine, so it's a smart buy all around. 
Elsewhere, Pinto shared the power of vinegar during an interview with Coveteur. As the actress recalled, "On this one particular film, they had to use a lot of product in my hair ... They had to keep my hair looking a certain way, because I was this character from Greek mythology. In order to cleanse it out of my roots, someone said, 'oh, why don't you go buy organic apple cider vinegar, put it into your roots and leave it there for a bit?'" Pinto admitted, "It stunk! It was horrible! But when I was done with it, I didn't even need a conditioner. It was like magic." 
At home, she can get ready in a minute flat and tends to spend more time on her hair than her face, but when Pinto isn't using petroleum jelly and vinegar to beautify herself, she loves a good coat of mascara and a classic red lip. With those two done and dusted, she's ready.