CBD Vs. Hemp Oil: Which Is Better At Treating Anxiety?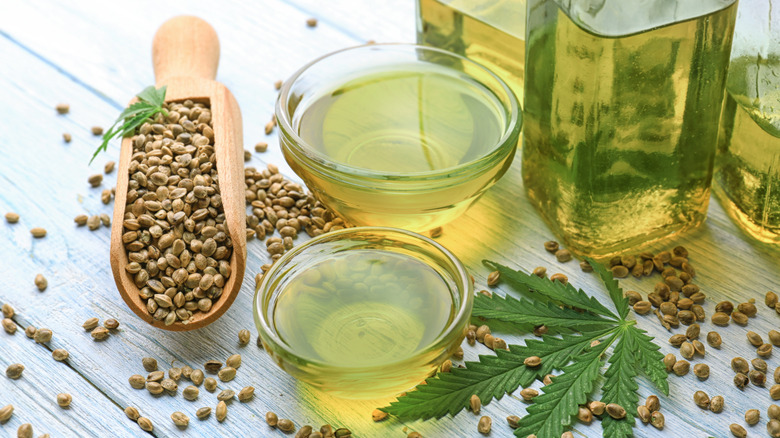 Africa Studio/Shutterstock
Wondering whether you should use CBD or hemp oil for anxiety? Both products can boost your health and well-being, but each has a different mechanism of action. Hemp oil comes from the seeds of Cannabis sativa and packs a hefty nutritional punch, notes the American Oil Chemists' Society (AOCS). It's very low in saturated fat and rich in polyunsaturated fatty acids (PUFAs), especially omega-3s.
These fats promote cardiovascular health and may help prevent strokes, according to the American Heart Association. PUFAs account for approximately 84% of the fats in hempseed oil and 8% of the fats in olive oil, per the ACOS. When consumed as part of a balanced diet, hemp oil may reduce inflammation, improve skin health, and lower your risk of heart disease (via WebMD).
Hemp seeds don't contain cannabidiol, points out Medical News Today. CBD oil, on the other hand, comes from leaves, flowers, and other parts of the cannabis plant. These contain varying amounts of cannabidiol, depending on the type of oil and its intended use. Additionally, CBD oil, gummies, and other supplements may have more or less tetrahydrocannabinol (THC) — but not enough to get you high. The U.S. Department of Agriculture limits THC concentrations in hemp and cannabis products to 0.3%. With that being said, here's what you should know about using CBD vs. hemp oil for anxiety. 
Both CBD and hemp oil can reduce anxiety, but in different ways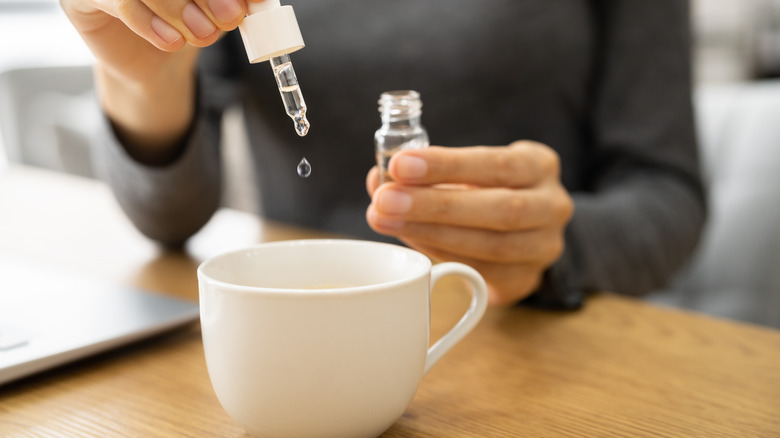 Andrey_Popov/Shutterstock
Cannabidiol, the primary compound in CBD oil, supports mental health and has no psychoactive effects. It appears to be particularly effective in the treatment of pain, epileptic seizures, and mental disorders. For example, a 2019 study published in The Permanente Journal found that CBD may decrease anxiety without causing any adverse reactions other than mild sedation and fatigue. As the researchers note, this compound stimulates the release of "feel-good" hormones and calms the central nervous system. It also interacts with certain receptors in the brain, which in turn may help reduce stress, anxiety, and compulsive behaviors (via Neurotherapeutics).
Tetrahydrocannabinol has similar effects when used in small doses, explains a 2017 review published by the University of Washington. Hemp oil doesn't contain CBD or THC, but it may benefit mental health due to its high content of PUFAs. In one study, subjects who took at least 2,000 milligrams of omega-3s per day experienced greater reductions in anxiety than those using lower doses (per JAMA). Other studies suggest that anxiety and depression are more likely to occur in people with low blood levels of omega-3s and omega-6s (via Psychoneuroendocrinology). 
As you can see, both CBD and hemp oil may help with anxiety — but in different ways. CBD oil is likely a better choice due to its high content of cannabidiol. Hemp oil, on the other hand, supplies unsaturated fats and other nutrients that promote overall health.