Here's What Liz Cheney Thinks About Joe Biden's Presidency So Far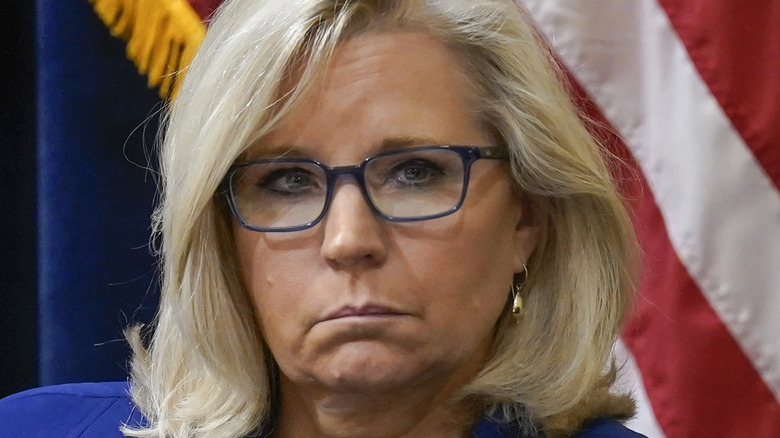 Pool/Getty Images
GOP House member Liz Cheney has neither kind nor generous thoughts to spare for former President and fellow party mate Donald Trump. She has made headlines for being one of the few who fought Trump's claims about how the election was stolen from him. And for this she became just one of two GOP members sitting on the House Select Committee investigating the January 9 insurrection (via CBS). 
But just because Cheney is mad at Donald Trump doesn't mean she's willing to give President Joe Biden a free pass, either. During a conversation with CBS' Lesley Stahl, Cheney said matter-of-factly that "Those who think that by ignoring Trump, he will go away, have been proven wrong. And in my view, the American people, they deserve better than having to choose between what I think are the really disastrous policies of Joe Biden — in a whole range of areas, really bad for our economy. From a national security perspective, what's happened, what he's done in Afghanistan: very dangerous policies for the country."
Liz Cheney has stayed true to her core beliefs as a conservative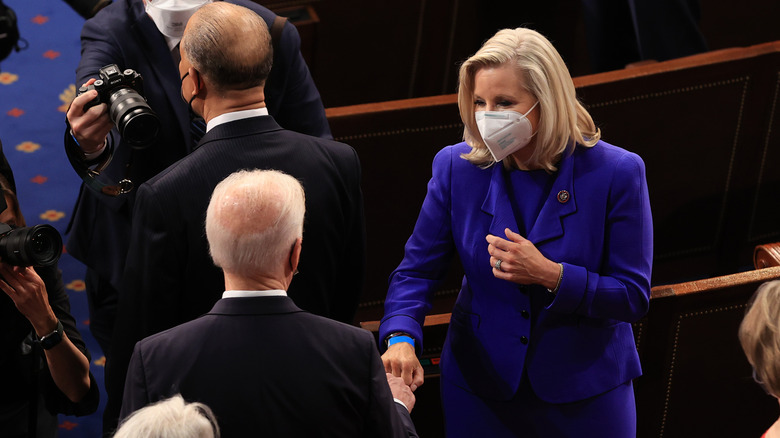 Bloomberg/Getty Images
Her comments may come as a surprise to those who saw Cheney fist bump Biden during his first address to Congress as a sign of support for his policies. Back then, it was viewed as what CNN called a sign of respect between colleagues. As she later Tweeted: "I disagree strongly w/ @JoeBiden policies, but when the President reaches out to greet me in the chamber of the US House of Representatives, I will always respond in a civil, respectful & dignified way." She also said: "We're different political parties. We're not sworn enemies. We're Americans" (via USA Today). 
Cheney's voting record reflects her conservative GOP roots too. She has voted down several Democratic bills since the Biden administration came into office, from the John Lewis Voting Rights Advancement Act, and the Consumer Protection and Recovery Act, to the American Rescue Plan (via Vote Smart). 
She makes a distinction between Biden and the man who held the office of the presidency before him, and still finds Trump wanting because "the alternative cannot be a man who doesn't believe in the rule of law, and who violated his oath of office" (via CBS).