Here's What Liz Cheney's Net Worth Really Is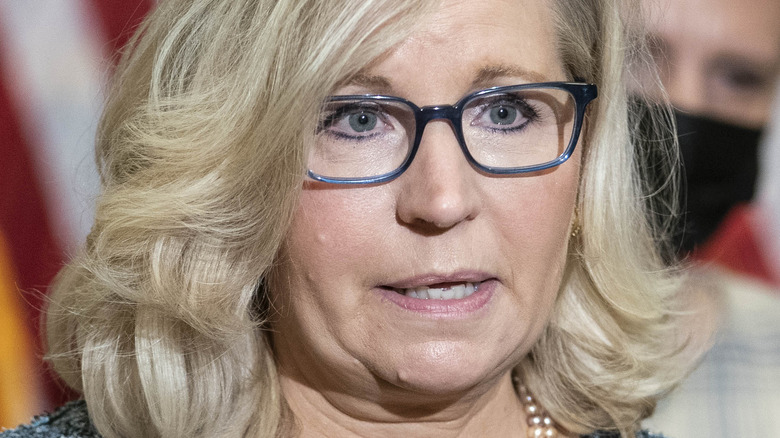 Sarah Silbiger/Getty Images
Liz Cheney, daughter to former Vice President Dick Cheney and U.S. Representative for Wyoming, is not a new face in politics. Before her time in Congress, Cheney worked for the State Department, the U.S. Agency for International Development, and the consulting firm Armitage Associates, according to the official House of Representatives website. Additionally, she served as the Chair of the House Republican Conference. Through her long and varied career, Cheney has amassed an impressive net worth. But just how much is Liz Chaney worth? The congresswoman is certainly not hurting in the financial department.
The current standard salary for a member of the House of Representatives as of 2021 is $174,00, according to Legistorm. But Cheney's total net worth is estimated to be between $5 million and $8 million dollars, as reported by Exact Net Worth. And while that may seem like quite a lot, she and her family currently live in Wilson, Wyoming, where the cost of living is 114% higher than the national average, per Area Vibes. Her husband Phillip Perry, who she met while in college, is a practicing attorney, so he surely brings in a substantial income as well.
Chaney's political journey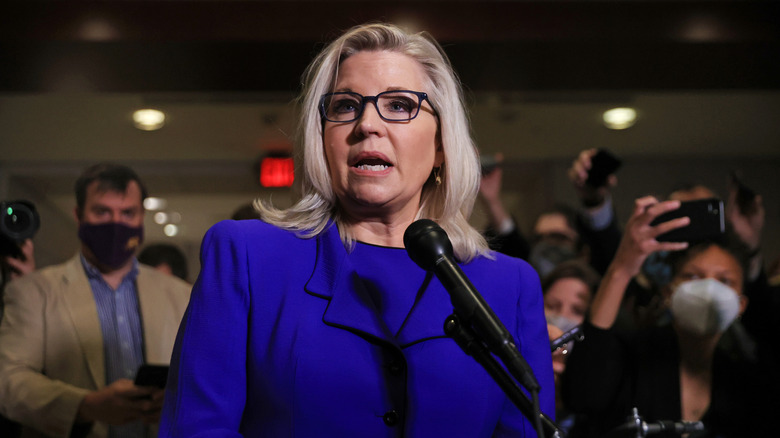 Chip Somodevilla/Getty Images
After her time with the State Department, Liz Cheney first ran for U.S. Senate in Wyoming in 2014, coming in as a Republican candidate and challenging Sen. Mike Enzi with a strong campaign against same-sex marriage. However, she withdrew from the race, citing health concerns. "Serious health issues have recently arisen in our family, and under the circumstances, I have decided to discontinue my campaign," she said in a written statement that was shared by CNN. "Though this campaign stops today, my commitment to keep fighting with you and your families for the fundamental values that have made this nation and Wyoming great will never stop." 
A year later, Cheney ran for the U.S. House of Representatives in Wyoming and won with 62% of the vote, according to Ballotpedia. She has gone on to be reelected twice, most recently in 2020. However, her frequent criticism of President Donald Trump led to her being voted out as House Republican Conference chair on May 12; she has since been replaced by Rep. Elise Stefanik from New York as the new GOP No. 3 in Congress' lower house (via Politico).
What's next for Liz Cheney?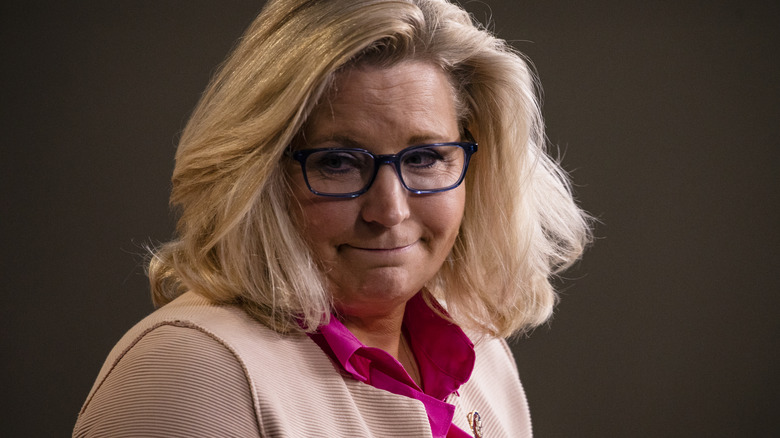 Samuel Corum/Getty Images
When speaking to reporters after being voted out as House Republican chair, Rep. Liz Cheney declared that she will "do everything I can to ensure that the former president never again gets anywhere near the Oval Office" (via USA Today). "We have seen the danger that he continues to provoke with his language ... I think it's very important that we make sure whoever we elect will be faithful to the Constitution," she said. Cheney has announced that she will be running for reelection in 2022, a move that Trump has spoken out about and urged other Republicans to go up against her. 
She sat for an exclusive interview with NBC News' Savannah Guthrie following the vote, reiterating that Donald Trump "never again can be anywhere close to the Oval Office," to which Guthrie asked if she would run for president herself. Cheney said, "I'm going to do everything that I can." In the meantime, Cheney retains her vote in Congress and will continue to use it to promote her politics. As for her net worth, it looks to be staying the same at this time, with Liz Cheney serving as a United States representative.