Inside Dog The Bounty Hunter's Emotional Connection To Gabby Petito's Family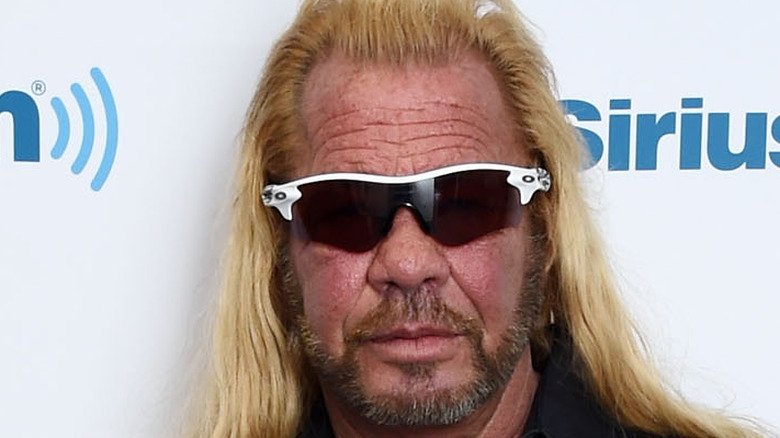 Ilya S. Savenok/Getty Images
The entire country has been gripped by the case of Gabby Petito, a 22-year-old woman from Long Island, New York who disappeared while on a cross-country trip with her boyfriend, Brian Laundrie. After Petito's family lost contact with her in late August 2021 — and Laundrie returned home to Florida without her — Petito was reported missing by her parents on September 11, 2021 (via CNN).
People were stunned to find out that Laundrie refused to help law enforcement with the investigation. One week later, however, the story took another strange turn. "We've been trying all week to talk to his family, to talk to Brian, and now they've called us here on Friday, we've gone to the home, and they're saying now they have not seen their son," a police spokesperson revealed. Then, on September 19, Petito's body was found in Teton County, Wyoming, and a coroner ruled her death a homicide. The FBI executed a search warrant at the Laundrie home the next day, but Petito's family is still left without answers about what happened to their daughter during that trip. "The evil one — I refuse to say his name — needs to be caught and brought to justice," Maija Polsley, a family friend of the Petitio family, told NewsNation. "Evil took out, extinguished one of the brightest lights on this planet."
Now the Petito family is getting help from a famous face with experience tracking down fugitives: Dog the Bounty Hunter.
Dog the Bounty Hunter has joined the search for Brian Laundrie
With the FBI executing an arrest warrant for Brian Laundrie, Duane Chapman — aka Dog the Bounty Hunter — has joined the search to help Gabby Petito's family get answers. In fact, Chapman vowed, "I will find him," in an interview with the Daily Mail. The TV personality has already pounded on the front door of the home of Laundrie's parents in North Port, Florida.
The professional bounty hunter has reportedly given himself six weeks to track Laundrie down and has set up a hotline — 833-TELL-DOG — for information about the fugitive. "I'm chasing several leads," Chapman revealed. "We've got a lot of leads. I can't tell you more but we are getting leads every 10 minutes." Many of his sources, however, believe that Laundrie is hiding out somewhere along the Appalachian trail (via the New York Post).
As for why Chapman has decided to take on the search for Laundrie, a representative explains that he and his new wife, Francie Frane, who is working with her husband, feel for Petito's family. "Dog and Francie have experienced extreme loss themselves," the rep told the Daily mMail "Their hearts go out to Gabby's family and want to help bring justice for her death."