What Really Happened At Dog The Bounty Hunter's Wedding To Francie Frane?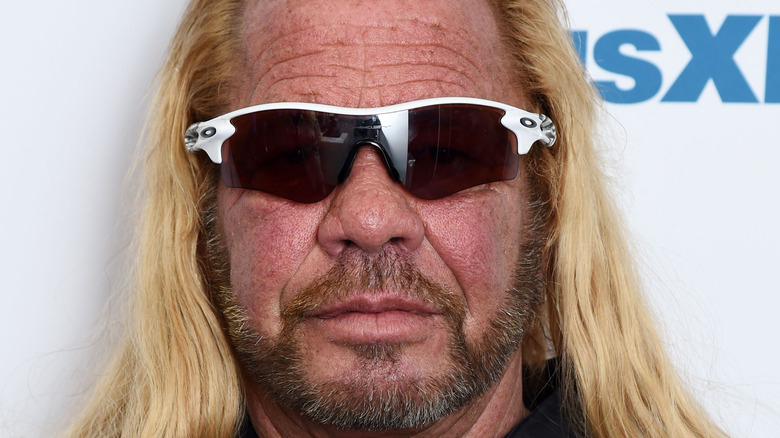 Ilya S. Savenok/Getty Images
It seems like most of the world forgot about the infamous Dog the Bounty Hunter until the drama surrounding his wedding hit the news circuit. Then, it was a storm of Dog the Bounty Hunter news stories. According to CNN, Duane "Dog the Bounty Hunter" Chapman was a television personality known for his show that followed him and his family's bail bonds business in Hawaii. Once his show ended, he faded into obscurity, occasionally popping up on another TV show or news article.
Things began to heat up after the passing of his wife, Beth Chapman, tragically lost her battle with cancer (via E! Online). He quickly began dating a woman named Francie Frane. The pair set a wedding date just two years after Beth's passing and stirred up some drama between Dog and two of his daughters.
The wedding went on despite the chaos it ensued. However, the drama leading up to the big day was just the beginning of it.
Vandals crashed the wedding
According to Daily Mail, the drama stayed around as the big day approached. The wedding was filled with security as, allegedly, someone threatened to throw paint on the new Mrs. Chapman's dress before the ceremony. The security team included German Shepards and Navy SEALs on deck. In the end, no paint was thrown on the bride's dress, but one guest claimed that their tires had been slashed, while another claims the vandals left a "mysterious pungent odor" in their car.
Before the wedding, Frane told ET the couple couldn't decide on a cake flavor. "So, he picked one part and I picked the other and we have several tiers of the cake and I don't like his part and he doesn't like mine," she laughed. "The reception is going to be a fun party and right after the wedding, it is all in one place. And we are going to be dancing and having a blast with all of our friends and our family and everybody that wants to share all of this with us."
Other than some vandalism and a whole lot of family drama, it seemed the pair's special day went smoothly.