Inside Meghan King And Cuffe Biden's Relationship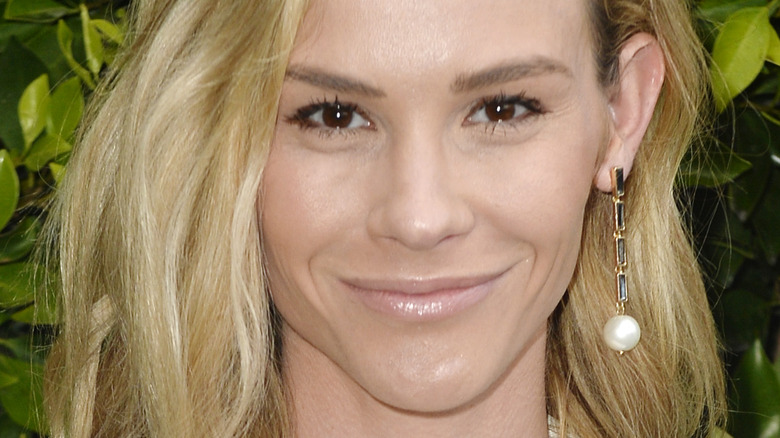 Jerod Harris/Getty Images
Meghan King rose to fame when she joined the cast of "The Real Housewives of Orange County" from season 10 to 12 (via Screenrant). At the time, the reality star was married to retired baseball player Jim Edmonds. The couple share three children together — daughter Aspen, and twin boys, Hart and Hayes (via Us Weekly and Bravo TV).
Of course, King and Edmonds would go on to divorce in a very public and nasty way, with the athlete saying about her allegations he cheated with the couple's nanny, "For someone to accuse me of sleeping with her is not only wrong, it's disgusting and irresponsible" (via People).
For her part, King has said the wedding ring her ex gave her "symbolizes fraud" (via Cosmopolitan).
The good news is that King moved on, dating Will Roos, a realtor, and Christian Schauf, an entrepreneur (via Who's Dated Who, Your Tango, and Natfluence).
But now, the mom of three is dating someone new and his name is Cuffe Biden. Yes, and he is related to that Biden.
What we know about Meghan King and Cuffe Biden
According to People, Cuffe Biden is President Joe Biden's nephew, and is the son of his sister, Valerie. The attorney resides in Los Angeles, and he just became Instagram official with Meghan King.
The reality star shared a photo of the new couple on her social media, along with the caption, "Trying my best to avoid any cheesy introductions like 'my main squeeze'... so just meet my man."
People notes that via King's Instagram Stories, she also shared more pictures of herself with Biden, who is 42 according to Pop Culture, enjoying time together at a vineyard.
The star's fans quickly showed their support for her proclamation in the comments section of her post, with one person writing, "You look like he gives off safe and loving vibes like a something different than what you have had before."