Meet Kim Kardashian West's Doppelganger On Lookalike Love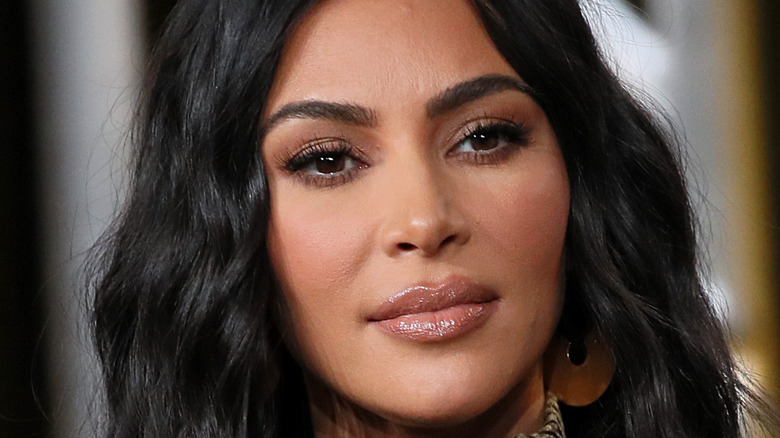 David Livingston/Getty Images
Kim Kardashian West's doppelgänger will make you do a double-take. Makeup artist Jennifer Ward is one of the stars from Lifetime's reality series "Lookalike Love," and the show explores her goal to become the "number one Kim Kardashian lookalike", per Daily Mail. Her makeup reels show off her Kardashian transformation and regularly bring in more fans. As of this writing, the beauty blogger has an impressive 88.7K Instagram followers, and 284.6K likes on TikTok.
According to Ward, a lot goes into being a Kardashian. In a June 2020 interview with Fabulous, she revealed just how much time, money, and resources go into looking like the beauty mogul (via The Sun). "To get ready in full Kim K glam takes about three hours," she admitted. "And it can take longer than that, a look I haven't done before takes up to four hours. Then you still have to take pictures." 
On top of finding Kardashian-approved dupes, Ward works out for two hours a day and upkeeps her beauty routine in order to look like the star (via The Sun). Ultimately, Ward proves that looking like reality TV royalty is a lifestyle.
How copying Kim Kardashian West's look boosted Jennifer Ward's self-confidence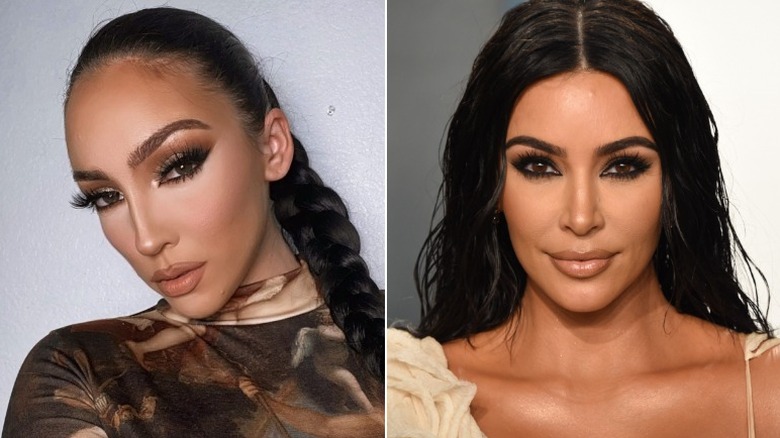 Instagram, John Shearer/Getty Images
Jennifer Ward has spent over 13 years imitating Kardashian West, reports Screen Rant, and she's even caught the star's attention before. In an April 2018 tweet, Ward tagged Kardashian West in a shot of her looking exactly like the KKW Beauty founder (pictured above), writing "I recreated your look in honor of my episode of #GlamMasters tonight." Kardashian West was floored by the resemblance and retweeted the photo with the caption "OMG".
In June 2021, Jennifer Ward told Hype Magazine about the positive impact imitating Kim Kardashian West has had on her confidence as well as the opportunities it's opened up. "I have so many giant dreams and goals after this and so many projects in the works, and just so many things in the pipeline, and I really don't want to put myself in a box," she explained. One of those opportunities included being featured on Kardashian West's 2018 reality series "Glam Masters" (via Insider).
What Jennifer Ward's family thinks of her Kardashian obsession
Jennifer Ward's love of all things Kardashian comes with its downsides, including the fact that not everyone in her family is supportive of her lifestyle. 
In the series trailer for "Lookalike Love," Jennifer Ward hesitantly confided in her husband Aundre Pipkin about getting plastic surgery (via Yahoo!). This wasn't the first time the conversation has come up for the couple. Though Ward reassured Pipkin that her visit to the doctor would be about exploring her options, Pipkin worried about possible side effects. "You know, you read things and see things that happen to people and it just worries me, 'cause, you know, she's my wife," he explained to the audience.
The fear of Ward becoming addicted to plastic surgery is also there (via Yahoo!). Pipkin added that he's concerned that "she's just starting to get consumed in all this," and he stressed that there's a difference between her wanting to resemble the "Keeping Up With Kardashians" star and completely erasing her own identity. "One thing you want to look like Kim, but don't change who you are," he added. "Don't lose yourself, and...I'm so afraid of that happening." Ward's family has also struggled with the makeup artist's lifestyle and cited concerns about her losing herself in the process (via Daily Mail). You'll have to tune in to "Lookalike Love" to find out all the juicy details.