Why Mama June And Geno Doak Split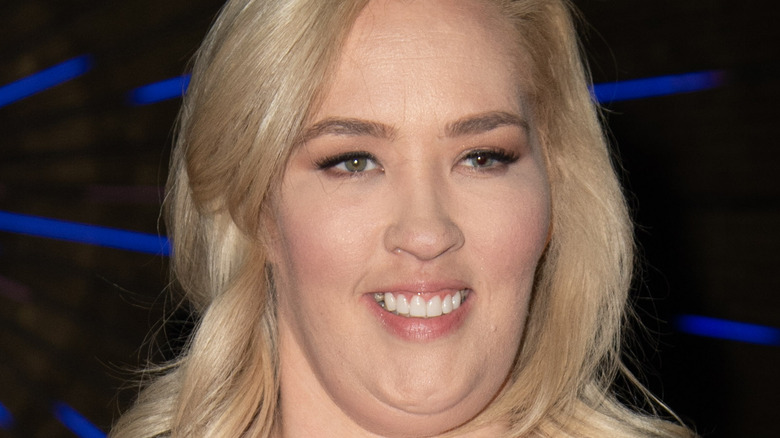 Earl Gibson Iii/Getty Images
June Shannon rose to fame through the reality series "Here Comes Honey Boo Boo," and over the years, she has been in several high profile relationships. For instance, there was David Dunn (Chickadee's father), Michael Anthony Ford (Chubbs' and Pumpkin's father), and Mike Thompson (Honey Boo Boo's father), as reported by Heavy.
In 2015, Mama June started dating Geno Doak. The relationship started before she had a $75,000 makeover that resulted in the loss of 300 pounds, and the romance blossomed despite the fact that he has been charged with domestic violence and theft, to name a few charges. In 2019, the couple was arrested for possession of a controlled substance, and since then, 21-year-old Lauryn Shannon Efird has had custody of her sister, Alana Thompson (via the Daily Mail).
After being charged with domestic violence, Doak was supposed to stay away from Mama June. On top of that, it was discovered that he had apparently been messaging other women, as reported by The Blast. And now, after years of ups and downs, the two have called it quits.
Different lifestyles led to Mama June and Geno Doak's break up
According to TMZ, Mama June and Geno Doak's breakup is due to her getting sober and him still drinking. Furthermore, there have been rumors about the reality star being in a new relationship, causing Doak to take the breakup even harder. He ended up being hospitalized in Florida, followed by a rehab facility in South Carolina.
So who is the new man in Shannon's life? It is rumored to be TikToker Jordan McCollum. Fans started to wonder about a relationship between the two after seeing their social media comments, guessing that Mama June bought him a new car, and seeing that she moved to Florence, Alabama, which is where McCollum lives (via International Business Times).
The rumored couple even took a recent trip to Las Vegas, Nevada, with 42-year-old Mama June buying 24-year-old McCollum's first-class ticket and paying for the hotel room. Despite the speculations, though, The Sun reported that McCollum has a girlfriend, and Shannon herself even shut down the rumors. "No we r not in relationship guys he just my amazing friend and my person and I wouldn't change it for anything in the world," she commented on a Facebook post.