The Truth Behind Hermès' New Nail Polish Collection
sylv1rob1/Shutterstock
Last year, Hermès bore good news for anyone who isn't waiting to spend $500,000 on a Birkin Bag. The luxury fashion house entered the world of cosmetics with the launch of its eponymous beauty line, featuring 24 "Rouge Hermes" lipsticks (via Elle). The lipsticks all drew inspiration from the shades and textures of various iconic Hermes products; 14 of them have a stain finish that is reminiscent of the iconic Kelly calf leather bag (via Elle). "When I imagine a shade of lipstick inspired by the color of leather or silk, it is a starting point," the creative director for Hermès Beauty, Jérôme Touron, said.
A few weeks ago, the brand expanded its beauty line with a collection of nail polishes (via CR Fashion Book). Like its lipsticks, the brand created 24 shades for the nail polish collection. Read on to know what inspired the colors as well as which nail tools were launched along with the polishes.
You can match your Hermès nail polish with their lipsticks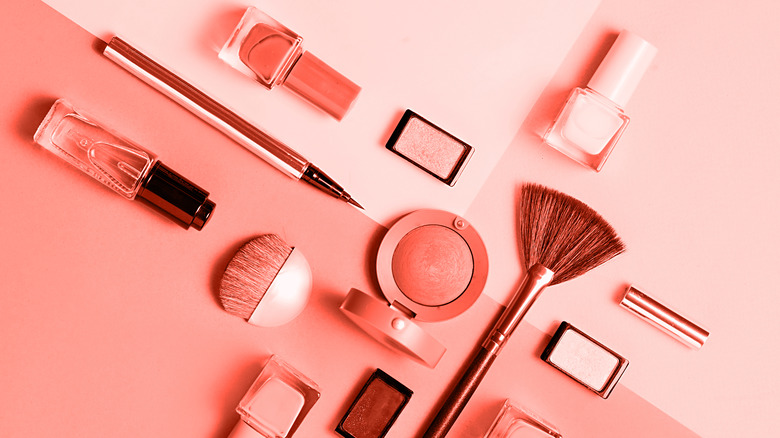 Nadin Panina/Shutterstock
Hermes began as a harness workshop in France and the brand has thereafter stayed true to its roots, bringing horses into their prints and designs while creating runways inside the Longchamp Racecourse (via AP). It makes sense then that the nail polish collection also has elements that are inspired by the brand's equestrian roots, as in-house colorists of leather silk built the shades, while tools like nail brushes were also included (via Elle).
The handcart collection also has a nail file made from Orange Boîte–colored poplar wood that's endorsed by Hermès artisans, according to Elle. "At the beginning, we wondered, 'Should we do a nail file at Hermès? Is it okay?'" Agnès de Villers, the chief executive officer, said. "But yes — it's necessary. Let's go for it."
The nail colors correspond to the lipstick counterparts, as demonstrated by an editorial shot by photographer Desiree Mattsson, who captioned it, "THINK PINK TWICE!" (via Instagram). So if you've always wanted to own your very own Hermès item or perfectly match your lip color to your nails, today's your day!