The DIY Hair Hack That Zoe Saldana Says Is A Family Tradition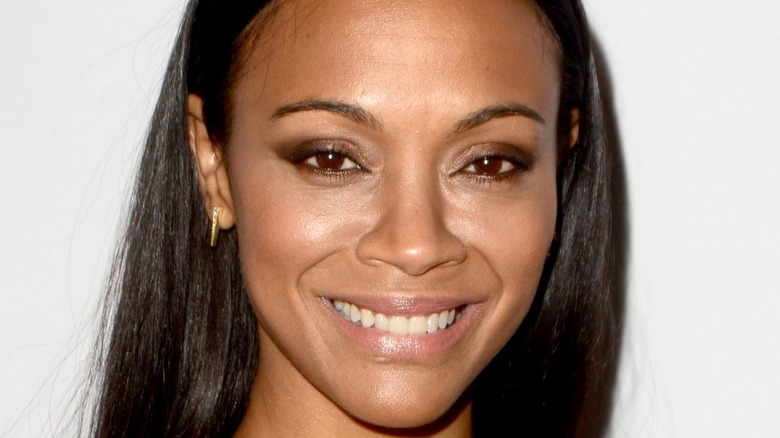 Kathy Hutchins/Shutterstock
Actress Zoe Saldana has walked numerous red carpets in her career, but the stunning star isn't as high-maintenance when it comes to getting ready for them as some of her contemporaries. As The Hollywood Reporter noted in 2015, Saldana proudly tackled her own hair for that year's Latin Grammy Awards. Under the supervision of makeup artist Vera Steimberg, the "Guardians of the Galaxy" star simply blow-dried her locks and then utilized a curling iron to add some soft waves to them.
Saldana might have taken a low-key approach to prepping her tresses for the Latin Grammys, but hair means a whole lot to her. As the actress explained to InStyle, "In Latino culture, hair carries a lot of history, a lot of weight, and a lot of energy." She elaborated, "I always liked my hair. I never wanted to have any other skin but my own, any other hair but my own. Women who spend so much of their lives wanting to have something else miss out on learning to appreciate what they do have."
When it comes to hair hacks, though, the Marvel star has a pretty smelly, old-school go-to that she refuses to give up.
Zoe Saldana says this smelly condiment works hair wonders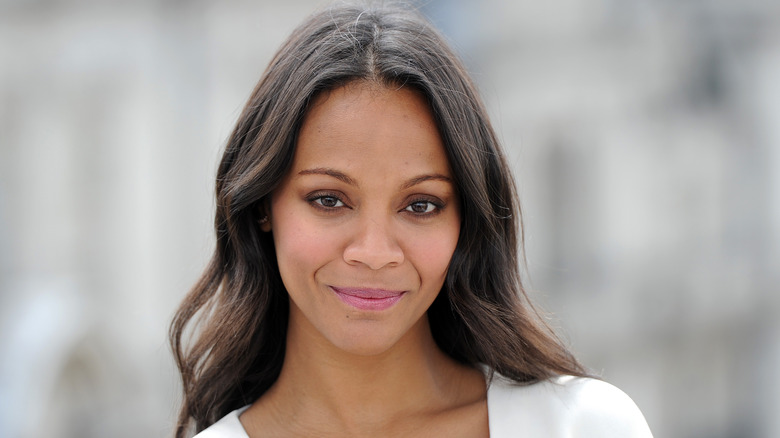 Stuart C. Wilson/Getty Images
During a chat with Allure, actress Zoe Saldana admitted that her mother is a bit of a hippie and "very health conscious," so she and her sister grew up living as cleanly as possible, particularly when it came to beauty. As children, they referred to a book "about natural beauty remedies and we used to look up everything, like how to make masks out of oatmeal or give our hair highlights using henna tea or even rum." On an annual basis, the whole family gets together and puts "mayonnaise in our hair for old times sake." However, although the women are always game, their partners are none too keen (likely because it must stink after a while).  
Elsewhere, the "Guardians of the Galaxy" star also uses rum on her hair, which is another trick she learned growing up "in the islands" where, as the actress revealed to Byrdie, "rum isn't only for drinking." Saldana explained that rum can be applied to the ends of your locks to achieve "sort of an ombré thing." The effect occurs because sunlight causes the alcohol to bleach your hair, which is also "a natural way of getting highlights." 
So, there you have it: If you're on a beauty budget, don't reach for expensive, high-end products — just raid your fridge (or bar cart).