How Eric Trump Compared His Father To Mark Zuckerberg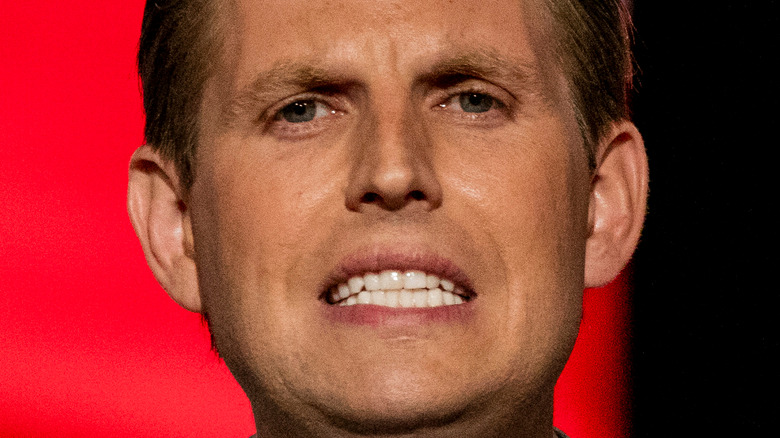 mark reinstein/Shutterstock
If you've followed politics or Mark Zuckerberg's career recently, you know that Zuckerberg's social media platform, Facebook, found itself in hot water both newly and previously after the 2016 presidential election. According to Business Insider, Zuckerberg recently denied allegations leaked from the new book "The Contrarian: Peter Thiel and Silicon Valley's Pursuit of Power" that he made a deal with Donald Trump's son-in-law, Jared Kushner, to not fact check political posts during the 2020 presidential campaign. After the 2016 election, in which underdog Trump won, Zuckerberg found himself part of the Cambridge Analytica scandal (via Forbes). Then, amid the January 6, 2021 riot at the United States Capitol, Trump found himself banned from Facebook for at least two years. 
According to the Independent, attendees at a recent Trump rally in Georgia turned on Facebook and Zuckerberg, chanted "lock him up" after the former president erroneously stated that Zuckerberg donated $45 million to Georgia officials for elections. Despite the current ire at the Facebook founder, at one point, the former president's son, Eric Trump, tried to favorably compare Donald to Zuckerberg during his dad's first presidential campaign. If you're wondering why Eric compared his father to the Facebook CEO, read on to find out.
Eric Trump said his father is 'entrepreneurial' like Mark Zuckerberg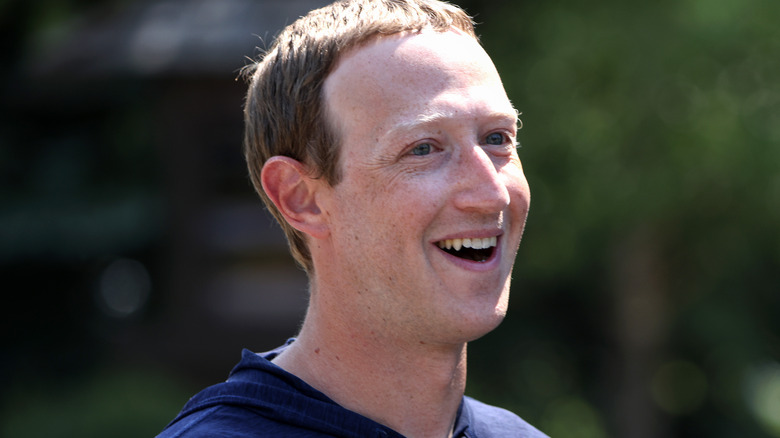 Kevin Dietsch/Getty Images
During Donald Trump's first presidential campaign, Eric Trump made headlines after repeating that his dad came from nothing, bootstrapping his way to a so-called fortune. "He's been an entrepreneurial guy," Eric Trump told Fox News' "Outnumbered" (via Politico). "He's built an amazing company. He's become the epitome of the American dream. He's gone from just about nothing into, you know, a man who..." Democratic strategist Julie Roginsky interrupted Eric to remind him that then-candidate Donald started out with a $1 million loan from his dad, Fred Trump, Eric's grandfather. Donald had previously called the loan he received from his father "small" during an NBC-sponsored town hall (via CNN).
Despite the interruption, Eric doubled down on what he said, insisting that Donald epitomized the American Dream. "It's no different than a Zuckerberg, right?" Eric said. "Who went out with a great idea like a Facebook and developed this idea and built it and grew it and grew it and grew it. That is achieving something, right? And I think it's very different than a person who has been a career politician." It's unclear, though, which of his father's ideas compared with Zuckerberg's founding Facebook. Perhaps Eric meant the fact that Zuckerberg is an entrepreneur, and he felt that his father, the former president, is too.