Donald Trump Was Just Banned From Facebook For Two Years. Here's Why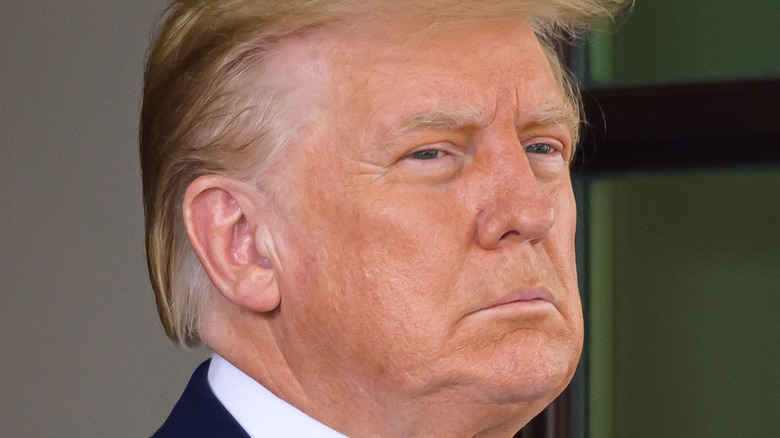 Shutterstock
Former president Donald Trump's Twitter account was permanently suspended in January (via BBC News) due to posts that the social media platform described as "in violation of the Glorification of Violence Policy." He was also indefinitely suspended from Facebook at the time — and the company announced on Friday, June 4, that this suspension will last for at least two years, as reported by The Independent.
This means that the earliest Trump may return to Facebook is January 7, 2023, and the company stated the suspension will only be lifted if the "risk to public safety has receded."
"Given the gravity of the circumstances that led to Mr. Trump's suspension, we believe his actions constituted a severe violation of our rules which merit the highest penalty available under the new enforcement protocols," Nick Clegg, VP of Global Affairs at Facebook, said in a statement on Friday. "We are suspending his accounts for two years, effective from the date of the initial suspension on 7 January this year" (via The Independent).
Donald Trump's social media accounts were suspended after the January 6 insurrection at the Capitol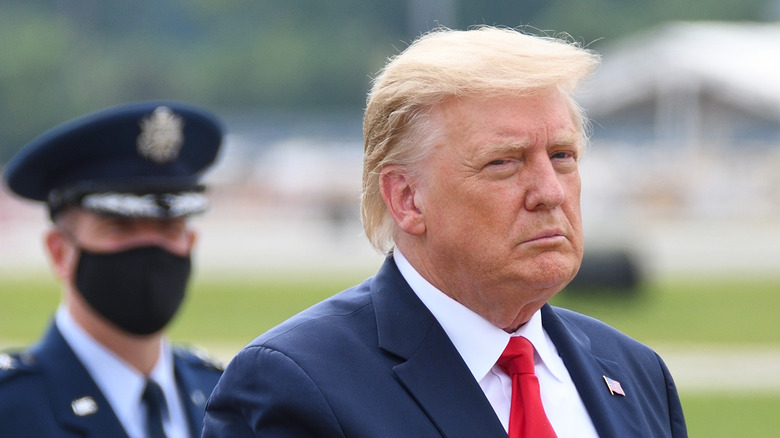 Shutterstock
Per The Verge, Facebook's ban also means that all politicians will be held to the same rules as all other users going forward. Politicians were previously not required to follow the same content rules as other users due to Facebook's stance that private companies shouldn't interfere with elected officials' speech. The outlet notes that this rule meant that Trump and other politicians weren't penalized for violating Facebook's content rules in scenarios where the average user would have faced repercussions.
Trump responded to Facebook's decision on Friday, providing a statement to The Verge that described his two-year suspension as "an insult" to his supporters. He also repeated his unfounded claim that the election was "rigged," and said that Facebook "shouldn't be allowed to get away with this censoring and silencing" (via AP News).
As you may recall, Trump was initially banned from Twitter and Facebook after the January 6 attack on the U.S. Capitol. In the wake of the insurrection that left five people dead, Trump, according to USA Today, praised his supporters that were involved in the incident on social media.
Last month Trump launched a blog in an effort to maintain an online presence. However after just 29 days, he shut it down due to low readership and engagement, as reported by The Washington Post.