Inside Donald Trump And Omarosa's Tense Relationship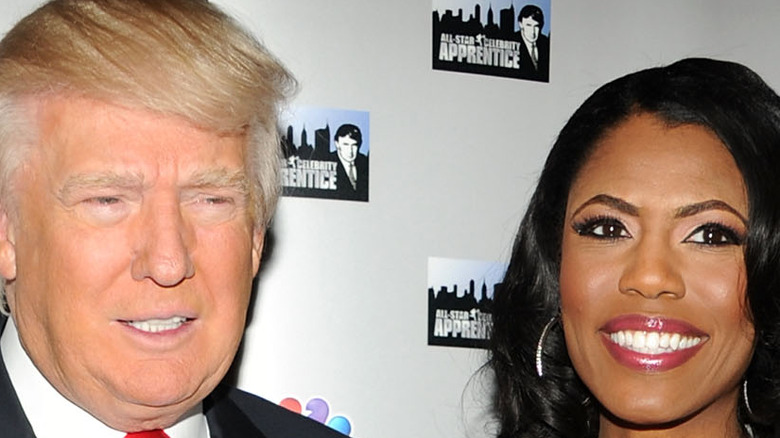 Ben Gabbe/Getty Images
We may receive a commission on purchases made from links.
The tight friendship between Omarosa Manigault Newman and Donald Trump unraveled before our eyes.
Their mentor-mentee relationship grew into a friendship during Omarosa's time on "The Apprentice" reality show where she competed in three seasons despite being hated by many viewers and co-stars. Some even went as far as to label her a villain (via The Washington Post). But Trump favored the author and eventually made her a part of his presidential team. Then something happened that caused a huge, unfixable rift between the stars.
The cause of death appears to be the breakout star's propensity for telling it like it is. And if there's anything Trump hates more than losing an election, it's being badmouthed.
Both celebrities have thrown punches at each other in the form of mean statements and tweets for some time. Back in 2018, the former U.S. president took to Twitter calling her "vicious, but not smart" (per NPR). Omarosa offered her own biting remarks, calling her former mentor "a racist" and "a monster" (via The Hill).
Let's take a look inside Donald Trump and Omarosa's tense relationship.
Omarosa wrote a tell-all book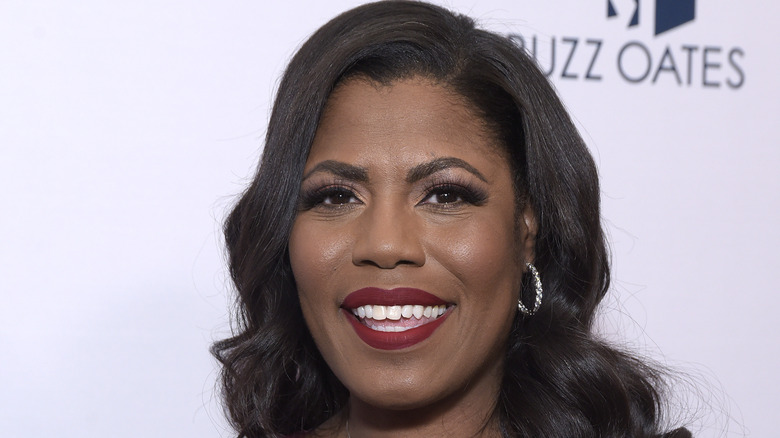 Michael Tullberg/Getty Images
Donald Trump once called Omarosa Manigault Newman a friend and considered her an asset when he appointed her to serve in his administration. Those feelings soured as she was ultimately fired in December 2018. In August of that same year, Omarosa released her book "Unhinged: An Insider's Account of the Trump White House."
The author spilled all the tea about what she experienced and observed during her time in the Trump administration. And Trump was not a fan of the tell-all book. Both celebrities threw punches in the form of public statements both in interviews and via social media. Not one to shy away from controversy, Omarosa turned some heads with comments on Trump and Melania's marriage. She also released audio of conversations, and secret recordings she took while in the administration (via NPR).
To the surprise of no one, Donald Trump attempted to silence Omarosa. In 2018, Trump filed a claim with the American Arbitration Association office in New York City accusing the actress of breaching her confidentiality agreement, per The Hill. According to the arbitrator's summary judgment decision (via Phillips & Hunt), Omarosa was in breach of the nondisclosure agreement when she made "disparaging remarks" on "Celebrity Big Brother."
The filing only intensified the tensions between the former pals.
Omarosa beat Donald Trump in court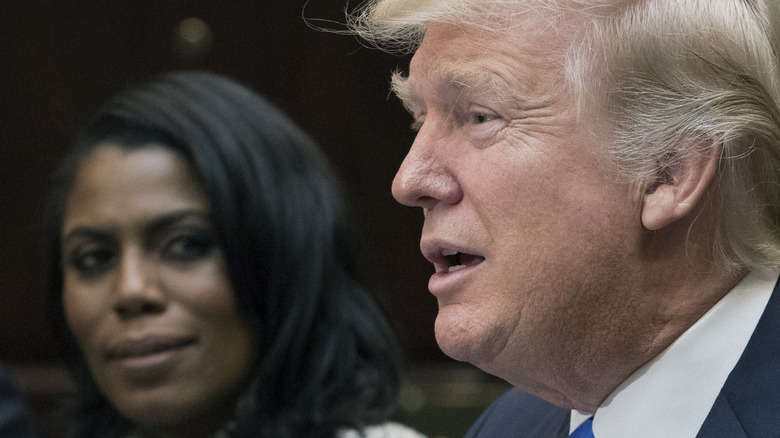 Pool/Getty Images
Donald Trump's efforts to keep Omarosa Manigault Newman from badmouthing him and his family ultimately failed. An arbitrator with the American Arbitration Association New York City's office handed down a decision that the former host of "The Apprentice" could not enforce Omarosa's nondisclosure agreement, according to The Hill. The outlet reports that in his decision, arbitrator T. Andrew Brown wrote the statements made by Omarosa were "unflattering opinions" and did not "disclose hard data."
The win for Omarosa, and the big loss for Trump, have only added more tension between the two. And Omarosa is letting everyone know that she came out the winner on Twitter and through a statement issued by her legal team. She said in a statement released by her legal team, Phillips & Hunt, "Clearly, I am very happy with this ruling. Donald has used this type of vexatious litigation to intimidate, harass and bully for years! Finally the bully has met his match!"
Not one to not have the last word, Trump issued his own statement, which focused more on his foe's inability to win "The Apprentice" than his legal loss, saying, "I gave Omarosa three attempts at The Apprentice and she failed" (via CNBC). Omarosa was fired three times during her stint on the show, per In Touch Weekly.
Despite the end to this legal battle, we're sure the public feuding, vicious tweets, and disparaging remarks between these two are far from over.