Why Rachael Ray Doesn't Have The Best Memories Of New York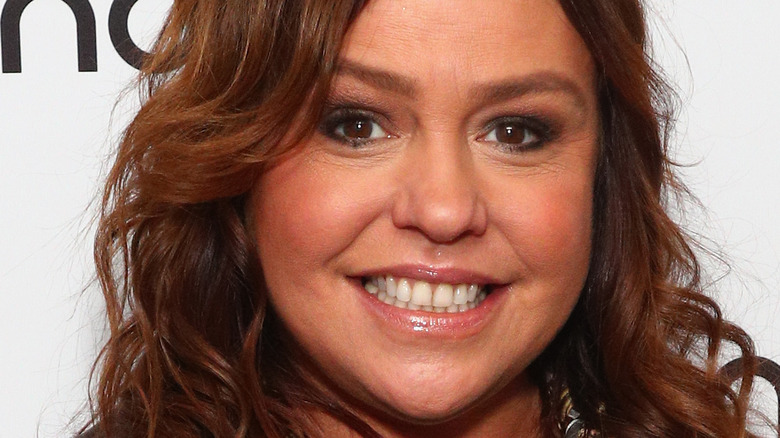 Astrid Stawiarz/Getty Images
Cooking icon Rachael Ray shot to fame while working at her local Cowan & Lobe, a specialty food market. Ray began teaching her "30-minute meals" classes, which caught the attention of the local CBS station in Albany-Schenectady, WRGB-TV (per Famous Entrepreneurs). The station hired Ray to do a "30-Minute Meals" segment on the evening news. According to the Food Network, by the end of her first year, she was nominated for two local Emmys. The success of her segment inspired the chef to create a cookbook, which sold 10,000 copies locally.
The celebrity chef tells the Food Network that cooking was her birthright, recalling her earliest memories as a child in the kitchen. "My first vivid memory is watching my mom in a restaurant kitchen," she says. "She was flipping something with a spatula. I tried to copy her and ended up grilling my right thumb! I was 3 or 4."
Following the success of her first cookbook, Ray's television career took off. The Food Network icon began hosting lifestyle and travel segments and secured a long-term contract with Food Network. But as the Massachusetts native's career grew, her message stayed the same: She wants to give everyone the ability to cook.
"Everybody should be able to make dinner for themselves and feel good about that," the cookbook author told Parade. "Everybody should be able to feel that every day of their lives mattered and was a little bit fun, even if it was hard work. That's our message."
Rachael Ray's misfortune led to her fame
Gregg Deguire/Getty Images
Before moving to upstate New York and teaching her popular cooking classes, Ray was the manager of the Fresh Foods Department at Macy's in New York City. She also helped open New York's gourmet marketplace, Agata & Valentina, becoming a buyer and a manager (per Food Network). While maneuvering New York City's elite and diverse foodies circle, she became the target of a mugger.
The TV host told Vanity Fair while returning home from work one evening, she was held at gunpoint in the foyer of her Queens apartment. She recalls screaming so loud, she "scared" herself. Quickly, she grabbed her pepper spray and used it against the assailant. The boy ran away from the scene. But less than two weeks later, he returned. This time he pulled Ray into a passage outside the building and struck her with his pistol. In response, Ray screamed for the building's guard dog, Lisa. Lisa's barking scared off her attacker. But Ray had had enough.
"Nothing so much happened," Ray said of the incident. "People have a lot worse things in life. But it was like, O.K., I'm not going to wait for strike three. I felt the whole universe was telling me, 'You're not supposed to be here right now.'" Ray packed her bags and moved upstate, landing a job at Cowan & Lobel in Albany. The traumatic experience led Ray to the career-changing movement that made her a cooking phenomenon.