Does The Royal Family Want To Spend Christmas With Meghan And Harry?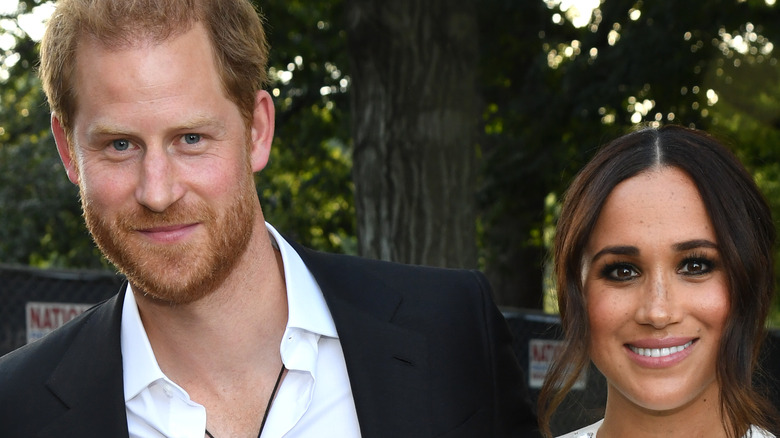 Kevin Mazur/Getty Images
Prince Harry and Meghan Markle left Great Britain and their royal family duties behind in early 2020, making their way to Southern California and eventually settling into a new luxury home in the upscale town of Montecito. Since then, the royal couple, who still keep their titles of the Duke and Duchess of Sussex, have been quite vocal about why they left, explaining to Oprah Winfrey in March that both he and his wife were suffering from mental health issues that went ignored by his family. Harry also produced a docuseries for Apple TV + about mental health called "The Me You Can't See". The couple signed a development deal with Netflix, according to The New York Times. As for Meghan herself, she released a children's book in 2021 called "The Bench" (via NPR).
The couple also welcomed their second child since moving to Meghan's native California when Lilibet Diana was born in June. While Harry has been back to his home country twice since he and Meghan first left — once for his grandfather, Prince Philip's funeral, and two months later for the unveiling of his mother, Princess Diana's statue — the entire family has not been there and the royals have yet to even meet young Lilibet. However, a potential family trip back across the pond for the Christmas holidays looks like it may be in order, but does Harry's family even want their visit?
Harry and Meghan the media moguls might disturb the royal family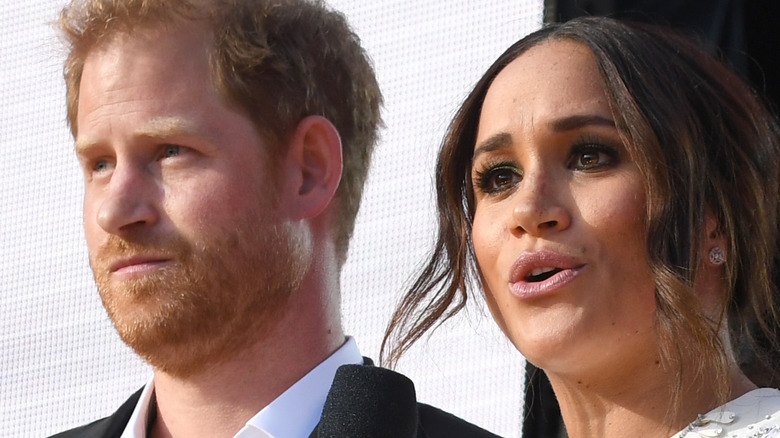 Kevin Mazur/Getty Images
Speculation that Prince Harry and Meghan Markle are filming their own fly-on-the-wall type of documentary for Netflix was fueled when the couple spent a September 2021 weekend in New York with their own videographer, according to Page Six. That type of publicity might not go over well with members of Harry's family, according to royal biographer Angela Levin, as they may fear a Christmas visit could be used as part of the documentary.
"I think it would cause a lot of people a lot of grief," Levin said (via The Sun). "The Queen would be delighted because she adores Harry — and also you love a child even though you disagree with everything they are doing — but I think for the other Royals, it is quite a stiff time ... I think it will be very, very difficult if they come over because the feeling is you can't trust them, and they might use this for their next documentary or for his next book."
Would that fear be enough for the royals not to extend an invitation to Harry and Meghan? Maybe not. According to US Weekly, Prince Charles, Harry's father, has his own reasons for wanting to see his son and his family. "I think Prince Charles really wants to meet his granddaughter," royal expert Nick Bullen told US Weekly. "Prince Charles is incredibly sad about everything that's gone on. So the family will want to meet each other."