Did Jared And Ivanka Really Try To Force Their Way Into A Meeting With Queen Elizabeth?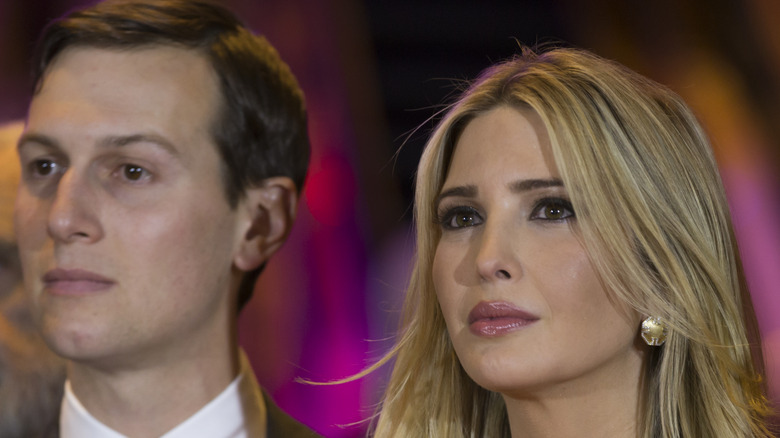 lev radin/Shutterstock
A new book from a former member of the Trump administration claims that Jared Kushner and Ivanka Trump once tried to insert themselves into a meeting with Queen Elizabeth II. 
As The Independent reported, the forthcoming book, titled "I'll Take Your Questions Now," arrives from former press secretary Stephanie Grisham, who claims that Kushner and Ivanka had delusions of grandeur throughout the one-term presidency of Donald Trump and even likened themselves to royalty. 
In a portion of the memoir obtained by the Washington Post, author Grisham recounts a 2019 visit by former President Trump to the United Kingdom, during which she claims that Kushner and Ivanka attempted to gain access to the president and first lady's meeting with Her Majesty the Queen. Which, if they were successful in doing so, would have been a breach of protocol.
"I finally figured out what was going on," Grisham writes in the book, adding, "Jared and Ivanka thought they were the royal family of the United States." In the memoir, the former press secretary added that the couple managed to avoid embarrassment when it was established they could not fit in the President's helicopter. 
Stephanie Grisham made more surprising claims about Jared Kushner and Ivanka Trump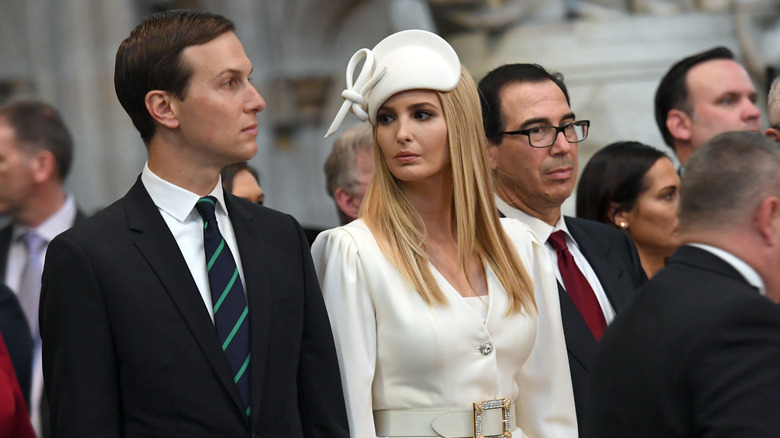 Wpa Pool/Getty Images
Speaking to Fox News in the wake of his 2019 royal visit, former President Trump claimed he had an "incredible" relationship with the Queen, despite the near mishap involving his daughter and son-in-law. "I think I can say I really got to know her because I sat with her many times and we had automatic chemistry, you will understand that feeling. There are those that say they have never seen the Queen have a better time, a more animated time," he said at the time (via Sky News).
The book penned by Grisham has become one of several to be released by former Trump administration staffers, and, as noted by the Washington Post, the memoir also claims that Ivanka was not very popular among White House staff and with First Lady Melania Trump, who allegedly referred to her as a "princess."  As for her husband Kushner, the book also claims that he became known as Donald Trump's "real chief of staff" and was often referred to as the "Slim Reaper."
According to The Independent, the author of "I'll Take Your Questions Now" put a stop to daily press briefings at the White House during her time as press secretary, opting to give television interviews to selected media instead. Grisham was eventually replaced as White House press secretary by Kayleigh McEnany a year into her role and was later appointed the press secretary for the First Lady.