The Truth About Justin Brescia's Band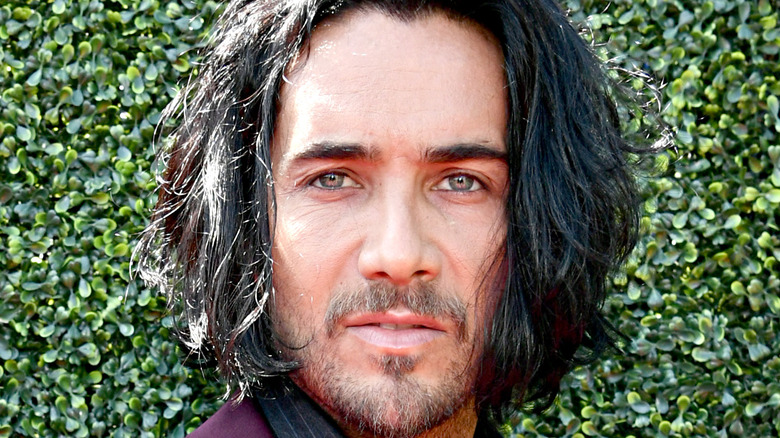 Emma Mcintyre/Getty Images
Justin "Bobby" Brescia was the closest thing "The Hills" had to a rock star, thanks to his wearing combat boots to the beach (via Us Weekly), riding a motorcycle, and refusing to brush his hair, all of which made him irresistible to Audrina Patridge (and us). Brescia always maintained an air of mystery on the hit reality show, and continued to cultivate that mystique during reboot "The Hills: New Beginnings." As Cosmopolitan noted, despite his grungy look, the laidback surfer was actually working as a professional hairdresser for a long time. 
Brescia ran Brush Your Hair Salon in Costa Mesa from 2013 onward and even marketed his own conditioner at one point, too. He clearly wants to be taken seriously as an entity in his own right, since Brescia has spoken out many times about how fake many of his scenes on the original show were while, off-screen, he remains close with Patridge. During "New Beginnings," fans got a fleeting glimpse into his new passion in life, music, but as with everything else Brescia-related, he's maintaining something of a mystique around his band.
BobbyrocK has been a band for several years
According to Refinery29, following his iconic stint on "The Hills," Justin "Bobby" Brescia made his dreams of becoming a rock star come true by founding self-titled band BobbyrocK. It's worth noting, however, the name isn't a nod to his infamous "Justin Bobby" persona, but rather refers to Brescia's middle name, Robert. The band was featured on "The Hills: New Beginnings," (via Instagram) and has a dedicated social media following with 15,000 Instagram fans, where they frequently post about upcoming shows. In a 2015 interview with Bustle, Brescia confirmed BobbyrocK was founded the previous year. The band originally comprised of Brescia and drummer David Dariani. Nowadays, bassist Tony "T-BONE" Camillo and drummer Lindsey Martin make up the rest of the group (via Refinery29). 
However, it seems like it's fully Brescia's thing and his bandmates are session musicians more than anything else. Music has always been his first love. As the "Hills" star confirmed to Bustle, "Music's been there." Brescia explained, "I started in this band, Ed Stanley, when I was about 19, 20, and stayed with them until I was about 29. Then I stopped to do some traveling. I wanted to get back into it." Their music is self-described "alternative punk rock" according to their site and they've released three albums to date, the most recent of which was in 2019. They also have a dedicated Facebook page and YouTube account, for all your BobbyrocK needs.