The Surprising Reason Prince William Thinks Son George Is Going To Be Upset With Him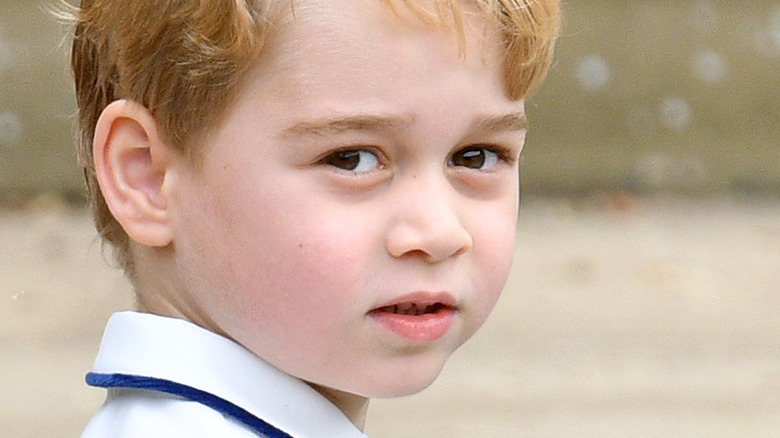 Pool/max Mumby/Getty Images
Kate Middleton is back in the public eye and on tour with her husband, William — no baby bump in sight. If you ogled at the gorgeous, golden gown she put on to attend the premiere of the new "James Bond," well– we did too. Wills and Kate getting a first look at 007 isn't what will have Prince George fuming, however. If the now 8-year-old has shifted his interests from "The Lion King" (George's all-time favorite in 2017, according to Today) and his attachment to "Fireman Sam" (as reported by Reader's Digest) to all-things-spy, no one's clued us in yet.
Instead, it's The Duke and Duchess of Cambridge's September 29th trip to a zoo in Northern Ireland that probably has their eldest wishing he'd been invited along for the trip. George — presumably — stayed behind in London, where he currently attends Thomas's Battersea (via The Mirror). And now, per Daily Mail, Prince William thinks when he sees his son again, he's going to be, "so upset." Here's why.
Prince William's trip to the zoo probably has Prince George pouting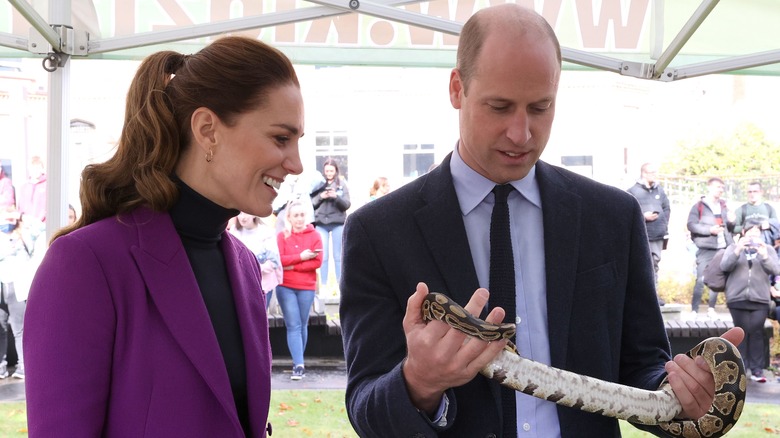 Chris Jackson/Getty Images
The Duchess of Cambridge managed to keep her composure while cradling a tarantula at Ulster University's petting zoo, according to The Independent. As for William? The 39-year-old, second in line to the throne held a python. "George is obsessed with snakes." William purportedly said while handling the reptile. "He's going to be so upset he missed this" (via Independent). If William looks surprisingly low-key with a python in his hands, that may be because he has some experience. Back in 2010, an 8-foot long python wrapped itself around his and his brother Harry's neck while the brothers were on tour in Botswana. BBC will happily remind you that Harry took the opportunity to stick the snake into William's face. No such antics were tried this time around. 
Meanwhile, Prince George's interest in slithering reptiles isn't exactly a surprise. Mom Kate hinted at it during a virtual Bingo game in 2020, when she drew the number 55. "George would like this one," she exclaimed at the time (via People). "Five and five, snake's alive."