This Is Why Camille And Kelsey Grammer Divorced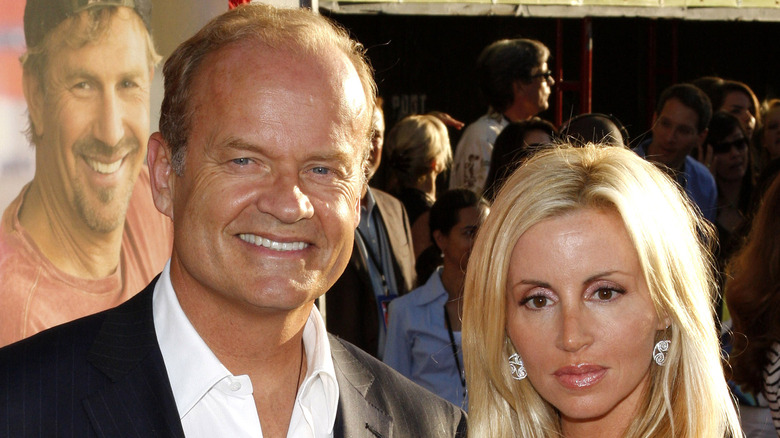 Tinseltown/Shutterstock
As diehard "Real Housewives of Beverly Hills" fans will recall, much of the Season 1 drama centered around Camille Grammer. Since the season aired over a decade ago, let's do a brief recap.
At the beginning of the season Grammer spoke highly of her marriage as her husband headed off to New York on a Broadway acting job. As a result, Kelsey Grammer made few appearances that season and was largely absent from events where fellow housewives brought their husbands.
Grammer almost immediately clashed with co-star Kyle Richards, resulting in a feud that provided fodder for the rest of the season. It all started during an off-camera exchange between the two in which Grammer claimed that Richards told her people only cared about her if her famous husband was around (via US Weekly).
What was actually said will never be known (alas!), but it resulted in Richards' now-famous "You're such a f***ing liar, Camille!" outburst. Then of course there was the unforgettable "Dinner Party From Hell" during which Grammer's friend, psychic medium Alison DuBois, puffed away on an e-cigarette (ahead of the times!) as she casually told all the women that she knew when they were going to die, per E! Online.
The feud between Richards and Grammer escalated at the dinner party, and DuBois egged on the drama as she took aim at Richards by telling her that her husband would never emotionally fulfill her.
Camille Grammer's divorce was addressed in the season's final episodes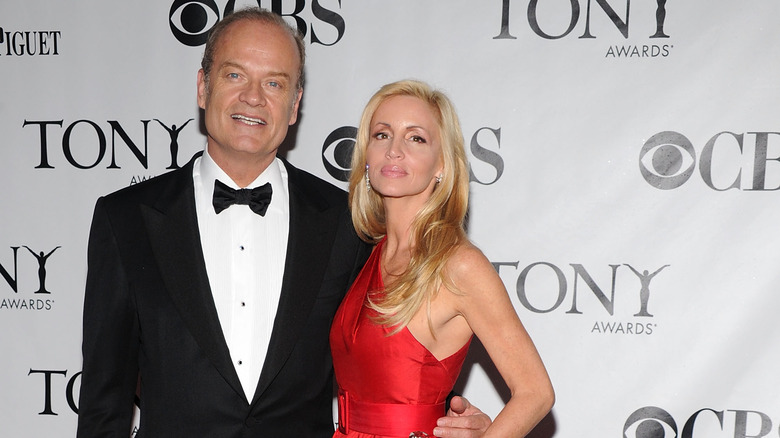 Bryan Bedder/Getty Images
Camille and Kelsey Grammer's split had already been publicly announced (via HuffPost) by the time "Real Housewives of Beverly Hills" premiered. Of course this left us wondering why DuBois didn't use her psychic skills to give her friend a heads-up, but we'll count that among the unanswered questions of Season 1.
Per PopSugar, Kelsey Grammer's infidelity was the reason for the divorce. While he was in New York he met and began a relationship with flight attendant Kayte Walsh. The highly publicized split got pretty ugly, and Kelsey married Walsh just two weeks after the divorce was finalized.
Although they share two children, Kelsey and Camille Grammer's relationship remains hostile. In 2019 Kelsey described his ex-wife as "pathetic" and claimed that Camille had asked him for a divorce on the day of his mother's funeral, which she vehemently denied, as reported by People.
Although Grammer left "Real Housewives of Beverly Hills" after Season 3, she still occasionally makes cameo appearances and she reprised her role as "Friend" for Seasons 8 and 9. In Season 9, Grammer remarried and the lavish ceremony was shown on "Real Housewives" (via Bravo).