Are Trump Supporters Abandoning Him For This Controversial Governor?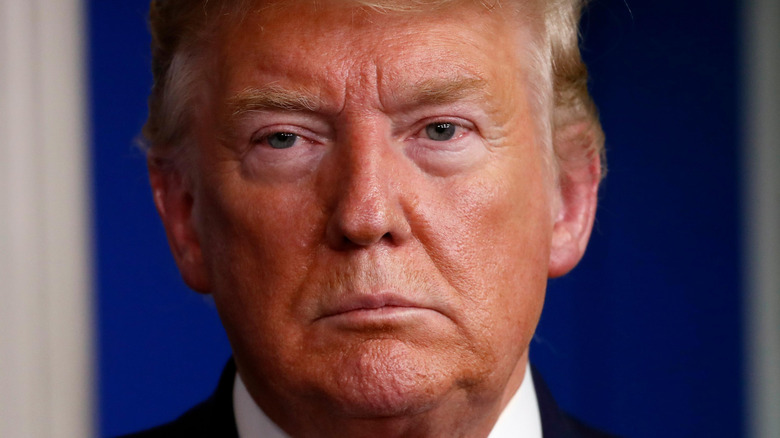 Naresh777/Shutterstock
Speculation that Donald Trump would run for president in 2024 began almost immediately after news outlets declared Joe Biden the winner of the November 2020 election. Despite the former president fighting the election results in court till the bitter end and a failed insurrection from his supporters at the United States Capitol meant to make sure the election results were not certified, Trump still insists he won in 2020.
That doesn't mean he's ruled out another try for the presidency in 2024, but he also likes to remain vague on the subject. In fact, when Sean Hannity asked him if he decided if he'd run again in June of 2021, he said yes, he had decided, but he didn't say what that decision was (via Yahoo! News). If he does decide to give it another go, Trump may find he has some stiff competition from a well-known Republican governor who frequently makes headlines for his controversial COVID-19 policies.
A new poll shows Trump supporters might be looking elsewhere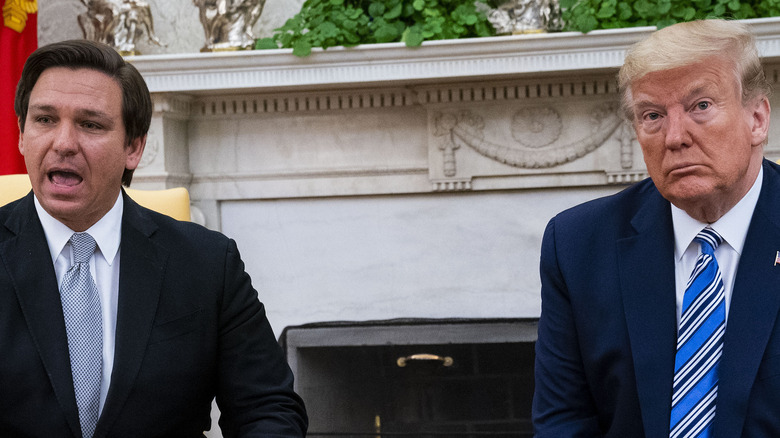 Pool/Getty Images
Although Florida Governor Ron DeSanits' poll numbers as a whole among Floridians has dropped due to his handling of the pandemic and masking in schools, his popularity among Republicans nationally as a potential 2024 candidate has gained a lot of ground, leaving him virtually tied with Donald Trump, according to a poll conducted by a super PAC belonging to former Trump National Security Advisor John Bolton (via Politico).
While Trump still came out on top as the most favored Republican candidate, he barely eked that spot out with 26.2 percent of Republican voters against DeSantis' 25.2 percent. That's also a stark difference from a similar poll from July when Trump had 46% of Republican support against DeSantis' 13 percent, according to Newsweek. Bolton blamed the drop in popularity on voters knowing that Trump was just as responsible for the chaotic withdrawal from Afghanistan as Joe Biden.
"National security matters to voters, especially when failure leads to greater risks, so you rightly see conservatives quickly considering options other than Donald Trump," Bolton said.
Trump's former personal attorney Michael Cohen said in September that one big reason he thinks his former boss will not run again is the possibility that he could lose again. "He cannot stomach the notion of being a two-time loser, but he will continue to grift until the very last second," Cohen told Insider.