Inside Donald Trump And Ron DeSantis' Relationship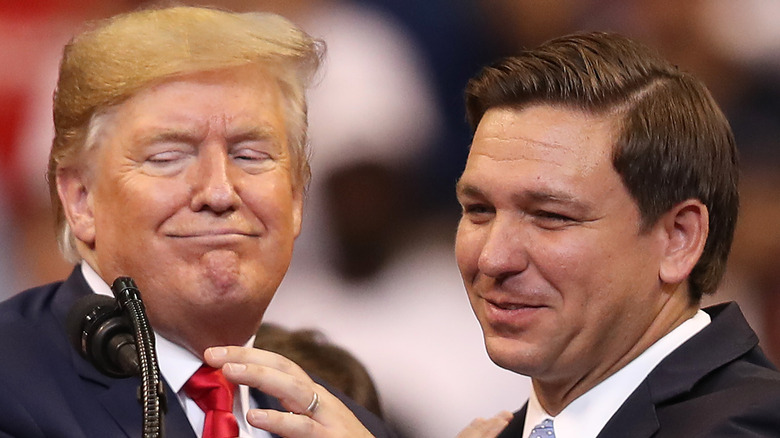 Joe Raedle/Getty Images
Before Donald Trump helped Ron DeSantis win the Florida governorship, you might not have thought that the former president and DeSantis had much in common. DeSantis, a history major, is a bookworm who (get this) likes reading scientific articles (via The New York Times). Before he began playing golf with Trump, he was the captain of Yale's baseball team. 
But the fact remains that DeSantis is probably Florida's governor because, during his campaign, he was so gung-ho about his support for Trump that he released campaign videos of his toddler daughter building a border wall and of him, reading his toddler son "The Art of the Deal" (via The Guardian). Since then, DeSantis has been building on a brand that per, The New York Times, allies dub "competent Trumpism," in an apparent bid to become Trump's successor.
Perhaps as prep for this role, Trump and DeSantis seem to have maintained constant contact for the duration of DeSantis' tenure as governor. While Trump was in the White House, DeSantis and Trump regularly chatted on the phone. Once, Trump even invited the Florida governor to Washington D.C. for what he described as "a little bit of an unplanned meeting" (via Miami Herald). It's true that DeSantis insists at campaign rallies that "I'm my own man, I have a record on different things" (via The Guardian). But the fact is, he follows Trump's playbook, often. For example, The New York Times reports that DeSantis recently got vaccinated against COVID-19 ... in private.
Ron DeSantis and Donald Trump golf together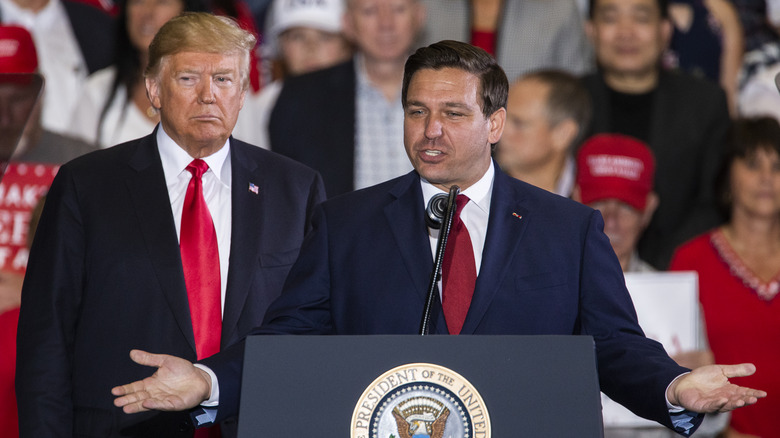 Mark Wallheiser/Getty Images
Politico reports that Donald Trump would "consider" Ron DeSantis as a running mate in 2024 should he run again. That's really no surprise. These days DeSantis doesn't have to travel to Washington D.C. to meet with his apparent mentor. Mar-a-Lago is much closer, and Florida's governor is certainly no stranger at the seaside resort. Per The New York Times, during the Republican National Committee's spring retreat at Mar-a-Lago, DeSantis's cemented his role as an up-and-coming star in the party.  
When not on official business, DeSantis and Trump have been spotted golfing together. As per CNN, Trump's current daily ritual includes 9 a.m. weekday tee time at his golf course, where he's likely to play 18 to 27 holes before lunching with friends and allies. And in mid-April 2021, The Daily Mail confirmed that DeSantis is one of the insiders that the former president invites to West Palm Beach's Trump International Golf Club.
 It's entirely possible, of course, that their golf dates aren't just about recreation. Followers of DeSantis will remember that in 2019, the governor was embroiled in a campaign finance scandal when Tampa Bay Times uncovered a scheme through which (among other things) Florida's power players would pay $25,000 to golf with him. DeSantis denied any knowledge of the plan, insisting it had never been carried out. A memo from his political chairwoman, Susan Wiles, however, suggested he'd okayed it. In the scandal's aftermath, DeSantis fired Wiles, largely because "the president asked me to get the party in order."