How To Make CBD Foundation At Home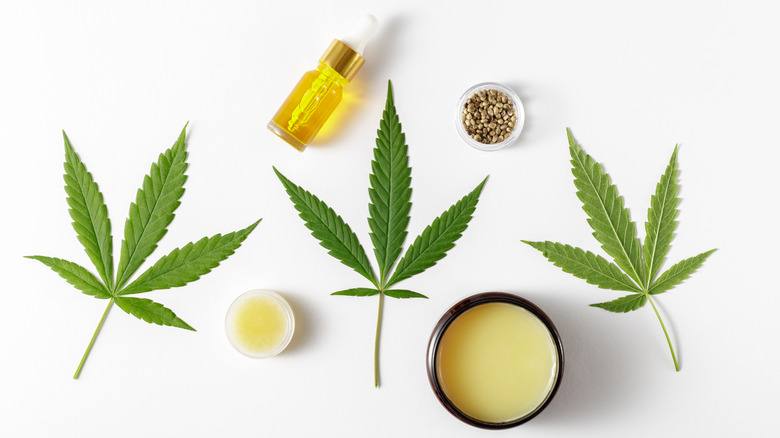 BartTa/Shutterstock
CBD is having a moment right now. From beauty stores to the check-out lines at gas stations, there are CBD-infused products almost everywhere. According to Medical News Today, CBD oil is great for soothing skin and getting rid of irritation, so it only makes sense that you'd see the ingredient in beauty products. While there are tons of different brands infusing the ingredient into their products, you can actually make CBD foundation at home as well. Nothing like a little DIY to get your skin looking great.
Let's have a quick rundown before you start mixing ingredients. According to Harvard Health Publishing, CBD is the second-most-active ingredient in cannabis. It doesn't get you high, but the oil does have benefits that include helping with insomnia and pain (via Harvard Health Publishing). There also seem to be some benefits to the skin as well.
As The Emerald Magazine notes, CBD oil has helped reduce skin inflammation, prevent breakouts, and kept skin moisturized. That makes it the perfect contender for beauty products. Whether you want to make your own or shop the highly rated ones out there, here's some helpful background about CBD foundation.
You'll need CBD oil to make your own CBD-infused foundation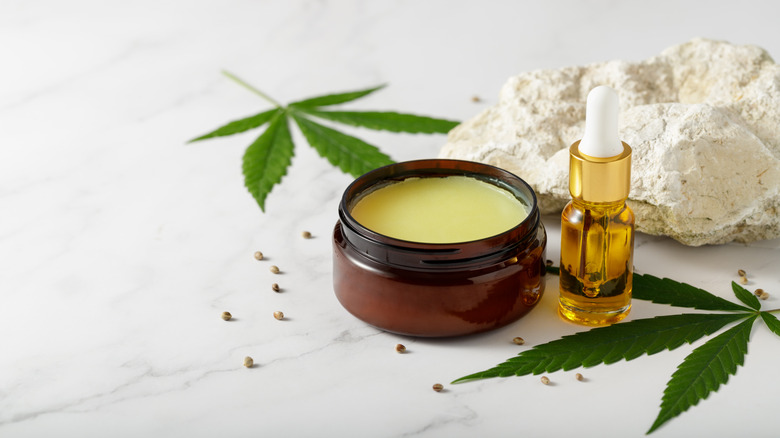 BartTa/Shutterstock
If you've already got CBD oil sitting around the house, you can actually make your own foundation to reap the benefits of this skincare ingredient. According to The Emerald Magazine, you can use CBD-infused coconut oil or another CBD oil to make your own foundation. The publication gives two recipes for making the DIY foundation, and it actually doesn't seem that complicated.
All you have to do, according to The Emerald Magazine, is mix almond oil, CBD oil, cocoa butter, and beeswax together with some cocoa powder to get a DIY CBD foundation. You're able to control the shade range with the cocoa powder and still get a super hydrating formula.
Of course, there's also the easier route of adding a few drops into a liquid foundation that you already have on hand. While you can't control your shade with that recipe, it is a great way to reap the benefits of the products without spending too much time actually making one.
You can buy CBD-infused foundation as well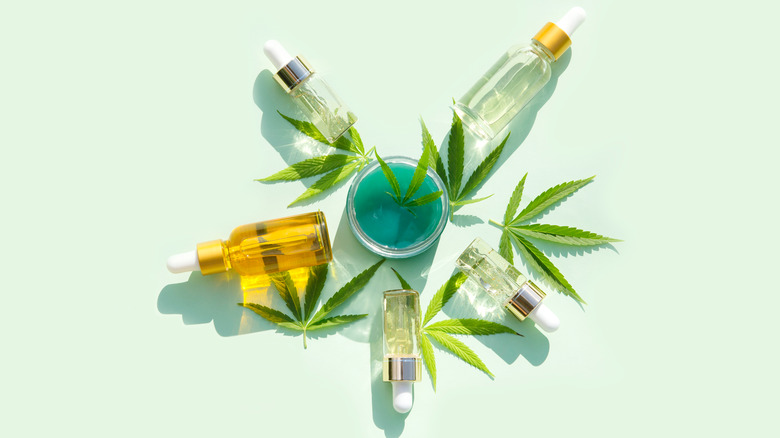 Ulza/Shutterstock
Not into DIY? Don't worry, there's still a way for you to get in on the trend. There are plenty of different CBD-infused beauty products out there, and some pre-made CBD foundations to choose from as well. Neomen makes a CBD-infused foundation that is dermatologist tested. The only downside is that the product is so new to the market that there is only the light/medium shade available.
Since the shade range on the CBD-infused foundations is limited, you might be better off with an infused primer. According to Cannabis MD, Kingdm makes a CBD-infused primer. While that's not a foundation, it does sit on skin before you apply the product so you can get the benefits that way. As Huffington Post points out, there are numerous skincare products with CBD in them, but not so many actual makeup products. Until the market opens up, DIY CBD foundation might be the way to go.