AHA Vs. BHA: Our Favorite Brands Of Each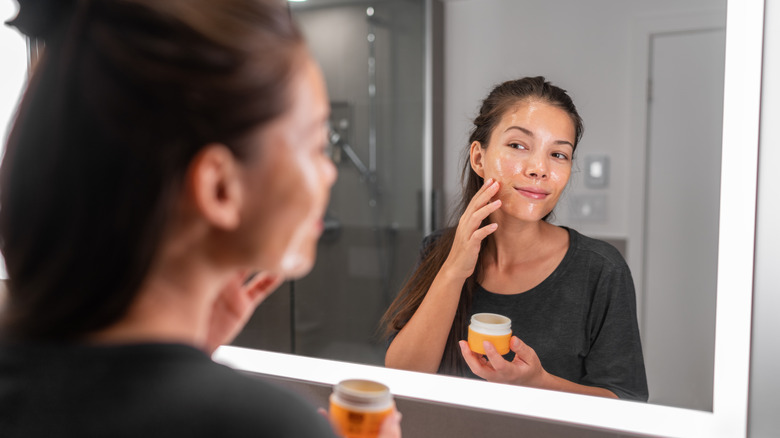 Maridav/Shutterstock
Exfoliating has always been an essential step for the skin. By unclogging pores and increasing collagen production for a more youthful, brighter complexion, products that exfoliate can be found all throughout the market in face washes, scrubs, masks, and more (via Business Insider).
However, although exfoliating is very popular, many may not know the details of the process. There are actually two main types of exfoliators: Alpha Hydroxy Acids (AHAs) and Beta Hydroxy Acids (BHAs). AHAs treat surface skincare level issues and are more suitable for those with dry skin because of their more gentle nature and the fact that they often contain moisturizing properties. On the other hand, BHAs penetrate deeper and are best suited for those with oily or acne prone skin because they dissolve oil and sebum, stabilizing the lining of the pore which helps combat breakouts.
When it comes to what AHA or BHA product you should use, not all brands are created equal, and Business Insider reported that it's safe to use products that feature both. Here are our favorite brands for AHA and BHA products.
Drunk Elephant has luxury AHA/BHA options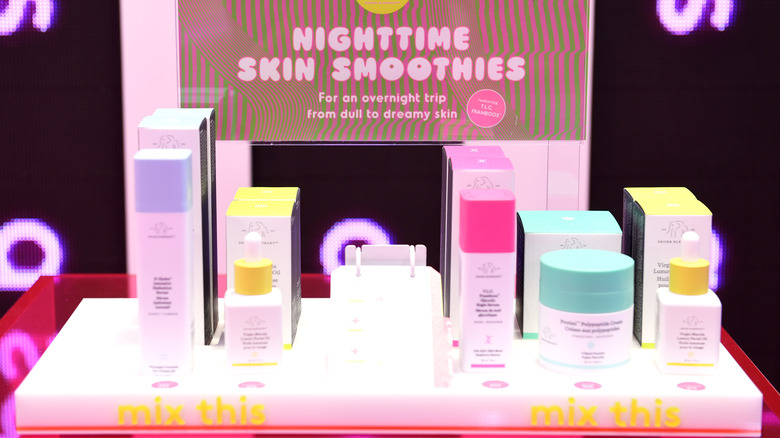 Craig Barritt/Getty Images
Drunk Elephant has been reigning supreme with its luxury skincare products since 2013. Its name derives from its primary ingredient, marula, which is fed to elephants with an urban legend that they become "drunk" once consuming it. Not only does Byrdie describe Drunk Elephant as "one of the best brands out there," their T.L.C. Sukari Babyfacial ($80) mask is an at-home facial treatment that contains a whopping 25% AHA (including glycolic acid, lactic acid, and more) and 2% BHA that leaves your skin baby soft without irritation with its creamy texture and use of aloe extract and sodium hyaluronate (via Glamour and Byrdie). "Babyfacial's 25% AHA/2% BHA exfoliating blend was designed to work rapidly, dissolving dead skin cells and helping to unclog pores in just 20 minutes," Drunk Elephant's founder, Tiffany Masterson, told The Zoe Report. Keep in mind, this product should be used around once a week due to its intense nature.
On the less concentrated side is the T.L.C. Framboos Glycolic Resurfacing Night Serum ($90), which is formulated with 10% AHA and 1% BHA. It is ideal for fine lines, hyperpigmentation, and acne, and gives a cooling effect for brighter, smoother skin with a look of reduced pores. "The combination of AHAs gives this serum the ability to penetrate deeper into the skin and perform synergistically better than any [single AHA] alone," dermatologist Jason Emer told Allure.
Dr. Dennis Gross and Peter Thomas Roth also have effective AHA/BHA products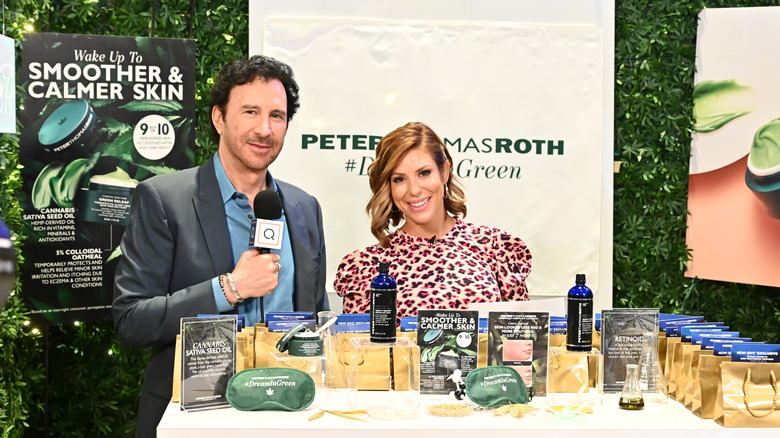 Astrid Stawiarz/Getty Images
Dr. Dennis Gross was founded by a nationally recognized dermatologist of the same name (via Dr. Dennis Gross), so the products are surely trustworthy. The brand's Alpha Beta Peel pads come with 30 soaked cotton treatments that reduce fine lines and breakouts, shrink pores, and promote an overall more even skin tone (via Business Insider). Women's Health reported that it's best to use these pads at night time to wake up to a glowy complexion.
Peter Thomas Roth's main mission is to use advanced technology to create potent and effective ingredients to combat acne, signs of aging, and sun damage, according to his official website. The Goodbye Acne AHA/BHA Acne Clearing Gel Face Body Spot Treatment ($48) is 10% glycolic acid and 2% salicylic acid and works by unclogging pores, penetrating deep into the skin to eliminate blackheads and acne scars, while reducing the look of fine lines and evening out your complexion. It should be used after cleanser, can be applied up to three times a day, and is meant to be kept on while you sleep. However, The Derm Report recommended that you start by applying once a day to test your skin's tolerance.